AI Platform
Industries / Pharmaceutical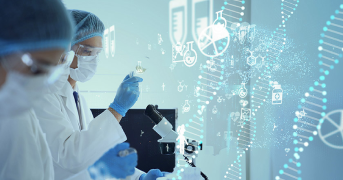 As the increase in social security costs due to the aging of society becomes an issue and the pressure to reduce medicine prices continues, pharmaceutical development for lifestyle-related diseases, which has been a major area in the past, is maturing and shifting to areas such as oncology, central nervous system, age-related diseases and rare diseases.
Drug discovery technologies are also facing increasing hurdles in drug discovery due to the diversification of modalities, from small molecules to biopharmaceuticals, as well as the declining success rate of new drug development and rising development costs, making it necessary to realize data-driven drug discovery aimed at increasing the efficiency and sophistication of hypothesis testing.
The shift to a more productive model that leverages digital technology is accelerating in sales and marketing due to the shift to remoteness that was rapidly accelerated by the COVID-19 pandemic.
Although a step behind other industries, the use of digital technology is progressing across the value chain, including research and development and functions other than sales and marketing.
Overseas, the development of new digital health services for patients, such as dBM development to demonstrate the efficacy and safety of drugs created using digital technology and AI, and Around-the-pill and Beyond-the-pill, is taking place earlier than in Japan.
While domestic companies are also promoting various initiatives such as the establishment of new business organizations and DTx, due to differences in insurance systems and regulatory environments, the number of cases that have produced results is limited, and each company is still searching for ways to tackle these issues.
In addition, in order to realize more appropriate and personalized patient journeys, there is a need for early detection and screening of diseases, research and development of diagnostic and personalized technologies to realize personalized medicine and precision medicine, as well as scientific planning of countermeasures and verification of effectiveness through the use of real-world data.
Point Of View
ExaWizards of point of view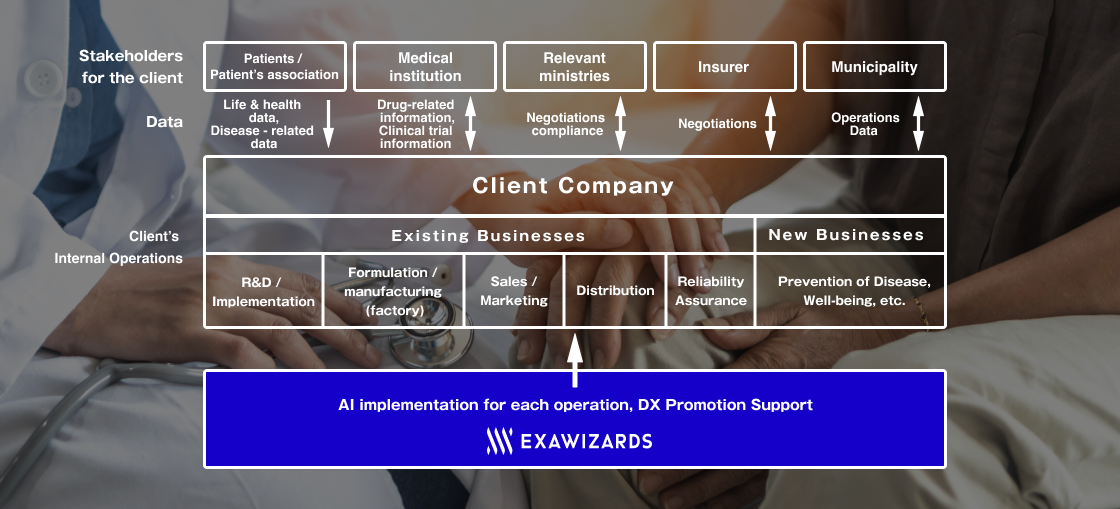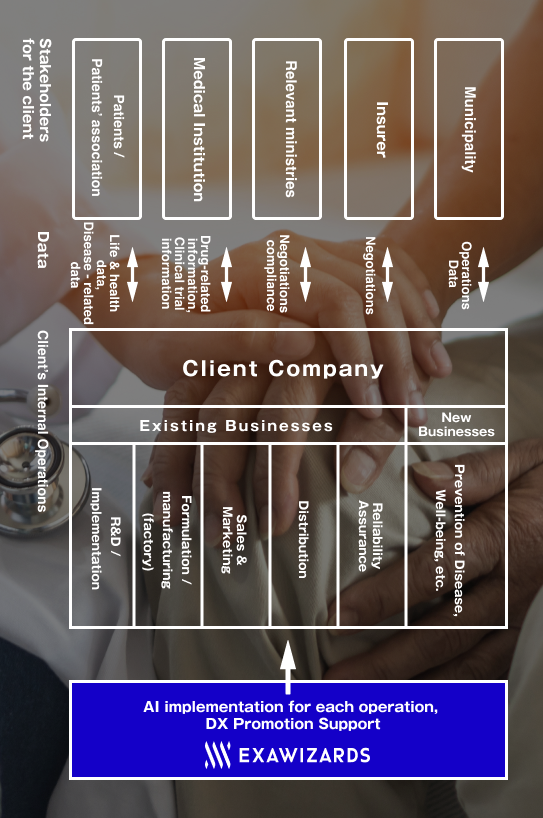 At ExaWizards, we aim to create a world where people can live their lives to the fullest by realizing healthcare that is valuable to everyone.
We are helping people make better decisions and take better actions by building processes and mechanisms that utilize data and AI. To implement these processes and mechanisms in society, we are approaching the solution of social issues in the pharmaceutical and medical industries from the following seven perspectives.
The first is to build data-driven drug discovery and development processes that enable employees to focus on high value-added hypothesis testing and operations through the productization of AI and digital technologies to improve operational efficiency and generate new insights, thereby creating new value.
The second is to promote the creation of a next-generation sales and marketing model by empowering employees with AI and digital technologies, as information distribution on digital platforms and information provision activities using digital tools advance.
Thirdly, we will promote joint development of digital health services and dBM development for core customers (patients in the focus areas), and build a ""data value return platform"" for existing businesses.
In the patient journey, we will create value for patients, healthcare professionals and caregivers by maximizing opportunities to utilize AI and digital technologies such as sensor-based data analysis, image analysis, voice recognition and natural language processing. We will create a sustainable business model from a mid- to long-term perspective by redefining our business domain and providing new means of cure and care.
The fourth is early detection, prognosis and future prediction of cancer, dementia and other diseases.
Through collaboration with research institutes, we will promote the establishment of new mechanisms to reduce health risks and realize timely and appropriate measures in the era of 100-years of life.
The fifth is to build a blended service that combines digital technology, AI, and people to help people realize their well-being. In light of the changing structure of diseases and the diversification of work styles and values, we will support the realization of subjective well-being in order for people to lead healthy and self-directed lives.
The sixth is to promote the use of medical and nursing care RWD, shaping a ""patient- and consumer-centered"" approach to medical and nursing care based on the use of AI and digital technologies.
The seventh is to promote the social implementation of digital products through collaboration with local governments and national organizations, in order to realize the use of data to support the next generation of social security, the sustainability of local communities, and the realization of a symbiotic society.
Use Cases
Case study
Data-driven drug discovery

In order to increase the productivity of drug discovery research, it is important to establish a mechanism to improve the sophistication and efficiency of hypothesis testing using data.
We have developed Python APIs for applying and utilizing AI in the field, using know-how gained through exploratory analysis based on technologies for predicting activity, pharmacokinetics, and toxicity based on compound information and technologies for visualizing contributed substructures, which has significantly shortened data science work in drug discovery research.
In addition, we also provide consulting services for business-side operational reforms, such as identifying room for improvement and actions in business processes to realize data-driven drug discovery, to achieve a high level of satisfaction.
As a result of its high usability and user education, the program we developed is used by many of our clients' data science teams in their drug discovery research, and is being applied in a variety of projects.

Digital health x locomotorium

Many of the age-related diseases that develop in the aging population are caused by a decline in walking ability. Our client, a pharmaceutical company, does not have a simple way to quantify and visualize the walking ability of the elderly, which is effective in finding potential customers. We can maximize product value in the field of locomotion, accelerate pipeline R&D, and develop nursing care prevention projects for local governments.
We will maximize product value in the field of locomotion and accelerate pipeline R&D through the development of a smartphone application that supports locomotor care for the elderly, with the core function of evaluating gait function based on walking videos of the elderly.
We will conduct pilot demonstrations using the product at multiple recovery hospitals to verify needs and improve the product. We are also co-developing with academia for appropriate evaluation and evidence building.

Accompanying Support for DX Promotion

issues
DX promotion needs to be accelerated in a cross-departmental manner, but there is not enough in-house capability to select, plan and execute digital/AI methods while understanding the business characteristics.
The overall picture and plans for short-, med- and long-term measures to promote DX are not systematically organized.

Solution
Members with experience in DX support for pharmaceutical companies will accompany each team to support implementation and promotion.
(1) Talent management to support the improvement of human resources' literacy and skills, as well as their hiring and placement; (2) Digital project management to systematically support the ideation of new plans, project management, and execution support; and (3) Comprehensive support for DX activities from the perspective of knowledge management through internal information sharing and marketing.