SERVICE
Care – Humanitude and Kenjyu-kun
Care for the aged is a critical issue in today's super-aging society. We contribute to the solution of this issue through a comprehensive care method, Humanitude, that combines perception, emotion and language.
As the sole exclusive partner of SAS Humanitude in Japan, we offer training services for Humanitude, a care method with 35 years of history.
What is Humanitude?
Humanitude, a comprehensive care method based on perception, emotion and language, was developed more than 30 years ago by Yves Gineste and Rosette Marescotti. The method is based around the philosophy that keeps questioning "What is human being?" and "What/who is a caregiver?" and the practical care-giving techniques arising from answering these two questions. When these techniques are used continuously and comprehensively, a care receiver experiences a feeling of "being cared".
Though this method is primarily known as a new care method for people with dementia, its application is not only limited to dementia sufferers or senior people but everyone who is in need of care.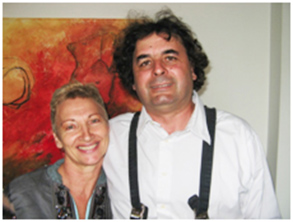 HUMANITUDE Japon
ExaWizards is an exclusive partner of SAS Humanitude (HQ: France, GM: Yves Gineste). Along with the National Hospital Organization Tokyo Medical Center, we continue to strive to support everyone involved in the research, development and implementation of Humanitude by fully utilizing ICT and promoting is further adoption.
AI-Enabled Care

Kenjyu-kun data analytics service for local governments
We offer local governments AI data analytics services that can predict health conditions of their citizens on an individual basis, using their past "care history" or "claim data". Our data analysis enables local policy makers and insurers to improve the quality of life and life expectancy of each and every citizen.
<Advantages>
Predicting health status of each citizen with AI using individual data

What sets apart our model from traditional methods that produce aggregate estimations based on overall population and past occurrences, is we make detailed and customized estimations on each individual, creating "individual-specific health predictions".

Reducing insurer's cost of statistical analysis by utilizing AI platform and development technology

Cost of data estimation is high as insurers repeat similar estimation process each time when care plan is devised or revised due to forecast deviation. We improve the accuracy and efficiency of the estimation process with the help of AI technology.