SERVICE
AI Innovation
We aim to realize open innovation with AI by cooperating with partners from various industries.
Our Advantages
1Provision of AI solutions to all companies in all industries without any limitations

2Collaboration with leading experts from different AI fields in Japan and university research institutes in India. Applying state-of-the-art technology to solving real business problems

3Full support ranging from consulting to research, data processing and implementation
Development Process
We work closely with our clients from planning to development to achieve both speed and human resource development.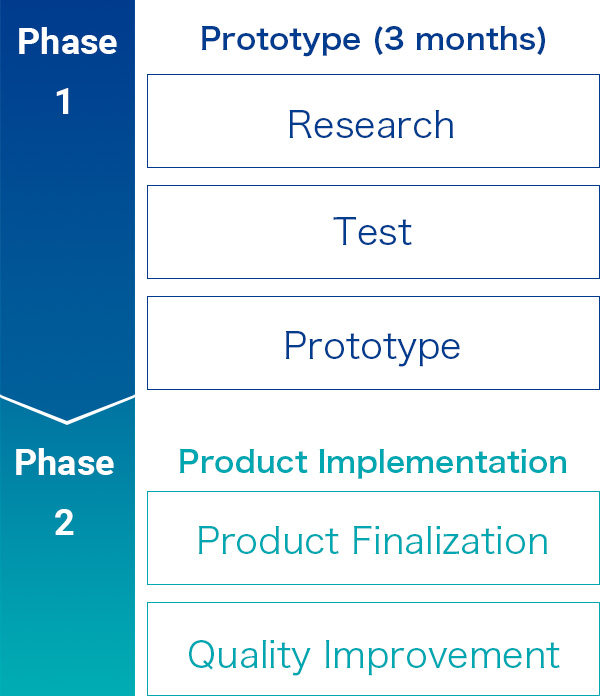 Projects
Manufacturing

Object detection and captioning system

Automatic recognition of vehicles and pedestrians from images
Displays caption on detected objects

Manufacturing

Abnormality (rust/scratch) detection

Detects wear and tear of equipment automatically from factory images

Robotic

Multimodal AI robot

Executes multitasks based on the training data with a single machine and same learning program

Healthcare

Coronary Artery Diagnosis Assistance System

Reduces the time required for doctors to diagnose MRI/CT images with higher accuracy

Healthcare

Simulation on Cancer Patients' Examination Score

Predicts how cancer patients' test results change over time

Pharmaceutical

Prediction of active compound

Predicts compound activity by AI to support new drug development

Smart City

Urban transportation

Proposed an automatic detection system that recognizes people and things, which enable realization of 3D maps for smart transportation

Other

Matchmaker system that matches employers with employees

Recommends a company based on the candidate's skill, personality, etc.

Other

Shift scheduling assistance system

Supports new store managers based on data from high-performing store managers

Other

Analysis of player movement and trajectory in sports games

Detects athletes and their trajectory for player and game analysis in sports like basketball
Contact us to find out more about our AI innovation services