Fast track Digital transformation,
achieve concrete results
[ exaBase - One of Japan's largest AI Platforms ]
Supporting over 500 companies, including the majority of
Japan's top 100 companies by domestic market cap
exaBase is a service platform consisting of three components: Products, AI Assests, and Consulting Services.
exaBase will accelerate and deliver a smooth digital transformation addressing management issues through these components together combined.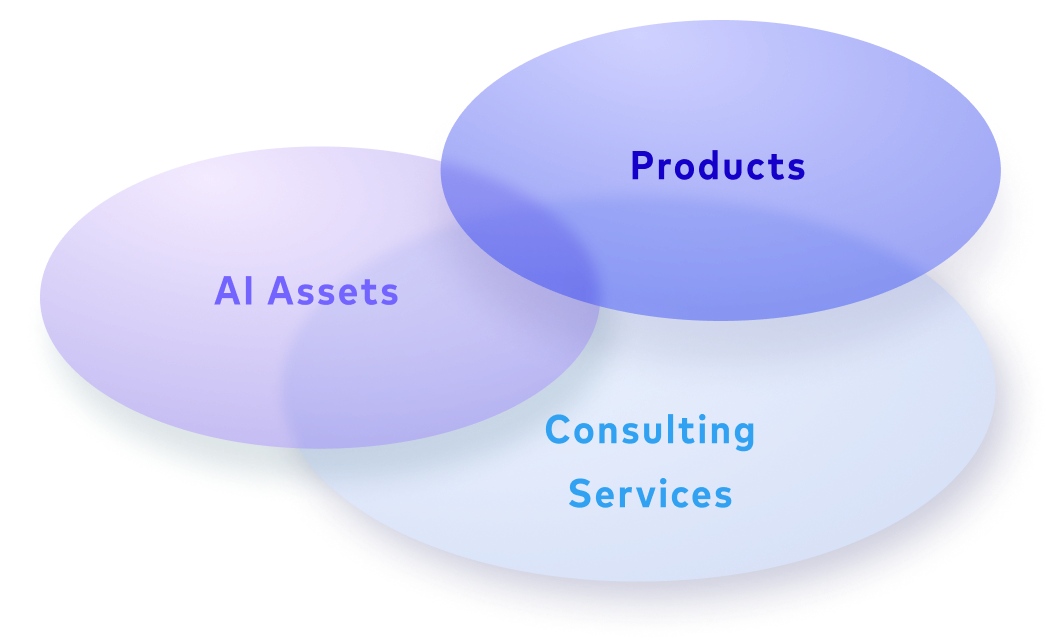 Products
exaBase offers you multiple ready to use products, set to go with a GUI or as a SaaS.
Products are built to solve your specific issues for swift and sure transformation.
AI Assets
exaBase opens your access to a library AI Assests - the rich intellectual property and AI models ExaWizards has accumulated through more than 300 AI projects conducted each year.
Leverage the power of proven AI models and intelectual properties at top level standards
*
of Japanese Startups into your digital transformation journey.
*191 patents applied, 85 patents acquired as of March 2023
Forecast and Analysis
Market price forecast
Pharmaceutical / chemical forecast
Active workforce / retirement forecast
Credit screening
Dam inflow forecast
... and more
Optimization
Shelf space optimization
Operation schedule optimization
Material cutting optimization
Promotion optimization
Staffing optimization
... and more
Image Analysis
Personnel detection in stores and factories
Face recognition and facial expression analysis
2D/3D pose estimation
Turbulence detection
Object abnormality detection
... and more
Speech Analysis
Transcription
Recognition of industry terminology (e.g. Nursing care field)
... and more
Text Analysis
Text classification / clustering
Text summarizing
Recognition of industry terminology
Collecting labeling statements
Annotation assistance
... and more
Robotics
General object grasping
Liquid / powder weighing
... and more
Consulting
Services
exaBase's Consulting Services provides various solutions based on rich expertise from consultants, engineers, designers, along with the deep industry knowlegde from domain experts.
Our team will support you through the whole digital transformation process from strategy planning to data usage, business plans, organizational transformation, and infrastructure development.
Get in touch with us now to discuss
your digital transformation journey today.