ExaWizards Inc. launches MilCube, an edge AI camera equipped with a high-performance twin lens – Compatible with a wide range of usage scenarios, such as helping visualize the extent of the "3Cs" in a room or automatically photographing children in daycare centers –
On August 25, 2020 (Tue.), ExaWizards Inc. (Headquarters: Minato-ku, Tokyo; President & CEO: Ko Ishiyama; hereinafter, "ExaWizards") launched MilCube, an edge AI camera equipped with a high-performance twin lens.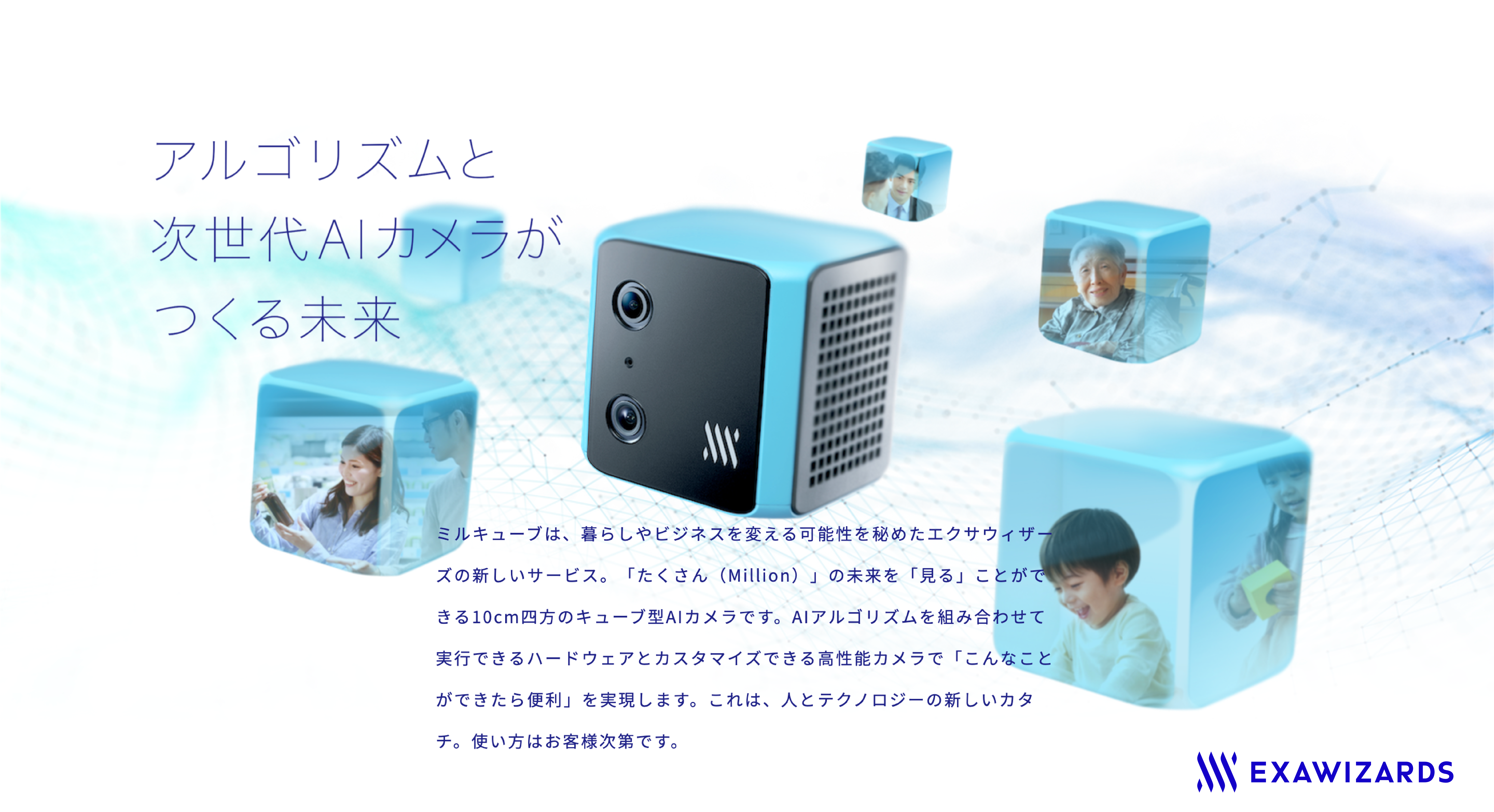  Achieving a whole new level of convenience through a cube-shaped edge AI camera measuring 10 cm on each side
MilCube is a cube-shaped edge AI camera measuring 10 cm on each side that can "see" "many (million)" futures. MilCube can be used to solve issues in a wide range of fields thanks to hardware that can combine and perform AI algorithms and a customizable high-performance camera, such as conducting analysis of customers at stores, making improvements to operations at factories, or improving performance in sports. What is more, it is highly portable and can be carried anywhere, and is equipped with a CMOS image sensor manufactured by SONY, which boasts high resolution images and excellent performance in low lighting. This also makes it the perfect choice for creating memorable photographic records through automatic photography utilizing AI.

 Cutting running costs and reducing security risks through edge processing
MilCube, which is equipped with powerful hardware, differs to regular cloud-type AI in that it carries out data processing on the terminal side and only sends the necessary data to the server. This not only allows images to be processed in real time but it also cuts running costs associated with processing on the server side and reduces security risks.
☑︎ Six solutions provided by MilCube
(1) Visualizing the "3Cs"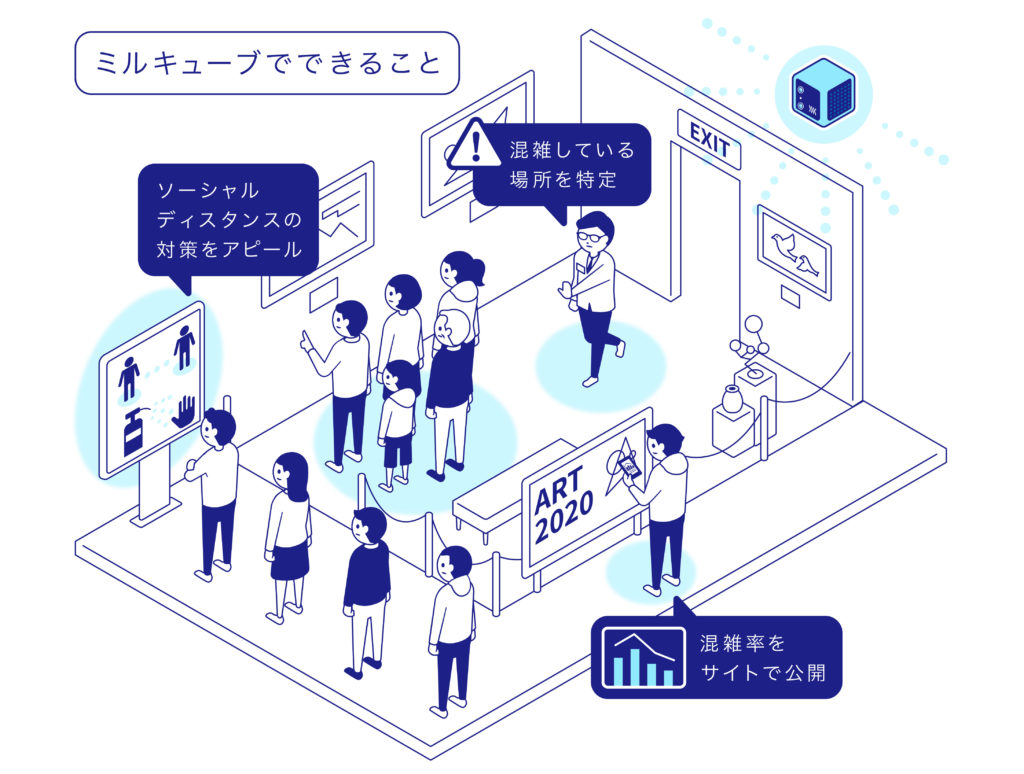 MilCube can constantly measure how crowded a room is and identify places where crowding occurs. It allows facilities to confirm the effectiveness of their measures and disclose the results to customers as a way of reassuring them that safety measures have been put in place.
(2) Turning sales into a science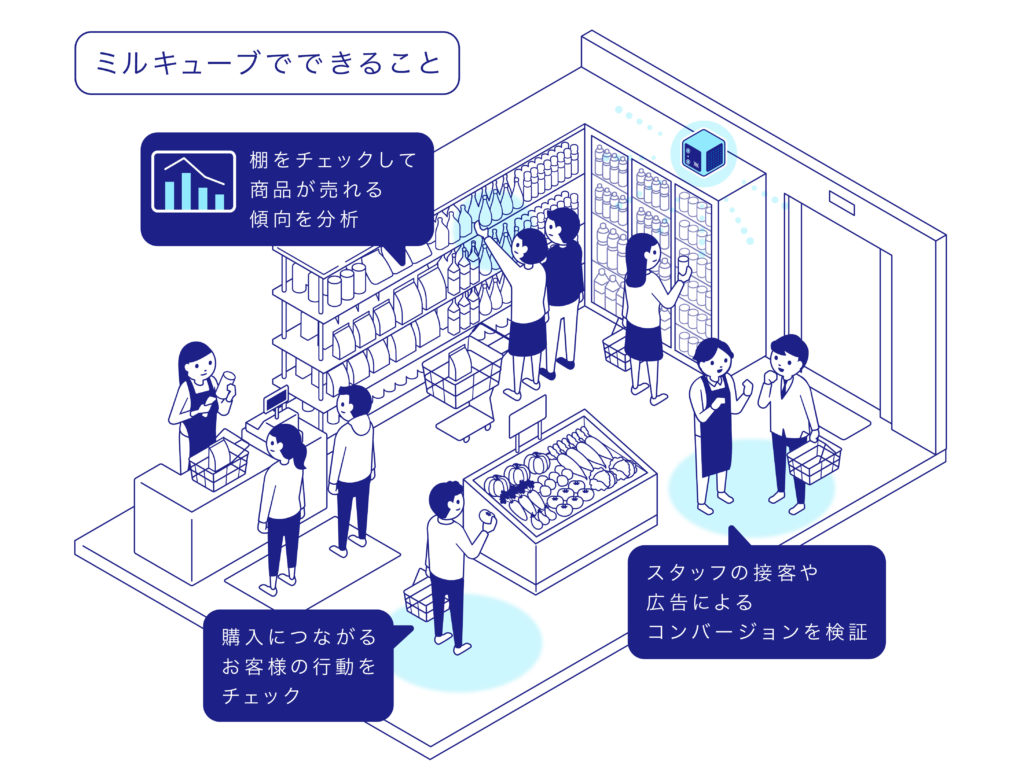 MilCube captures the shop floor in great detail thanks to its high sensitivity image sensors, making it possible to infer, detect and quantify trends related to sales, something which has been difficult with conventional AI cameras.
(3) Capturing many precious memories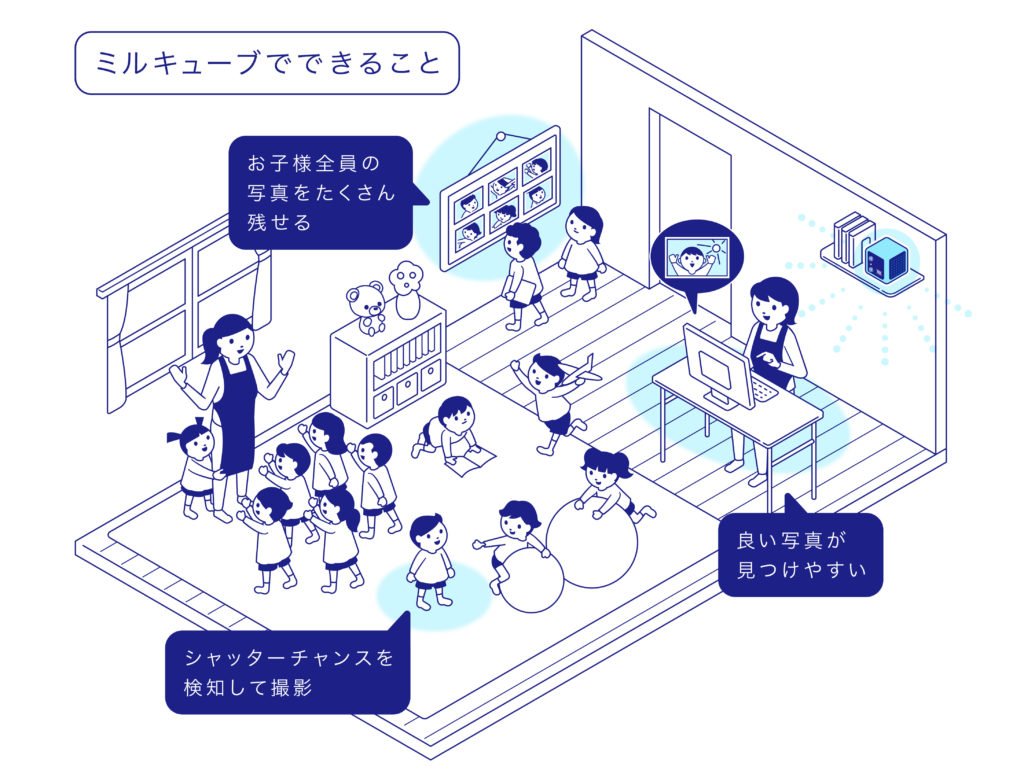 MilCube can detect the behaviors and expressions of children at daycare centers through its high-performance camera, and take photographs automatically. It corrects blurred photos and uploads these in order of recommendation to a designated website.
(4) Getting close up to the important people in your life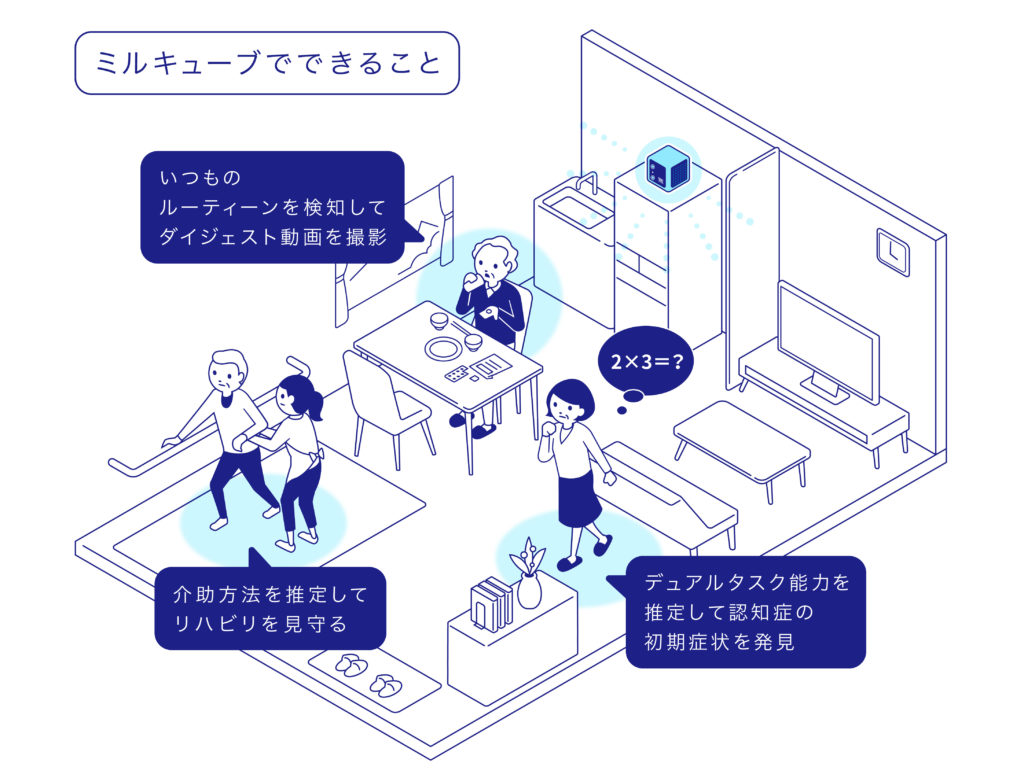 MilCube supports the health management of care facility residents by monitoring how they are on a daily basis. It can also play a supporting role in rehabilitation by inferring if someone is at risk of having a fall from the way in which they walk, as well as methods to assist them.
(5) Evolution in the workplace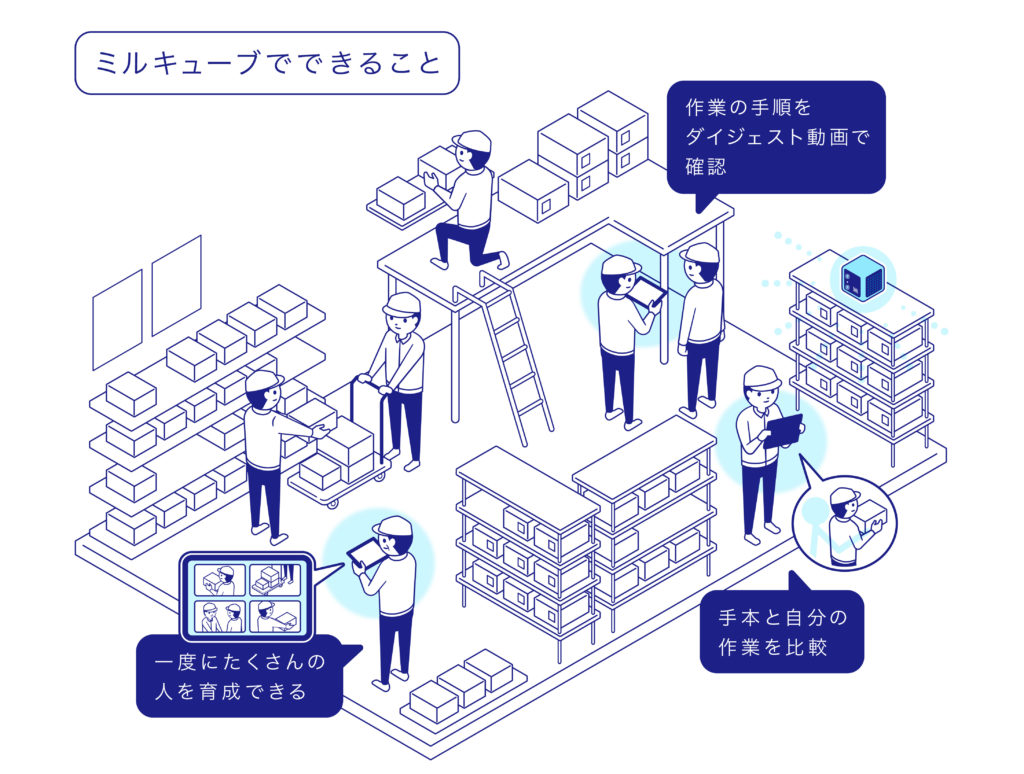 MilCube automatically creates a digest video that focuses on aspects of work that you wish to confirm, and makes comparisons by superimposing models on its own photos, enabling operations to be streamlined.
(6) Changing the ways we enjoy sports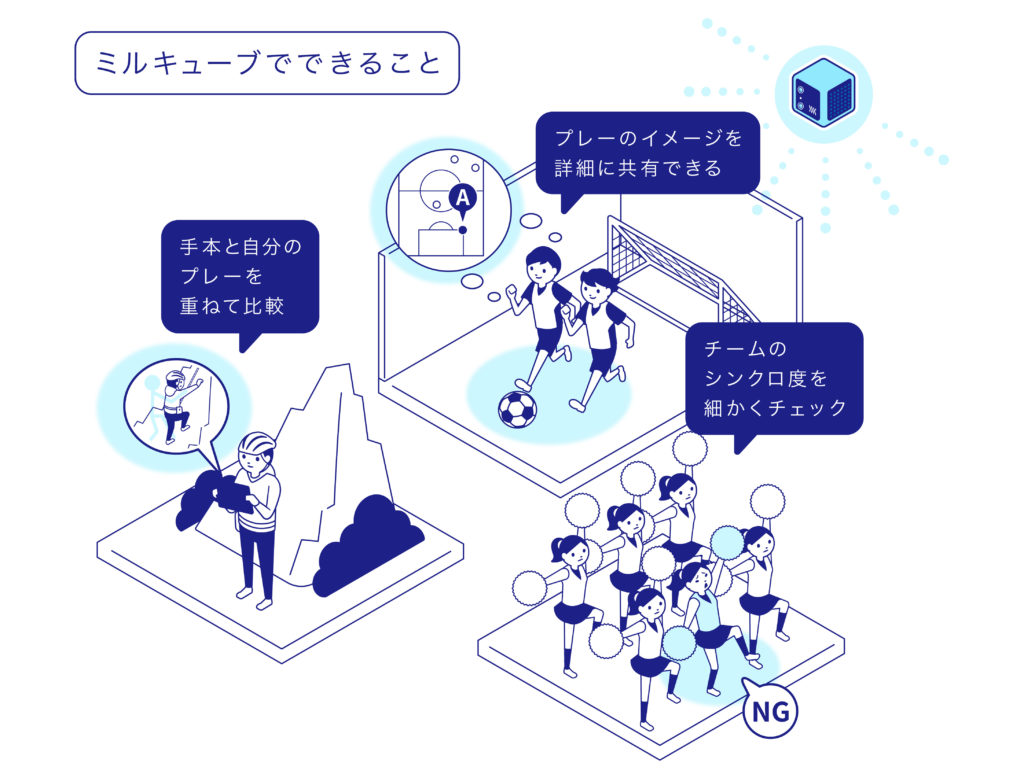 MilCube can quantify movements through AI form analysis, and judge whether they are good or bad. In addition, in the case of competitive sports played in teams, it can also command a bird's eye view of the field by creating 3D models based on captured images.
Link to official MilCube website: https://milcube.com/
 MilCube is introduced at tourist facilities in Hiroshima Prefecture to visualize peak times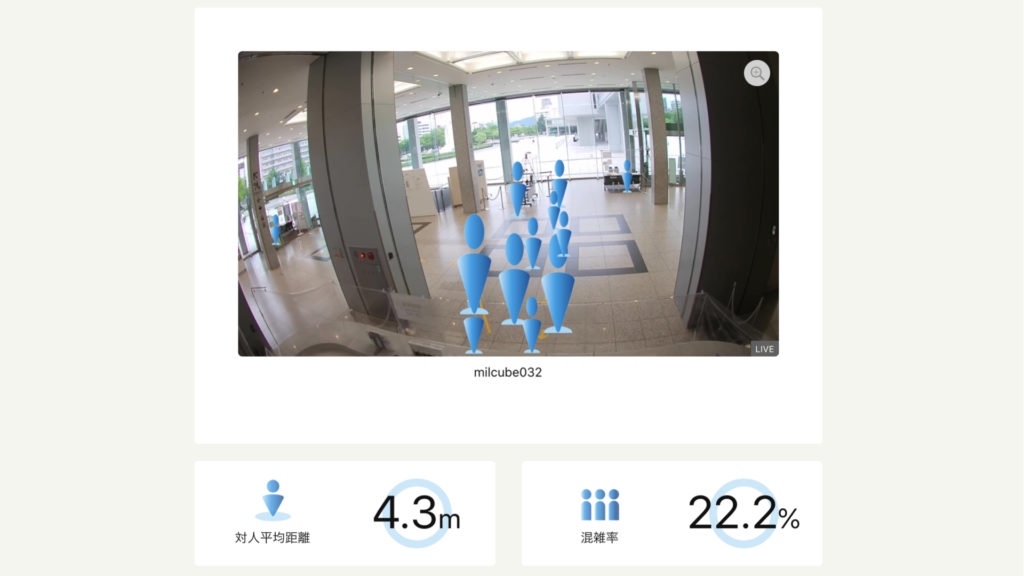 Live footage via MilCube
MilCube has been introduced at the below three facilities in partnership with the Hiroshima Prefectural Tourism Federation with the aim of enabling safe and secure tourism at tourist facilities. MilCube is currently providing near real time information on peak times at these tourist facilities via the Hiroshima Prefecture tourism website "Hiroshima Kanko Navi" and the official websites of the facilities in question. This initiative will allow visitors to Hiroshima Prefecture to enjoy their trip in peace of mind.
<Facilities where MilCube has been introduced>
– Hiroshima Prefectural Art Museum (Hiroshima City, Hiroshima Prefecture)
– Hiroshima Peace Memorial Museum (Hiroshima City, Hiroshima Prefecture)
– Yamato Museum (Kure City, Hiroshima Prefecture)
Link to Hiroshima Kanko Navi website: https://www.hiroshima-kankou.com/feature/camera/camera-hyouji

[About ExaWizards Inc.]
Sticking to our mission: Solving social issues through Artificial Intelligence for future generations, we develop and commercialize AI products in a wide range of areas from caregiving, medical care, and human resource management to robotics and finance. Our members represent a kaleidoscopic variety of talent, including not only AI engineers but also software and hardware engineers, strategy consultants, UI/UX designers, as well as subject matter experts, researchers, and policy experts specializing in caregiving and other fields. Based in Japan, a super-aging society, ExaWizards, engages in product development with a thorough understanding of the front-line needs and issues in each field, while expanding globally through business development initiatives at overseas bases.
Website: https://exawizards.com/en/