ExaWizards and Yamaguchi University AI Systems Medicine Research and Training Center commence a comprehensive joint venture to utilize medical AI – Using data science technologies to solve issues at medical sites –
ExaWizards Inc. (Headquarters: Minato-ku, Tokyo; President & CEO: Ko Ishiyama; hereinafter, "ExaWizards") and Yamaguchi University (Location: Yamaguchi City, Yamaguchi Prefecture; President: Masaaki Oka; hereinafter, "Yamaguchi University") commenced a comprehensive joint venture to utilize medical AI with the aim of using data science technologies to solve issues at medical sites.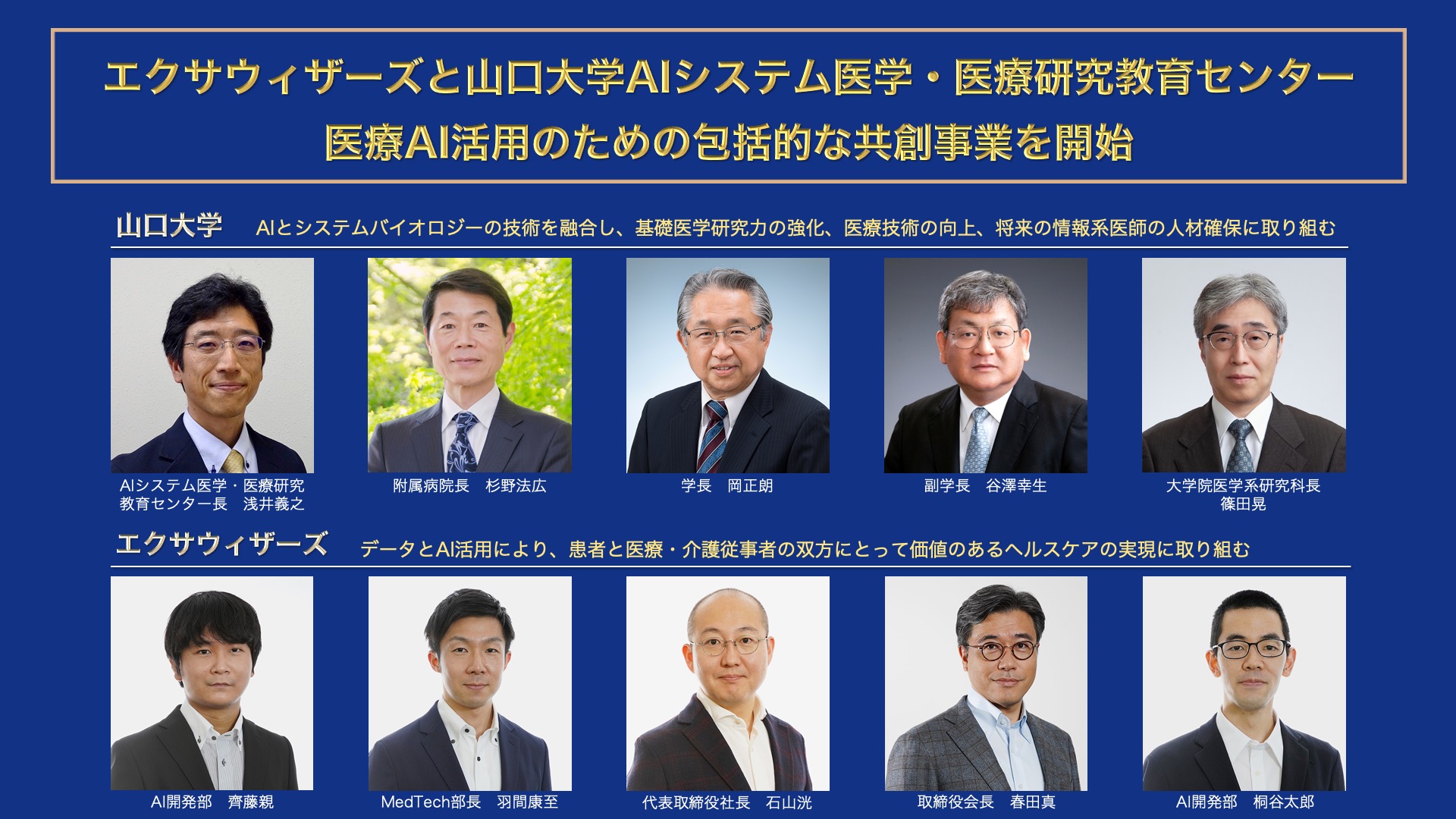  Creation of AI innovation and promotion of its utilization on the ground through collaboration between industry and academia at medical sites
The demand for medical and care services is on the rise in Japan due to its increasingly aging population. As a result, there is a growing need to use a range of technologies, including AI, to improve the level of services for patients and provide support to medical and care workers. In particular, in recent years more and more innovation is being created based on mutual understanding between medical sites and technology companies.
ExaWizards is actively working in the MedTech field, which aims to achieve valuable healthcare for both patients and medical and care workers through the utilization of data and AI. As part of our work, among other things we promote the commercialization of seeds constructed through collaboration between industry and academia, as well as the joint development of services with medical sites.
Centering on its AI Systems Medicine Research and Training Center (Center Director: Professor Yoshiyuki Asai, Graduate School of Medicine), Yamaguchi University aims to fuse AI and system biology technologies to bolster its fundamental medical research capabilities, improve medical technologies, and secure medical human resources who are capable of dealing with information systems in the future.
This joint venture, which was recently initiated between both organizations, aims to put in place new AI systems utilizing Yamaguchi University's medical sites and academic expertise and ExaWizards' technological capabilities and business development capabilities as an AI development company to explore and uncover the kinds of needs which exist at medical sites. The venture will initially focus on the following three themes: "Development of behavior modification tools by combining personal health records (PHR) and AI analysis with the aim of preventing frailty"; "Selection of promising embryos through the AI analysis of time lapse images of fertilized eggs"; and "Construction of a support system to help make medical judgments in cases of suspected child abuse based on the AI analysis of CT images, etc." Both parties will continue to explore and add new themes in consideration of the need to utilize technologies in a variety of medical departments through regular workshops and other initiatives.
By combining ExaWizards' AI development capabilities and software development capabilities using non-structured data such as video, sound and text, the ultimate goal is to create new innovation and business utilizing AI on the assumption of going beyond research and development to put technologies into practical application at medical sites.
[About Yamaguchi University]
Yamaguchi University is a comprehensive university with more than 10,000 registered students. It consists of 9 faculties and 8 graduate schools, including the Faculty of Medicine and Health Sciences and the University Hospital. In 2015, it celebrated the 200th anniversary of its foundation, and aims to be a diverse campus with a global reach based on the key elements of education, research and social contributions. Yamaguchi University AI Systems Medicine Research and Training Center was established in 2018 in the Graduate School of Medicine and University Hospital. As a hub for AI/machine learning and system biology, it carries our research and development to create new technologies. Another of its roles is to generate awareness of the need to train doctors with data science capabilities, and improve the competitiveness of such doctors in Japan. While current medical AI can be applied to early, high precision diagnostic support, etc., the development of new treatments and medicines will require a deep understanding of the mechanisms behind this technology. To do so, the center is analyzing the dynamics of biological functions from the perspective of system biology so as to deepen understanding from new approaches focusing on the movements of systems in the form of diseases. In addition, the center is also working to train doctors with data science capabilities from the aspects of both AI/machine learning and system biology.
Website: http://aismec.gsm.yamaguchi-u.ac.jp


[About ExaWizards Inc.]
Sticking to our mission: Solving social issues through Artificial Intelligence for future generations, we develop and commercialize AI products in a wide range of areas from caregiving, medical care, and human resource management to robotics and finance. Our members represent a kaleidoscopic variety of talent, including not only AI engineers but also software and hardware engineers, strategy consultants, UI/UX designers, as well as subject matter experts, researchers, and policy experts specializing in caregiving and other fields. Based in Japan, a super-aging society, ExaWizards, engages in product development with a thorough understanding of the front-line needs and issues in each field, while expanding globally through business development initiatives at overseas bases.
Website: https://exawizards.com/en/