Online AI seminar "DX in the Post-COVID-19 Era" to be broadcasted – Special seminar hosted through exaCommunity, a community of AI leaders –
On May 8 (Fri.), ExaWizards Inc. (Headquarters: Minato-ku, Tokyo; Representative Director & President: Ko Ishiyama; hereinafter, "ExaWizards") will broadcast an online AI seminar entitled "DX in the Post-COVID-19 Era" as a special seminar hosted through exaCommunity, a service administered by this company.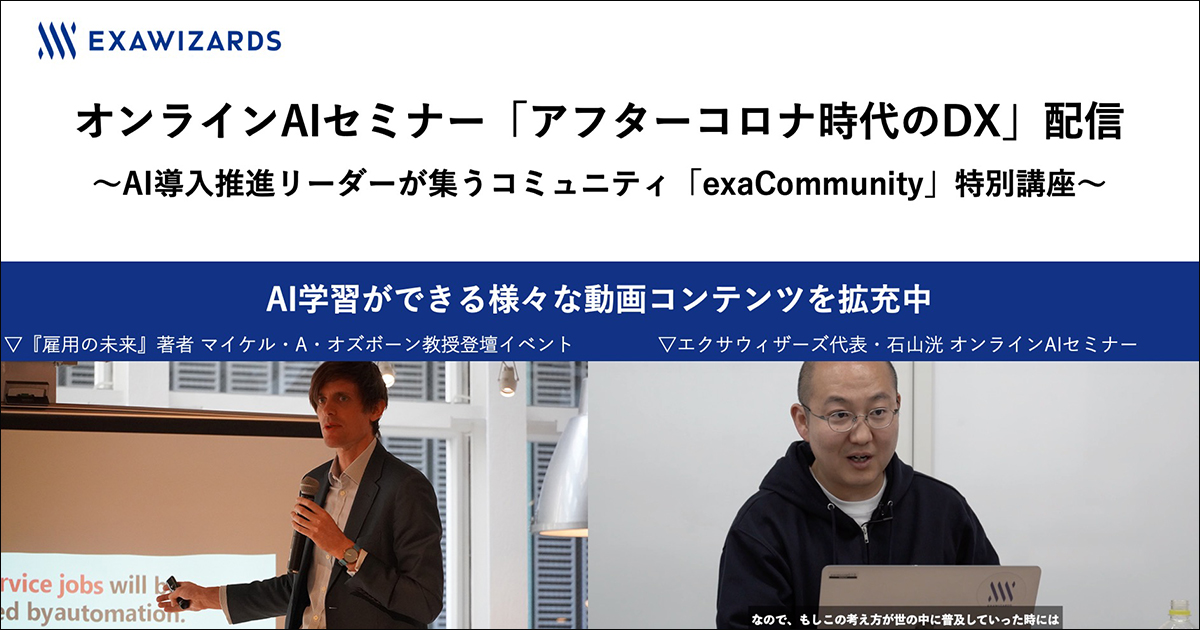  Special broadcast as an open seminar in response to success of a seminar broadcast to fee-paying members
Various discontinuous changes are taking place among municipal authorities, businesses and individuals in response to the global spread of COVID-19. This situation has necessitated companies to drive through DX (digital transformation) as a matter of urgency so as to deal with rapidly changing consumer behavior and supply chains that have come to light in the midst of the pandemic.

In response to this, ExaWizards will broadcast an online AI seminar that is also open to non-community member companies as a special seminar. This seminar will examine the future of DX from two perspectives: the world after the COVID-19 pandemic (mid- to long-term) and actual examples of measures companies are taking right now (immediate). The seminar will ask many probing questions, such as whether companies need to change their existing strategies, organizations or operations; how DX that is more than just teleworking should be carried out by industry; and what specific kinds of action should companies be taking right now. The seminar will also introduce online workshops focusing on how to get through the COVID-19 era and how to prepare for what might lie ahead in the post-COVID-19 era.

This is the digest version of a seminar that was broadcast to paying members on April 22 (Wed.), which was such a resounding success that we decided to broadcast it as a special open seminar. Upon subscribing, paying members can access all of the past episodes of this seminar.
[Overview of the online AI seminar]
Title: exaCommunity Special Seminar "DX in the Post-COVID-19 Era"
Date and times: May 8 (Fri.), 16:00 – 17:00
Speaker: Takuma Oue, Executive Officer, ExaWizards Inc.
Applications for viewing: https://eventregist.com/e/qoEjSO02ZvKJ

[About exaCommunity]
exaCommunity, administered by ExaWizards, is a fee-based service for corporate members who use AI. By providing reports on case examples of using AI in business, video learning, articles, offline exchange meetings, events, etc., it helps corporations and their staff to solve issues and create new business by using AI.

Due to the recent spread of the novel coronavirus (COVID-19), we are now holding offline events online instead, and have put in place a fuller range of video content and articles through which people can learn about AI. We will continue to add to our online content to allow even those companies that have already introduced teleworking to actively learn more about AI.

 Overview of services
Content: Fee-based service for corporate members who use AI
Annual membership fee: 150,000 yen (excl. tax) *5 IDs are issued per registration (= 5 people can access at the same time)
Link: https://community.exawizards.com/
Applications for registration: https://community.exawizards.com/entry/

 Example video content
The Future of Employment, by Dr. Michael A. Osborne: Online talk event via video streaming
"Surviving in the AI Age! Future Skills that Every Adult should learn"
Sample viewing: https://community.exawizards.com/member/yomoyama/sample_001/

 Example online event
Online AI seminar by Ko Ishiyama, Representative Director & President of ExaWizards Inc.
"exaCommunity Special Seminar: Textbook for DX" (total 5 sessions)
Sample viewing: https://community.exawizards.com/member/yomoyama/sample_002/

[About ExaWizards Inc.]
Sticking to our mission: Solving social issues through Artificial Intelligence for future generations, we develop and commercialize AI products in a wide range of areas from caregiving, medical care, and human resource management to robotics and finance. Our members represent a kaleidoscopic variety of talent, including not only AI engineers but also software and hardware engineers, strategy consultants, UI/UX designers, as well as subject matter experts, researchers, and policy experts specializing in caregiving and other fields. Based in Japan, a super-aging society, ExaWizards, engages in product development with a thorough understanding of the front-line needs and issues in each field, while expanding globally through business development initiatives at overseas bases.
Website: https://exawizards.com/en/