ExaWizards and Miyazaki City commence a joint verification project utilizing AI – Introduction of "gait analysis AI" to optimize care management in the caregiving field –
ExaWizards Inc. (Headquarters: Minato-ku, Tokyo; Representative Director & President: Ko Ishiyama; hereinafter, "ExaWizards") commenced a joint verification project with Miyazaki City and me-rise Labo Co., Ltd. (Location: Miyazaki City, Miyazaki Prefecture; Representative Director: Shigetoshi Kaneko; hereinafter, "me-rise Labo") to optimize care management in Miyazaki City.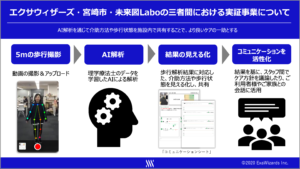 About the joint verification project between ExaWizards, Miyazaki City and me-rise Labo


 Research agreement
ExaWizards, Miyazaki City and me-rise Labo recently entered into a research agreement on solving issues using advanced technologies. Three issues have been set under this research agreement: "securement of personnel," "streamlining of care management work," and "improvement of care management capabilities to help support people's independence and prevent their condition from worsening." Through mutual cooperation and coordination in research on solutions utilizing advanced technologies, the three partners in this agreement aim to optimize care management in Miyazaki City.
 Verification project 
The first step in this verification project under the research agreement will be to test the effectiveness of the gait analysis AI developed by ExaWizards within the me-rise Labo office. Gait analysis AI involves taking a video of a person walking for 5 m and analyzing it using AI which has learned data from physical therapists, enabling the visualization of the degree to which someone is at risk of falling when walking and possible methods of assistance. The tests that will be carried out at the me-rise Labo office will be used to verify the possibility of utilizing gait analysis AI to streamline care management work with the aim of supporting the assessment capabilities of care managers at community general support centers. In addition, it also aims to stimulate debate on care policies between staff along with communication with the families of users, thus helping to optimize care management in Miyazaki City.
*This verification project uses the results of a project commission by the New Energy and Industrial Technology Development Organization (NEDO).
<Overview of research agreement>
Research theme: Mobility assessment utilizing advanced technologies (AI and ICT)
Partners in research agreement: ExaWizards Inc. (Tokyo), me-rise Labo Co., Ltd. (Miyazaki City) and Miyazaki City
Duration of agreement: 1 year from March 9, 2020 (day of conclusion of agreement) *May be extended
<Overview of tests carried out at me-rise Labo>
Content of test: Test to verify the gait analysis AI developed by ExaWizards
Test subjects: 83 me-rise Labo users and members of staff
Location of tests: Inside the me-rise Labo office
Test period: March 10 (Mon.) – May 31 (Sun.), 2020
Measurement of effectiveness:  Questionnaire survey conducted before and after the test among me-rise Labo members of staff
[About ExaWizards Inc.]
Sticking to our mission: Solving social issues through Artificial Intelligence for future generations, we develop and commercialize AI products in a wide range of areas from caregiving, medical care, and human resource management to robotics and finance. Our members represent a kaleidoscopic variety of talent, including not only AI engineers but also software and hardware engineers, strategy consultants, UI/UX designers, as well as subject matter experts, researchers, and policy experts specializing in caregiving and other fields. Based in Japan, a super-aging society, ExaWizards, engages in product development with a thorough understanding of the front-line needs and issues in each field, while expanding globally through business development initiatives at overseas bases.
Website: https://exawizards.com/en/