Michael A. Osborne, an Associate Professor at the University of Oxford and the author of "The Future of Employment" becomes an advisor at ExaWizards, a Japanese AI startup
〜To advance development of "HR-kun", a HR Tech product, and R&D initiatives for global expansion.~
As of 1st Sep, ExaWizards Inc (Tokyo, CEO Ko Ishiyama) is welcoming Michael A. Osborne, an Associate Professor at the University of Oxford as an advisor. Prof. Osborne is a world leading researcher in Machine Learning and well known for his research paper, "The Future of Employment". He published its sequel research paper "The Future of Skills" in January 2018 and influenced the field of lifelong education deeply. ExaWizards is expecting to do various collaborations with Prof. Osborne including research based on data from "HR-kun", a HR Tech product, and R&D initiatives for global expansion.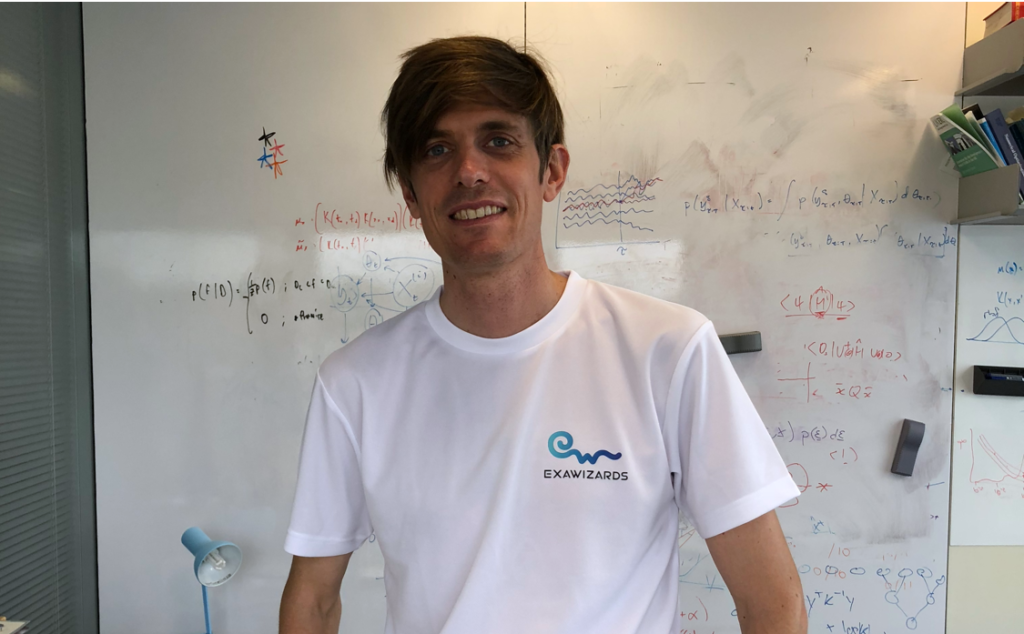 Profile of Michael A. Osborne
Michael Osborne is the Dyson Associate Professor in Machine Learning, Co-Director of the Oxford Martin Programme on Technology and Employment, Co-Director of the EPSRC Centre for Doctoral Training in Autonomous Intelligent Machines and Systems, Official Fellow of Exeter College and Faculty Member of the Oxford-Man Institute of Quantitative Finance, all at the University of Oxford. He is also a co-founder and CSO at Mind Foundry.
He works to develop machine intelligence in sympathy with societal needs. In 2013, he co-authored a highly-cited paper with economist Carl Frey that used machine learning to estimate that 47% of US jobs are at risk of being automatable through advances in artificial intelligence and robotics. His work has resulted in both sustained coverage in most major media venues (e.g. his being interviewed on BBC Newsnight, a cover feature in the Economist) and policy impact (including presenting oral evidence to the House of Commons Science and Technology Committee).
He has distinguished expertise in Gaussian processes, active learning, Bayesian optimization, Bayesian quadrature, and the emerging field of probabilistic numerics. His works have been applied in scientific and engineering problems in fields as diverse as exoplanet search, finance, crystallography, autonomous robotics, and the study of pigeon navigation.
Prof. Osborne's comment: It is a great pleasure to join the Exawizards advisory team. Informed by our research on the future of employment, I recognize great value in ExaWizards' work to meet the needs of tomorrow's labour force. In particular, ExaWizards' contributions towards the challenges of an aging population and the related demand for lifelong education are both timely and important. I simultaneously see the promise of a partnership between Exawizards and the company I co-founded, Mind Foundry, which aims to deliver high-quality and scalable machine learning products and services. Exawizards and I share the goal of seeing machine learning used as a key tool towards human flourishing: I'm looking forward to working together towards that goal.
CEO Ko Ishiyama's comment: We first met during MEXT's "Discussion with Minister on human resource development for Society 5.0". Both Prof. Osborne and I are 36 years old and from the same generation. With his collaboration I would like to challenge to solve social issues as researchers in the field of HR Tech in Japan and U.K..
The burden on the labor force will increase greatly as the aging and the declining birthrate progress especially in developed countries. The analogue could be said in the context of corporation as well. For corporations, it is essential to advance the management of HR and improve employee productivity through lifelong education to achieve sustainable growth. Prof. Osborne is a leading researcher in the field of technology and employment, and without doubt his knowledge and insight will enhance our HR tech business, especially the product of "HR-kun". In addition, I hope that his collaboration experience with Google DeepMind, NVIDIA, IBM, and other world's leading corporations will benefit each of our projects. Prof. Osborne is also CSO at Mind Foundry, an AI startup at the University of Oxford, and that will provide an important value for us to accelerate our global expansion. We aim to solve the social issues in a super aging society together with Prof. Osborne, an expert (wizard in our words) of "Technology and Employment" and "Artificial Intelligence".
<Reference URL>(In Japanese) 
Discussion with Minister on human resource development for Society 5.0 http://www.mext.go.jp/a_menu/society/1405985.htm
ExaWizards's vision is to bring transformational business and social impact with AI in today's super-aging society. It is developing "HR-kun", an AI-enabled HR solution that supports enterprises from recruitment to development, evaluation, placement and providing "Humanitude" training in elderly care while developing "Coaching AI" that trains the method. ExaWizards is also working on alliances with leading companies from different industries such as the joint R&D of drug discovery AI in medical technology, partnership with a large financial group in fintech, and the co-development of a dual arm multi modal AI robot in robotics. For international market, ExaWizards has been working on a smart city development project in Andhra Pradesh, India, and global promotion and development of care business.
ExaWizards Inc's Profile
Company Name: ExaWizards Inc.
Location: 5F, Sumitomo-Hamamatsucho Building, Hamamatsu-cho 1-18-16, Minato-ku, Tokyo
Founded: February 2016
CEO: Ko Ishiyama
Business: Solving industry-specific and aging society issues with AI
URL: https://exawizards.com/en/
* ExaWizards is continuously recruiting people who would like to challenge social issues with AI. If you are interested, please contact us at( https://hrmos.co/pages/exawizards )or through our recruitment site.
<Contact>
ExaWizards Inc. Public Relation Division
E-mail:publicrelations@exwzd.com