Version Upgrade of "HR-kun 1on1," the AI-based Online Service to Support 1on1 Meetings
For Checking Analysis Reports and Reviewing 1on1 Meetings on the Day
—By AI-based video analysis, objective feedback is given on the current condition of a 1on1 meeting that cannot be identified by questionnaire
ExaWizards Inc., a company that develops AI-enabled services to solve social issues (Headquarters: Minato-ku, Tokyo; Representative Director & President: Ko Ishiyama; hereafter, "ExaWizards") today announced a version upgrade of "HR-kun 1on1", its AI-based online service to support 1on1 meetings. With this upgrade, users can now check the analysis report and review a 1on1 meeting on the day.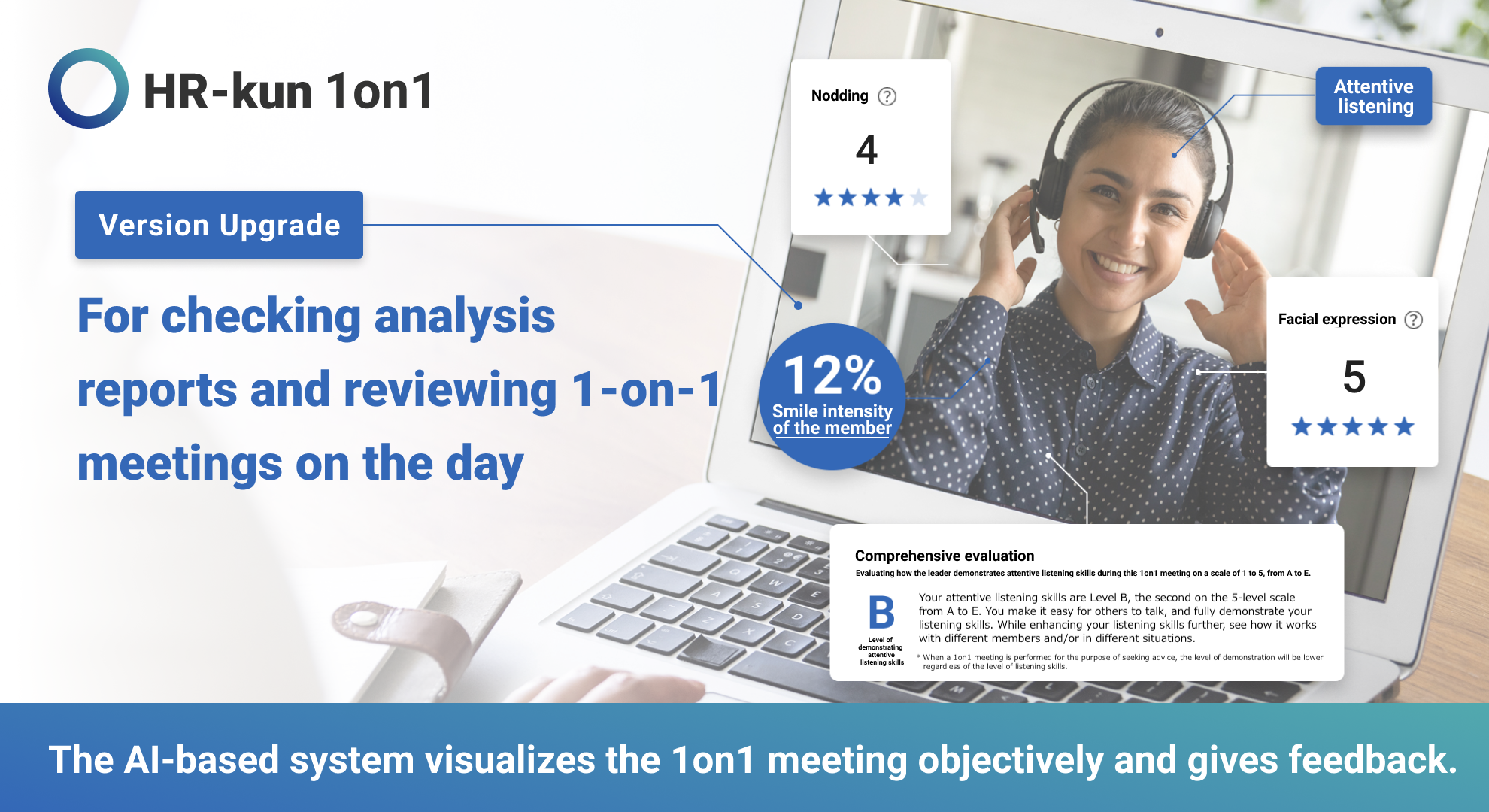 ☑︎ About "HR-kun 1on1"
The use of 1on1 meetings is rapidly increasing, but we often receive feedback from front-line managers who wonder whether they are running such meetings effectively, or from the human resource department which wonders whether managers are sufficiently listening to their subordinates in the meetings.
Both of these issues are caused by a lack of understanding of the quality of 1on1 meetings and are factors that may impair the benefits of the meetings in the organization.
Conventionally, a questionnaire has been used to assess the quality of 1on1 meetings; however, it is not easy to communicate honest opinions in a hierarchical manager-worker relationship, making it difficult to obtain correct information.
"HR-kun 1on1" is an AI-based online service to support 1on1 meetings by assisting high-quality communication during telework by analyzing the video and audio of 1on1 meetings with AI and providing objective feedback. In this version upgrade, the time from uploading a video to viewing the report has been greatly reduced, and a retrospective worksheet function has been implemented. This allows managers to review a 1on1 meeting on the day while it is still fresh in their minds to determine what needs to be done for improvement. Thus, the improvement cycle for 1on1 meetings can be implemented more effectively.

☑︎ Effect of Objective Feedback
According to a questionnaire for some users of this service, 65% (n = 20) replied that they would change specific behaviors during future 1on1 meetings after receiving objective feedback on how much and at what speed they talk and their facial expressions. The remaining 35% replied that they were going to change something, but were not yet sure what to change; nobody answered that they would consciously do nothing.
We also used the service ourselves and experienced an improvement in the quality of communication with apparent changes in the behavior of managers during online 1on1 meetings; for example, the number of times of nodding per minute by managers increased from 3.9 times to 6.3 times, and the percentage of speaking by members increased from 37% to 78%.
We will add more effective feedback items in the future to further increase the value of 1on1 meetings. In addition, we will analyze the quantification data in combination with sales figures and engagement data to scientifically identify the 1on1 style that will improve the outcomes of the organization and growth of individuals. By refining 1on1 communication, we will support the continued growth of enterprises.
☑︎ 3 Features of "HR-kun 1on1"
1) Objectively analyzing the video and audio data of 1on1 meetings and providing feedback
By receiving objective feedback on 1on1 meetings based on AI-based analysis without being heard by others, you can gain new findings from such feedback that is difficult for others to point out, for example, on the amount of speech and facial expressions.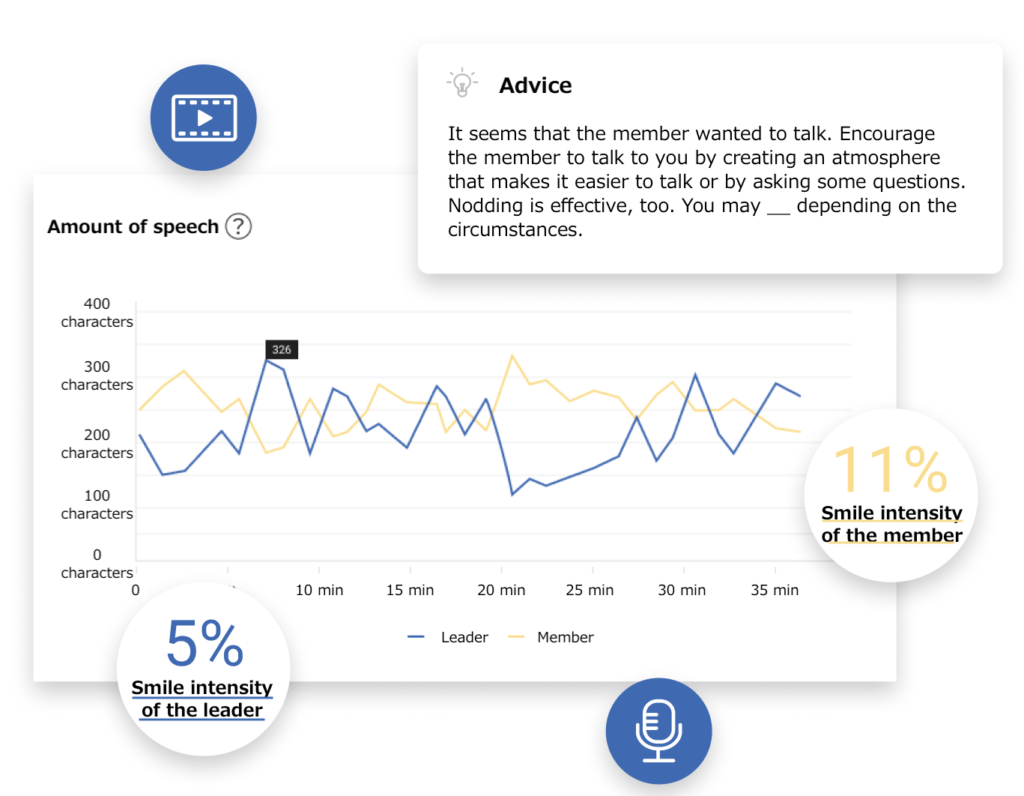 2) Achieving an effective cycle to improve 1on1 meetings
After reviewing the report, you can clarify what actions to take in the next 1on1 meeting on a worksheet rather than just becoming aware of it. You can refer to the actions you entered at any time to effectively and progressively improve 1on1 meetings.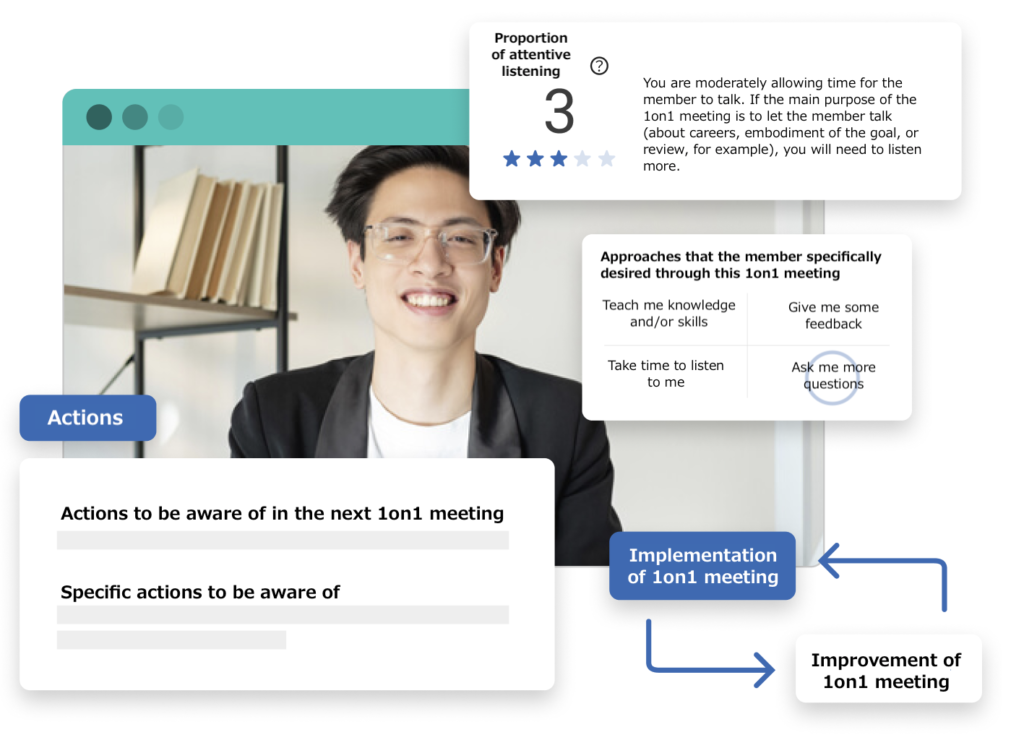 3) Promoting measures for better 1on1 meetings in a data-driven manner for the whole organization
By quantifying the quality of 1on1 meetings that has previously been ambiguous, it can be treated as a parameter for skills management and used for organizational development.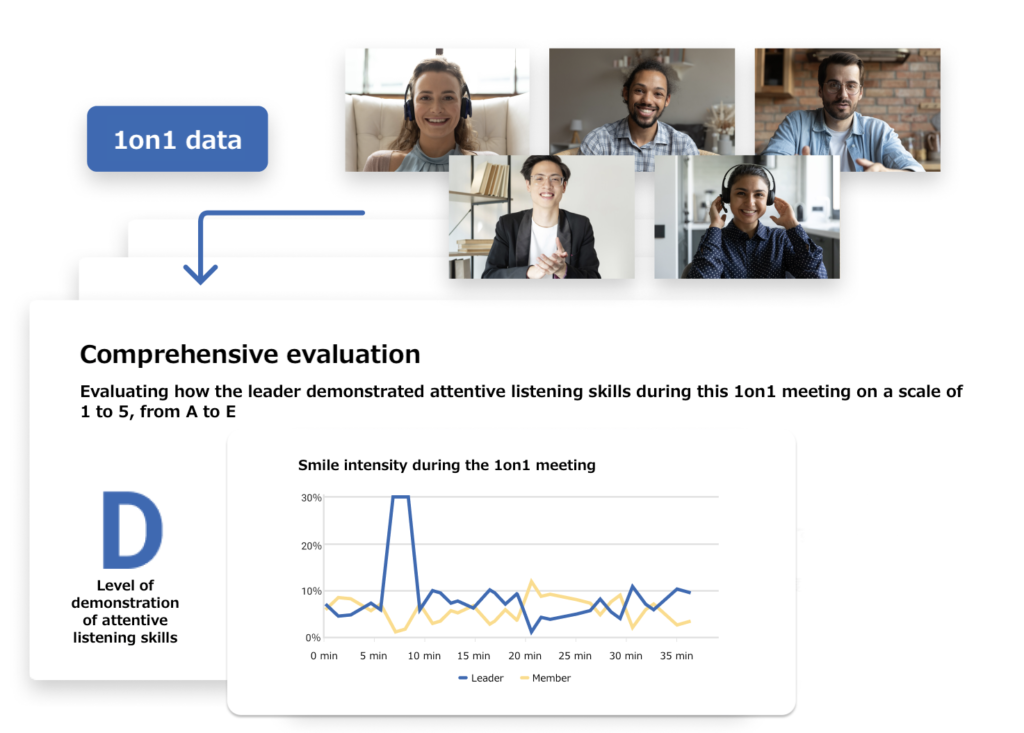 ☑︎ Outline of "HR-kun 1on1"
Website: https://hrkun1on1.com/
The service is offered to a limited number of companies on a trial basis. If you are interested in the service, please contact us at https://hrkun1on1.com/contact.



☑︎ Comments from users
Mr. Terumasa Sekimizu and Ms. Ayaka Yamaoka, Human Resources Department, Japan Tobacco Inc.
We used the service on a trial basis as one of the measures to support communications between superiors and subordinates. Managers tend to believe that they are listening to their subordinates properly, or that they are having a successful 1on1 meeting that their subordinates desire; however, by seeing their behaviors and amount of speech visualized as data, they looked at themselves objectively and gained some ideas for improvement. We would like to keep using the service according to the needs of respective departments.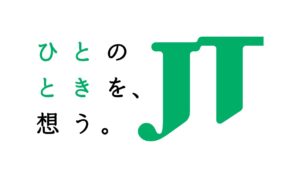 Mr. Shuichi Masuda, Human Resources Department, Sumitomo Dainippon Pharma Co., Ltd.
The growth of employees is an important issue for companies where human resources are a source of competitiveness. The 1on1 video analysis system provided by ExaWizards gives managers specific insights, while offering both superiors and subordinates opportunities to develop their skills. I believe that it will accelerate the speed of employee training and enhance our competitiveness, and eventually contribute to our further growth.



[About ExaWizards Inc.]
With the mission of "Solving social issues through Artificial Intelligence for future generations", we are developing and commercializing AI products in various fields such as nursing care, medical care, HR, robotics, finance, and cameras, in order to solve industry and society-wide issues identified from individual company issues, while working on solving issues in each department and company-wide use of AI. Our members include AI engineers, software and hardware engineers, strategy consultants, UI/UX designers, domain experts in nursing care and other fields, researchers, policy experts, and other cross-disciplinary personnel. In Japan's super-aging society, we are developing our business with a thorough understanding of the needs and issues in each field.
Corporate site: https://exawizards.com/
<Inquiries about this release>
Public Relations Department, ExaWizards Inc.
E-mail: publicrelations@exwzd.com