ExaWizards Started Support for the Medical DX Promotion in Kitahara Hospital Group's Overseas Businesses
 ExaWizards Inc., a company that develops AI-enabled services to solve social issues (Headquarters: Minato-ku, Tokyo; Representative Director & President: Ko Ishiyama; hereafter, "ExaWizards"), today announced that it has started to support the medical DX promotion of Kitahara Hospital Group (including Kitahara Medical Strategies International Co., Ltd. and Kitahara Neurosurgical Institute) in its overseas business.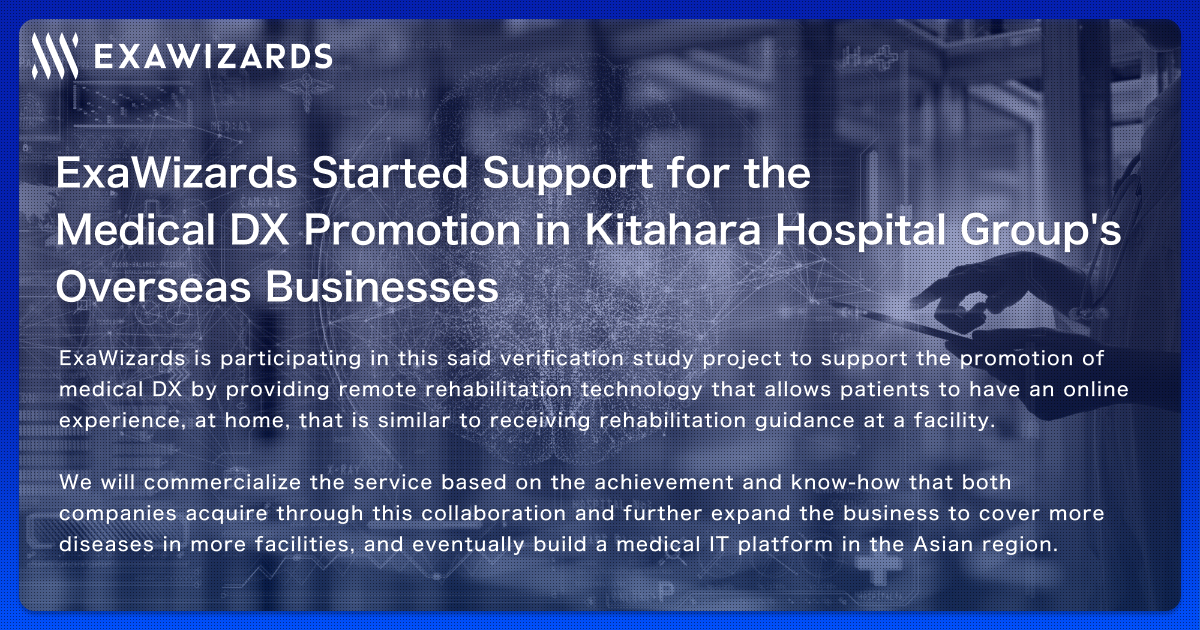 ☑ Background
  A super-aging society and a decline in the labor force population has brought major problems in the form of a lack of human resources in the medical and health care fields. Especially, in Asian countries which are expected to see a rapid growth in the elderly population at a speed faster than we are experiencing in Japan, a lack of access in rural areas to quality medical care services that accommodate changes in the disease structure including increase in non-infectious diseases such as stroke has been highlighted. Combined with obviously uneven distribution of medical services, where medical facilities are concentrated in urban areas. In order to solve these, however, it is essential to promote medical DX, innovating medical services themselves by utilizing digital technologies, as well as developing medical technologies and training human resources in the region.
  With this background, Kitahara Hospital Group has been promoting exportation of the Japanese-style healthcare and already launched the businesses in Cambodia and Vietnam. Aiming to provide not just the medical care services, but all healthcare-related know-how such, as the operation system, training system, food cultures, and the latest technologies such as IT and AI, Kitahara Hospital Group has launched the verification study project of the remote rehabilitation service in both countries as part of it.
  ExaWizards is participating in this said verification study project to support the promotion of medical DX by providing remote rehabilitation technology that allows patients to have an online experience, at home, that is similar to receiving rehabilitation guidance at a facility.

☑ Verification study project on the remote rehabilitation service in Cambodia and Vietnam
  This verification study project will verify the possibility of commercializing remote rehabilitation service, mainly intended for patients with central nervous system diseases who return home after hospitalization. This will be done by combining ExaWizards' remote rehabilitation technologies and DX promotion support know-how with the medical bases that Kitahara Hospital Group has established in Cambodia and Vietnam and its overseas business experiences. In the future, we will commercialize the service in Vietnam and Cambodia based on the achievement and know-how that both companies acquire through this collaboration, and further expand the business in other countries in Asia.
☑ ExaWizards' DX promotion support for medical institutes
  In addition to the remote rehabilitation technology, ExaWizards provides the medical DX promotion support to help improve and homogenize medical treatment quality through assessment support technology that allows physical assessment and identification of issues with just a video taken through the support AI, and development and provision of services that enable the training of new/young employees in a contactless manner by giving them feedback on the video with a digital red pen.
ExaWizards will promote efforts to establish the AI-based medical platform where AI provides cross sectional supports from initial assessment to intervention in the exercise therapy and rehabilitation, while accelerating collaboration with medical institutions, aiming to build better medical infrastructure for both patients and medical professionals/nursing care providers.

[About Kitahara Medical Strategies International Co., Ltd.]
Kitahara Medical Strategies International is engaged in the development and operation of businesses related to medical care, healthcare and lifestyle, considering the medical care to be the "general consumer life industry", and is currently pursuing "exportation of the Japanese medical care", the "digital hospital project" which aims to increase the efficiency and quality of medical care operations by using AI and IT, "Kitahara Total Life Support Club project" through which medical staff provide support for civil life at large, and "disaster affected Tohoku area reconstruction project" which aims to establish a sustainable medical care model in underpopulated areas. In 2016, it opened Sunrise Japan Hospital Phnom Penh, a hospital with emergency medical care center, in Phnom Penh, the capital city of Cambodia.
Website: https://kitaharamsi.com/
[About Medical Corporation Kitahara Neurosurgical Institute (KNI)]
KNI is a medical corporation based in Hachioji, Tokyo. They provide neurosurgical and cardiology patients with comprehensive medical treatment, ranging from prevention, acute care and surgery, to rehabilitation and home care. Kitahara International Hospital accepts emergency patients 24 hours a day, 365 days a year as an acute hospital, and has handled a large number of the cerebrovascular disease cases in Tokyo.
Website: https://kitaharahosp.com/
[About ExaWizards Inc.]
With the mission of "Solving social issues through Artificial Intelligence for future generations", we are developing and commercializing AI products in various fields such as nursing care, medical care, HR, robotics, finance, and cameras, in order to solve industry and society-wide issues identified from individual company issues, while working on solving issues in each department and company-wide use of AI. Our members include AI engineers, software and hardware engineers, strategy consultants, UI/UX designers, domain experts in nursing care and other fields, researchers, policy experts, and other cross-disciplinary personnel. In Japan's super-aging society, we are developing our business with a thorough understanding of the needs and issues in each field.
Corporate site: https://exawizards.com/

<Inquiries about this release>
Public Relations Department, ExaWizards Inc.
E-mail: publicrelations@exwzd.com