"Intercom Function" Added to "CareWiz Hanasuto-kiroku", an AI-based, Nursing Care Recording Application Up to 7.5 million yen may subsidized
—Enabling voice communication and information sharing among staff in addition to nursing care record
ExaWizards Inc., a company that develops AI-enabled services to solve social issues (Headquarters: Minato-ku, Tokyo; Representative Director & President: Ko Ishiyama; hereafter, "ExaWizards"), today announced that the "intercom function" will be added to "CareWiz Hanasuto-kiroku", its AI-based, nursing care recording application from Wednesday, September 15, 2021.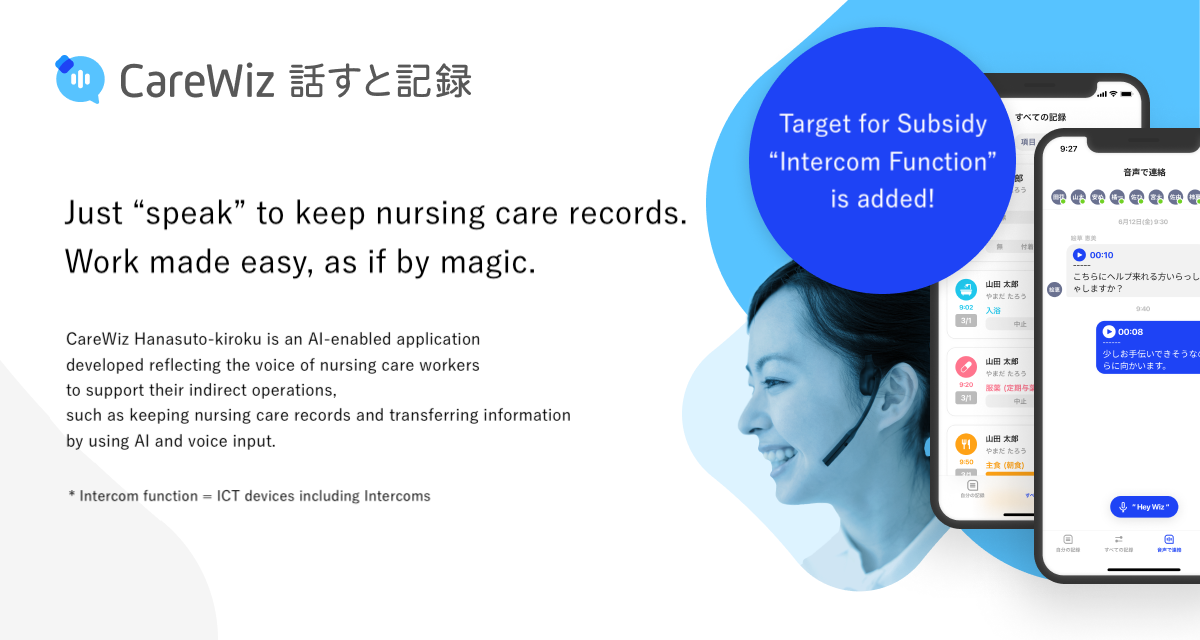 In long-term care providers/ facilities, nursing care workers need to enter the nursing care record on the PC or other devices to keep the nursing care record of the day and to transfer the information to other care workers on the next shifts. However, it is a big burden on the care workers to take notes for the nursing care record while providing nursing aid on site or to do input work after providing the nursing aid. If the nursing care record can be recorded automatically while the staff is providing the nursing aid, it can not only reduce the workload of the nursing care workers, but also allow them to have more time to face those who need nursing care. We therefore developed "CareWiz Hanasuto-kiroku", the AI-based nursing care recording application by reflecting the opinions from those involved in the nursing care, questioning "can "Hanasu (speaking)" be used to keep the nursing record?"

The new "Intercom Function" allows voice communication among nursing care workers without the operation of a smartphone. The voice data can be automatically sent to other workers just by speaking a message, so the application is used as an ICT device such as an intercom, even when the workers have their hands full while they provide care. With just one application, various operational burdens care in the long-term care space are reduced, from automated entry of nursing care record to voice communication/information sharing among workers.

"CareWiz Hanasuto-kiroku" has already been adopted as a certified tool for "IT Introduction Subsidy", which is a subsidy that small and medium-sized companies and small-scale enterprises can use when they introduce the IT tools, and now it is adopted as a certified tool for "Nursing Care Robot Introduction Support Subsidy 2021". The subsidy would cover up to 7.5 million yen (per facility) of the expense to prepare the communication environment (Wi-Fi and intercoms) upon introduction of "CareWiz Hanasuto-kiroku".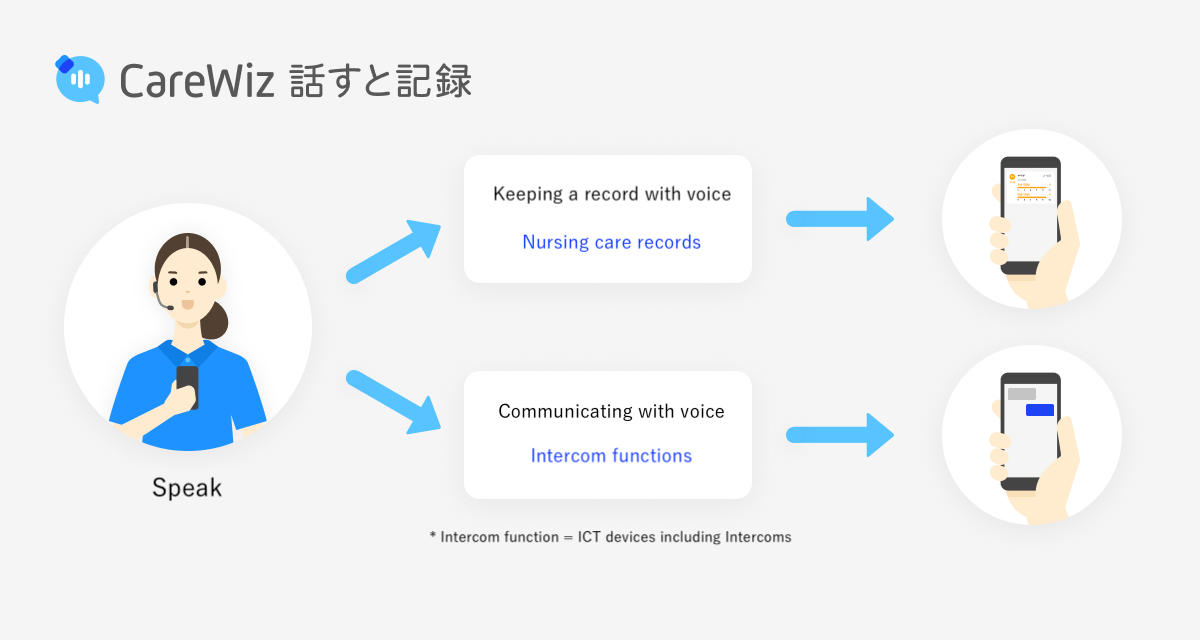 ■Outline of CareWiz Hanasuto-kiroku
☑ Just speak, and the AI will pick up the related words and making the nursing care record.
When the worker says the name of a person using the nursing care facility or talks about the details of the nursing, the AI picks up the terms relevant to the nursing care and records them. By displaying the saved records in a colorful and easy to understand card style, other care workers can also quickly review them. Just by checking through the application, the care workers can easily confirm how many meals and drink the care receiver had, and how their condition seemed to be.

☑ Connection with the nursing care recording/ billing software and automated record keeping can "reduce 40 min. per day" per worker
"CareWiz Hanasuto-kiroku" is connected with "CAREKARTE", the nursing care recording/billing software which is used in 12,000 nursing care service providers and facilities as well as social welfare service offices nationwide. After keeping the record with voice, data is easily coordinated with the "CAREKARTE" data so that the nursing care recording, information sharing and claim for insurance are available at one stretch. In the future, we will increase coordination with other nursing care recording/billing software and increase the number of nursing care service offices/ facilities that can adopt the tools.
Website: https://carewiz.ai/hanasuto
Inquiries: https://carewiz.ai/hanasuto/contact
* "CareWiz" is a registered trademark of ExaWizards.

■ Outline of the subsidies
・ General fund for securing regional medical and nursing care (program to support introduction of nursing care robot)
A subsidy that a nursing care service operators can use to prepare the communication environment upon introduction of nursing care robots/ monitoring sensors. When introducing the monitoring sensors in combination with "CareWiz Hanasuto-kiroku", up to 7.5 million yen of the expenses for preparing communication environment (Wi-Fi and intercoms) (per facility) would be subsidized.
For more information, see https://www.mhlw.go.jp/content/12300000/000666690.pdf

・ IT Introduction Subsidy (program to support introduction of IT for improvement of productivity of services)
A subsidy that small and medium-sized companies and small-scale enterprises can use when they introduce the IT tools. For the business that can make multiple processes contactless or further increase the work efficiency, a part of the expenses for the IT tool introduction is subsidized. In the "Business with lower infection risk (special frame: Category C) , for which "CareWiz Hanasuto-kiroku" is adopted as the certified tool, 2/3 or less of the cost for introduction of the tool or up to 4.5 million yen is subsidized.
For more information, see https://www.it-hojo.jp/first-one/cd-type.html

<Inquiries about this release>
Public Relations Department, ExaWizards Inc.
E-mail: publicrelations@exwzd.com