Linking "CareWiz Hanasuto", an AI-based, Nursing Care Recording Application Added to Paramount Bed's "Monitoring Support System"
No.1 domestic market share for medical and nursing care beds
The app immediately notifies the user of information detected by the monitoring device, making it possible to streamline the confirmation process
ExaWizards Inc., a company that develops artificial intelligence (AI)-enabled services to solve social issues (hereafter, "ExaWizards"; headquarters: Minato-ku, Tokyo; Representative Director & President: Ko Ishiyama),to add a function on its CareWiz Hanasuto (hereinafter "Hanasuto") nursing care record AI application to link it with a monitoring support system starting on March 9. Paramount Bed (hereafter "Paramount Bed";headquarters: Koto-ku, Tokyo; President & CEO: Tomohiko Kimura) , that has No.1 domestic market share for medical and nursing care beds, provides a monitoring support system that processes information from bed-installed body motion sensors, allowing users to monitor their sleeping status, heartbeet and other information from a remote location.
  In order to make the most of this collaborative functionality to solve social issues such as the shortage of human resources at nursing care facilities, we will actively promote the introduction of the system 
  Smile (headquarters: Yokosuka City, Kanagawa Prefecture), a nursing care facility operator, plans to introduce the system on a trial basis at its facilities one after another starting in mid-March.We plan to propose and expand the program to other businesses.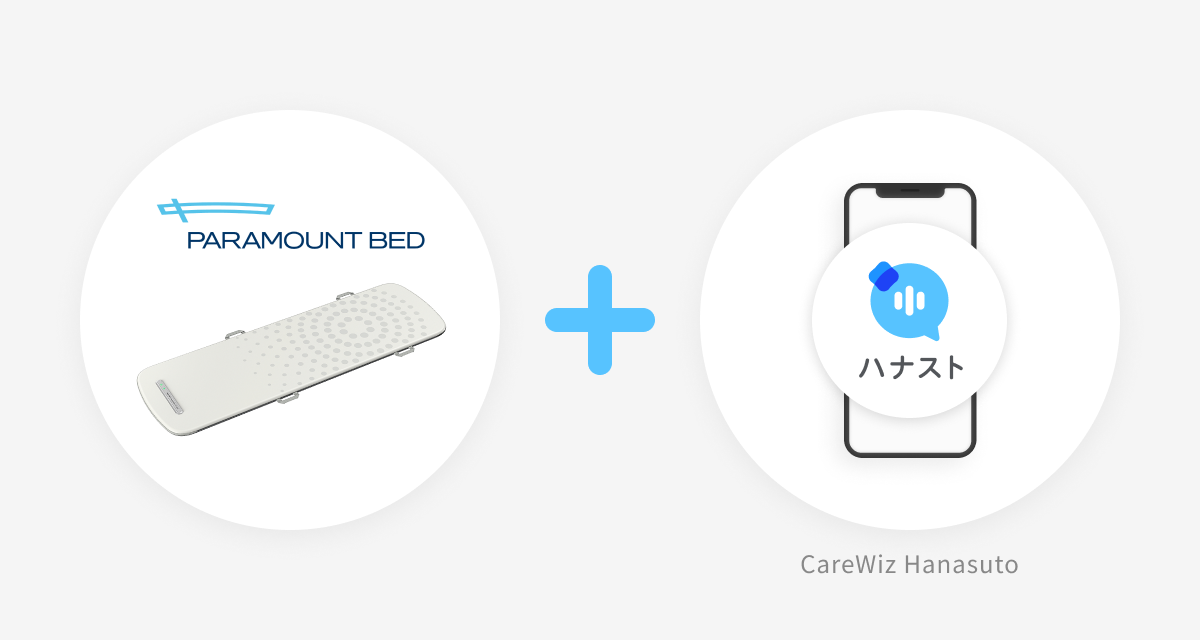 By linking Hanasuto with the monitoring support system, care workers can receive various information from the body movement sensors via the Hanasuto application. Staff members who receive the information can check it on the Hanasuto app screen while performing their duties. This reduces the number of times care workers need to visit a room to check the status.
☑information from the monitoring support system
*Transition from "sleep" to "awakefulness" of the user 
*Transition from "sleep", "awakefulness" to "wake up" of the user
*Transition from "sleep", "awakefulness",  "wake up" to "leave the bed" of the patient.
*When the user's respiration rate and heart rate (estimated values calculated from body movements) are off the set values and a certain period of time has elapsed
For example, "Detection of leaving the bed: Room 402,  user A have left the bed" or "Detection of decreasing respiration: Room 405, respiration has dropped below the lower limit setting", etc., to be notified with a notification sound.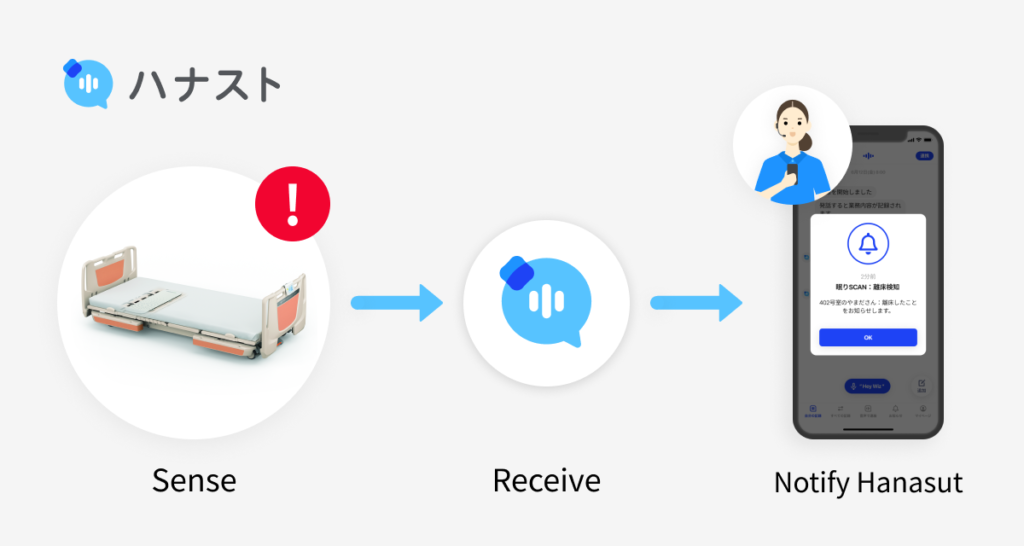 ☑ Background of the initiative
 The nursing care field is facing a shortage of human resources.The government is considering using and coordinating multiple devices and services that utilize technology, such as recording software, monitoring devices, and intercoms and easing staffing requirements so that one staff member can spend more time with patients while ensuring quality care.
 Under these circumstances, patrols during busy daytime hours and at night, when staffing is scarce, are becoming a challenge for workers and facility operators. Improving efficiency will reduce the workload of workers and allow them to spend more time with those in need of care. We asked ourselves, "Can't we make use of "talking" in the nursing care records?" The care recording AI application Hanasuto was developed based on feedback from care workers. In addition to voice-activated care recording, Hanasuto has a communication function among staff members.
 By introducing the function to link with monitoring devices, we took into account various opinions from staff of nursing care providers and facility operators. 
 The following are new features of the system: (1) Care worker  can hear a notification tone while working, (2) the notification information can be listed on the screen, and (3) the worker does not have to switch between voice-based care recording and intercom functions or launch other apps.
☑Comment  by Katsuhiko Manda, General Manager, Tokai Division,Smile
 When alerts from the monitoring support system are notified by Hanasuto, they will be transmitted directly from the headset to the ear, reducing the possibility of missing them. We expect that the constant notifications, whether at night or during the day, will be a strong ally that can be utilized to help staff members act more efficiently.
☑We will participate in "Tokyo Care Week '22". 
You can experience Hanast at the booth of Care Connect Japan. 
Dates : March 9 (Wed.) – 11 (Fri.), 2022 
Venue: Tokyo Big Sight, South Hall 4 Booth No.: 15-11 
Official website: http://careweek.jp/
☑Service coordination function
 Hanasuto can link with CareConnect Japan's CAREKARTE, the industry leader in electronic medical record services for nursing care, to record daily nursing care operations. By linking Hanasuto, CareKarte, and care support services for monitoring devices, various information related to nursing care can consolidate, recorde, and manage in a single application without interrupting business operations.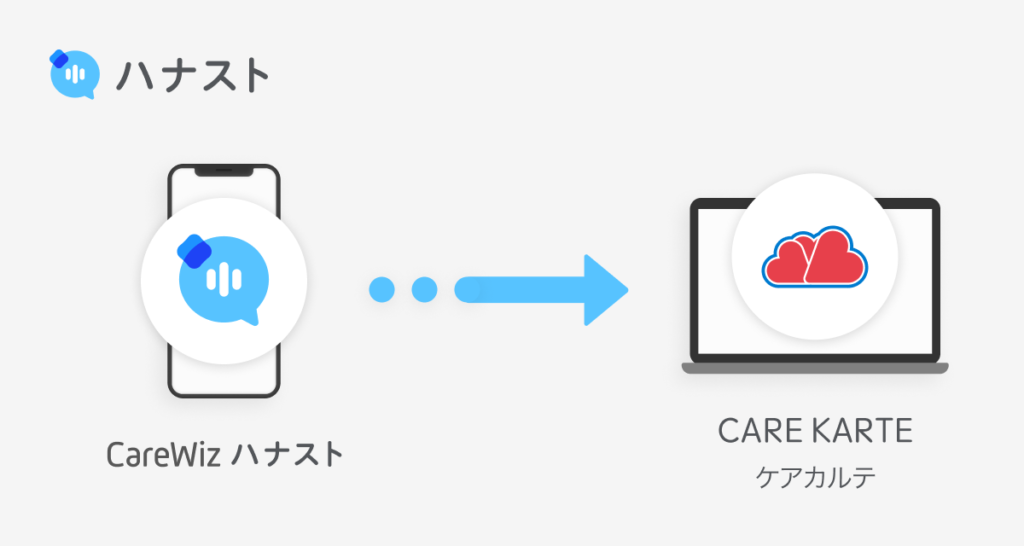 ■ Outline of CareWiz Hanasuto
☑︎ Just speak, and the AI will pick up the related words and making the nursing care record.
 When the worker says the name of a person using the nursing care facility or talks about the details of the nursing care, the AI picks up the terms relevant to the nursing care and records them. By displaying the saved records in a colorful and easy to understand card style, other care workers can also quickly review them. Just by checking through the app, the care workers can easily confirm how many meals and drinks the care receiver had, and how their condition seemed to be.
☑︎Connection with the nursing care recording/billing software and automated record keeping.
 Hanasuto is connected with "CAREKARTE", the nursing care recording/billing software which is used in 12,000 nursing care service providers and facilities as well as social welfare service offices. After keeping the record with voice, data is easily coordinated with the "CAREKARTE" data so that the nursing care recording, information sharing and claim for insurance are available in the present. 
 Hanasuto can also link to monitoring devices. Currently, the system link to Paramount Bed's monitoring support system, and information such as changes in condition, respiration rate and heart rate (estimated values calculated from body movements) can checked as notifications on Hanasuto application.
Web site:https://carewiz.ai/hanasuto
Contact: https://carewiz.ai/hanasuto/contact
*"CareWiz" is a registered trademark of ExaWizards
[Corporate Profile]
Company name: ExaWizards Inc.
Location: 21F, Shiodome Sumitomo Bldg.,Higashi Shimbashi 1-9-2, Minato-ku, Tokyo
Founded in: February, 2016
Representative: Ko Ishiyama, Representative Director & President
Description of business: Industrial innovation and resolution of social issues through development of AI-enabled services
Corporate site: https://exawizards.com/
<Inquiries about news releases>
Public Relations Department, ExaWizards Inc.
E-mail: publicrelations@exwzd.com