Sapporo Holdings to Implement DX Talent Search and Development Service "exaBase DX Assessment & Learning"
E-learning for All 4000 Employees and Training of 150 DX/IT Promoters to "All Employees DX Human Resource Development"
 ExaWizards Inc., a company that develops artificial intelligence (AI)-enabled services to resolve social issues (Headquarters: Minato-ku, Tokyo; Representative Director & President: Ko Ishiyama; hereafter, "ExaWizards"), is proud to announce that Sapporo Holdings Limited(Headquarters: Shibuya-ku, Tokyo; President  & Representative Director: Masaki Oga; hereafter, "Sapporo Holdings") started to implement a DX Talent Search and Development Service "exaBase DX Assessment & Learning".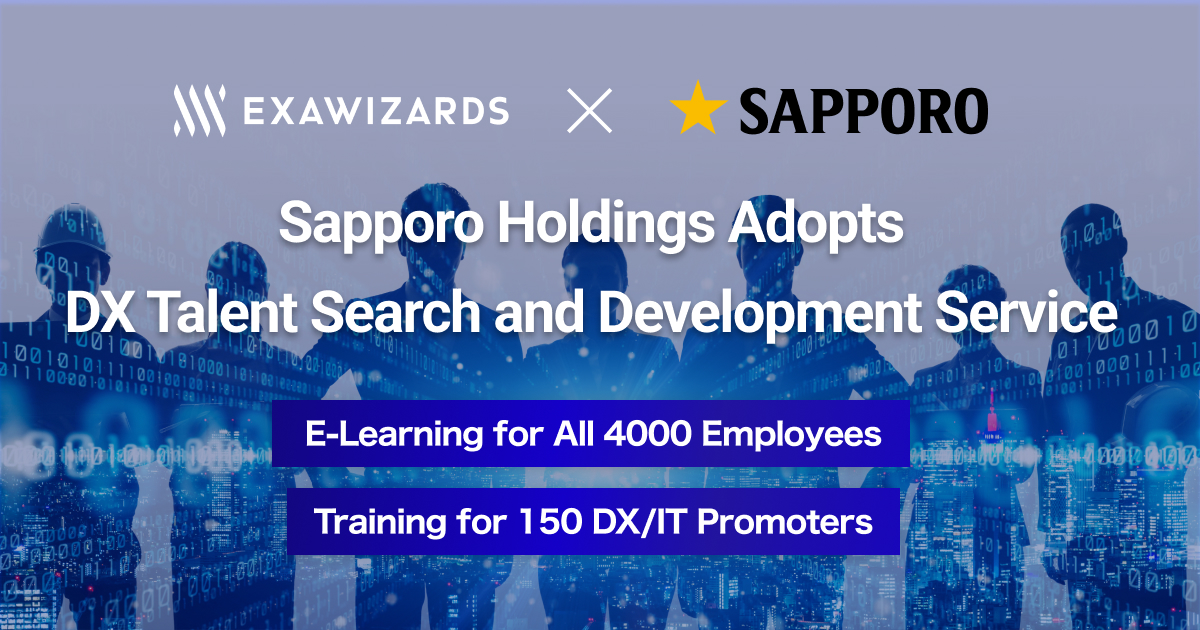 Sapporo Holdings will introduce exaBase DX Assessment & Learning to the entire group and offer e-learning for all 4000 employees to turn them into DX personnel.In addition, the company will provide specialized e-learning and DX assessment to approximately 500 "DX/IT supporters" recruited from across the company, and develop approximately 150 "DX/IT promotion leaders".
 The project will begin in February 2022, and Sapporo Holdings aim to train DX/IT Supporters and DX/IT Promotion Leaders by end of 2023 to improve the Group's overall strategic promotion capabilities.
 Sapporo Holdings will continue our efforts thereafter, and by 2024, the company will establish a system that enables to develop DX talent on their initiative.
 By introducing exaBase DX Assessment & Learning to Sapporo Holdings will work to train 150 DX/IT promoters and e-learning for all 4000 gourp employees. Through these efforts, Sapporo Holdings will transform all group employees into DX-enabled individuals.The initiative will begin in February 2022, and the results will be fully utilized from fiscal year 2023. By continuing with ongoing efforts after that, Sapporo Holdings will build a system capable of self-driven talent development within the company by 2024.
☑ Key points of the initiative
Sapporo Holdings plans to implement exaBase DX Assessment & Learning and will address the measures in 3 major steps.
(1) Steps for all employees (Feb-Mar 2022)
 The program aims to develop talent with basic knowledge and understanding of DX and IT fundamentals through exaBase DX Assessment & Learning e-learning, targeting approximately 4000 employees.
(2) Supporter Steps (scheduled for April-June 2022)
Through the development process, Sapporo Holdings aim to develop talent with the aptitude to promote or support DX/IT projects.Participant will take specialized e-learning courses through the ExaWizards' educational program.
(3) Leader Steps (scheduled for July-December 2022)
 Through visualization of talent by exaBase DX Assessment & Learning, Sapporo Holdings develop talent who can promote DX and IT projects.The training is divided into basic training* using the education program and three specialized training programs*: "DX Business Designer", "DX Technical Planner" and "IT Technical Planner".
*Basic training and specialized training will be provided by company other than ExaWizards.
☑ Background
 In February 2020, Sapporo Holdings formulated its Group Management Plan 2024, which calls for the promotion of BPR and DX. In addition, the Group is promoting "Four Environmental Improvements" and "Three DX Policies" to promote the Group's DX strategy, and the development and securing of talent is one of the environmental improvement issues.
 Under the "All-employee DX talent development" policy, with the cooperation of all employees and the support of DX/IT promotion supporters, DX/IT promotion leaders will play a central role in implementing DX/IT promotion by participating in projects in their own divisions and, eventually, in company-wide cross-functional projects.
 ExaWizards will provide exaBase DX Assessment & Learning as a key product in this strategic promotion and support the resolution of Sapporo Holdings' issues.
☑About exaBaseDX Assessment & Learning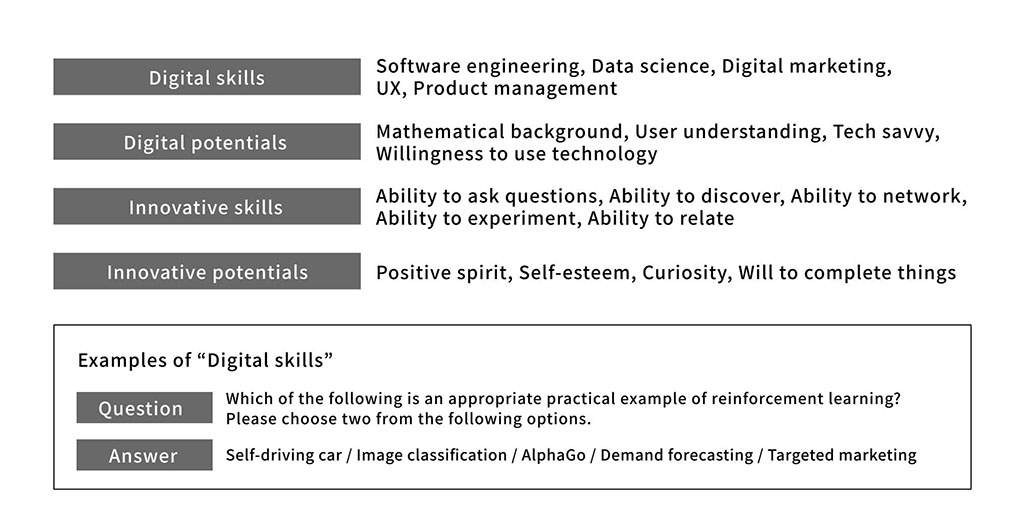 Figure: Examples of skills and dispositions focused on by exaBase DX Assessment & Learning
 The exaBase DX Assessment & Learning is a 30-minute online test that calculates the "Digital" and "Innovative" scores required to implement and promote DX.
 It also assesses the "skills" and "potentials" of the examinees, which can be used to identify talent who can be immediately effective in promoting DX and to formulate training policies.
 In addition, the system identifies the growth potential of each examinee and provides advice and optimized training programs to improve the score, along with what will be useful if the elements are developed.
 In addition to individual diagnosis results, an analysis report for the entire organization can be viewed immediately online. By comparing your company's performance against the world average, you can get an objective view of where you are.
*exaBase is a registered trademark of ExaWizards.
[Corporate Profile]
Company name: ExaWizards Inc.
Head Quarter: 21F, Shiodome Sumitomo Bldg., 1-9-2 Higashi-Shimbashi, Minato-ku, Tokyo
Founded in: February, 2016
Representative: Ko Ishiyama, Representative Director & President
Business Description: Industrial innovation and resolution of social issues through development of AI-based services
Corporate site: https://exawizards.com/
<Inquiries about PR>
Public Relations Department, ExaWizards Inc.
E-mail: publicrelations@exwzd.com