NEWS
CareWiz toruto, an AI-enabled Gait Analysis Application, Is Introduced in Fujisawa City ExaHomeCare Jointly Launches a Project with Fujisawa City to Demonstrate the Usefulness of Digital Technology in the Realization of New Contactless Inter-facility Collaboration
– The Project Targets the Fujisawa City's Day- and Home-care Providers and Aims at Facilitating DX of Public Nursing Care Services - 
 ExaWizards Inc.(Headquarters: Minato-ku, Tokyo; Representative Director & President: Ko Ishiyama; hereafter, "ExaWizards") announces that its subsidiary ExaHomeCare Inc. (Headquarters: Minato-ku, Tokyo; Representative Director & President: Satoshi Ishino; hereinafter, "ExaHomeCare"), which develops and provides welfare equipment and nursing care services using AI technologies, has jointly launched a project with Fujisawa City, Kanagawa Prefecture to demonstrate the usefulness of digital technology in the realization of new contactless inter-facility collaboration.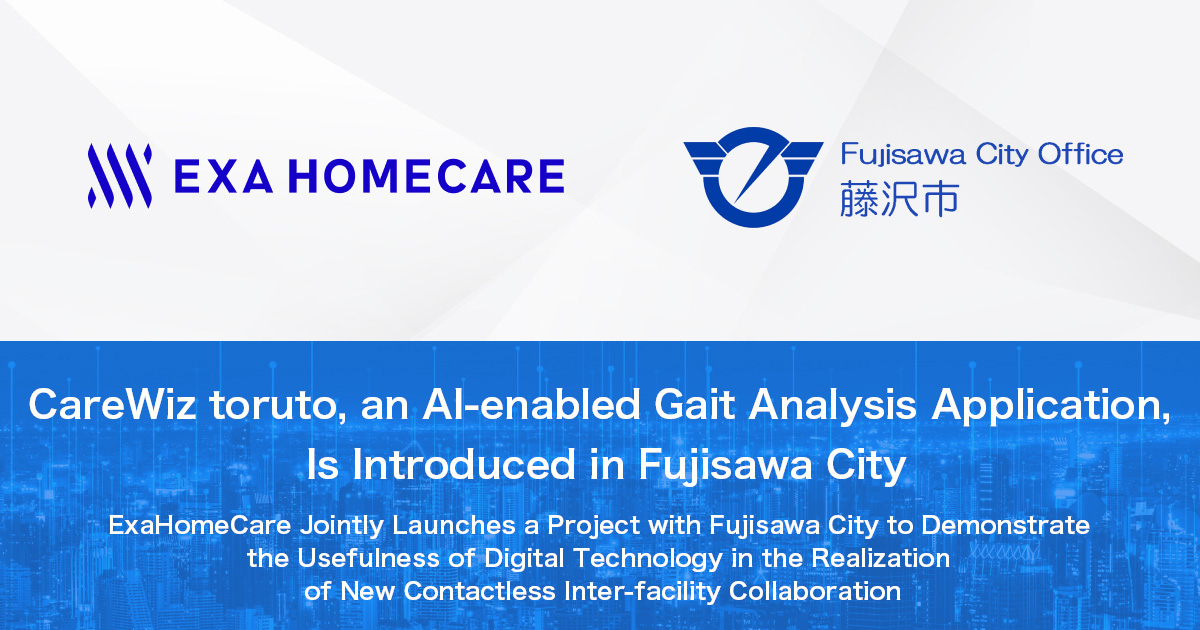 ☑︎ Background
The societal demand for digitalization and digital transformation (DX) of public nursing care services has been increasing to realize the Japanese government initiative to build a "digital garden city state" that aims at using digital technologies to solve problems in rural areas and realizing a society where every single individual is able to benefit from digitalization to enjoy their lives. However, the shortage of professionals such as physical and occupational therapists has become more serious due to the super-aging of society and the decrease in working population. Therefore, in order to build a nursing care ecosystem, which facilitates mutual help and realizes overall optimization of nursing care in each region under the "digital garden city state initiative", it is essential to firstly put data-based scientific nursing care into practice and to streamline its workflows using remote technologies.

 Under the circumstances, ExaHomeCare has jointly launched a project with Fujisawa City to demonstrate the usefulness of an AI-enabled gait analysis application CareWiz toruto, aiming at realizing a new contactless information sharing using digital technologies. This project targets various types of nursing care service providers, including day-care facilities, small-scale offices for multifunctional home-care services, and welfare equipment suppliers.

 During the project period, ExaHomeCare provides Fujisawa City's municipal nursing care providers with CareWiz toruto free of cost. CareWiz toruto is used to analyze gait and share gait analysis results among different care providers, aiming at allowing more time for nursing care by reducing time required for on-site peripheral work and improving the quality of home medical and nursing care services through timely and easy-to-understand information sharing. This project aims to contribute to maintaining the health of care users while reducing cost for information sharing among Fujisawa City's municipal nursing care providers.

☑ Project overview
(1) Survey
 ExaHomeCare and Fujisawa City conduct surveys necessary to understand the current status of nursing care services in Fujisawa City before implementing the project.
(2) Selection of nursing care service providers
 ExaHomeCare and Fujisawa City select nursing care service providers in Fujisawa City that participate in the project.
(3) Introduction and use of CareWiz toruto
 CareWiz toruto is introduced into nursing care service providers participating in the project. Care staff members use it in practice and receive instructions on its use as needed.
(4) Data analysis
 Data obtained in the project will be analyzed to examine the usefulness of CareWiz toruto.
☑︎ Comment of Fujisawa City Mayor Tsuneo Suzuki
 Fujisawa City has newly established the Basic Policy on Fujisawa Smart City to implement efforts to realize a smart city where people can experience better quality of life through providing residents with user-friendly services.
 Therefore, I am very happy that the project is implemented in Fujisawa City using the leading technology. I hope that Fujisawa City will act as a starting point for realizing more affluent society through further digitalization and implementation of AI in society.

 ExaWizards and ExaHomeCare will further accelerate digitalization and DX of nursing care services by extending this effort to other regions, aiming at realizing new community-based comprehensive care services that contribute to the well-being of all people who receive care services in their communities.
☑︎What is CareWiz toruto? https://carewiz.ai/toruto/
 CareWiz toruto is an AI-enabled application for supporting entities (e.g. nursing care service providers, medical facilities, welfare equipment suppliers) that provide self-reliance support services for elderly people. Changes in users' status are visualized by shooting movies of users on a regular basis, in order to improve satisfaction of users and their family members with nursing care services as well as to facilitate information sharing among care staff members using movies.

【Corporate profile of ExaHomeCare Inc.】
Company name: ExaHomeCare Inc.
Headquarter: 21F, Shiodome Sumitomo Bldg., Higashi Shimbashi 1-9-2, Minato-ku, Tokyo
Representative: Satoshi Ishino, Representative Director & President
Description of business: Development and distribution of welfare equipment and nursing care services using AI technologies

【Corporate profile of ExaWizards Inc.】
Company name: ExaWizards Inc.
Head Quarter: 21F, Shiodome Sumitomo Bldg., 1-9-2 Higashi-Shimbashi, Minato-ku, Tokyo
Founded in: February, 2016
Representative: Ko Ishiyama, Representative Director & President
Business Description: Industrial innovation and resolution of social issues through development of AI-based services
Corporate site: https://exawizards.com/
<Inquiries about PR>
Public Relations Department, ExaWizards Inc.
E-mail: publicrelations@exwzd.com