NEWS
AI-Based Forecast/Analysis Service "exaBase Forecast & Analysis" Starts Working with Recruitment Management System with No. 1 Market Share "i-web"
— AI supports recruiters in making decisions at videotaped interviews, and promotes DX for recruitment based on quantitative screening criteria
 ExaWizards Inc., a company that develops artificial intelligence (AI)-enabled services to solve social issues (Headquarters: Minato-ku, Tokyo; Representative Director & President: Ko Ishiyama; hereafter, "ExaWizards") announces that ExaWizards' AI-based forecast/analysis service "exaBase Forecast & Analysis" has started working with "i-web," a recuruitment management system offerred by Humanage, Inc. (Headquarters: Chiyoda-ku, Tokyo; President: Ryozo Saito; hereafter, "Humanage") in the area of videotaped interview.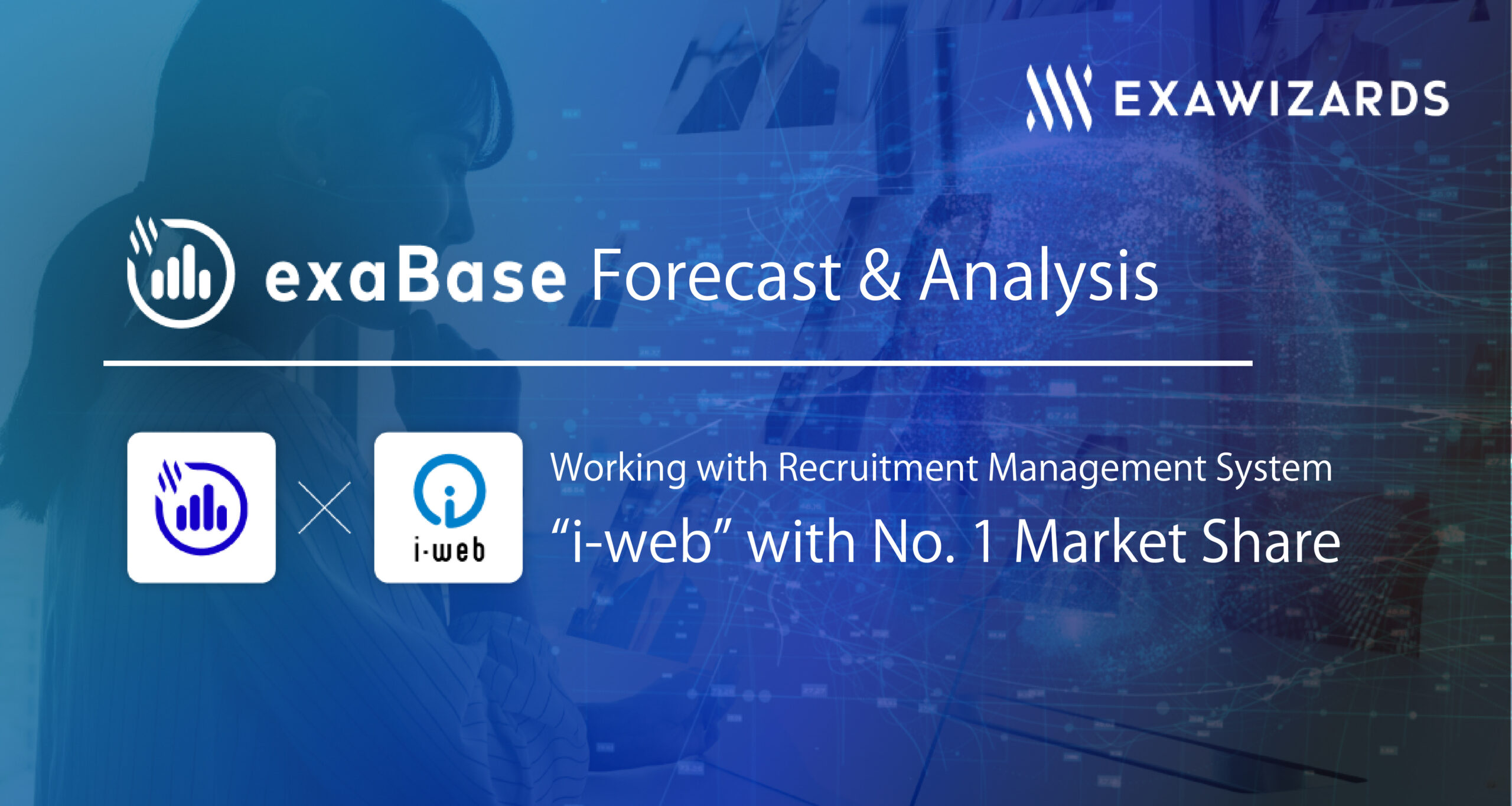 ☑︎Background — The promotion of digital transformation (DX) for recruitment*1 is becoming indispensable for companies and students
In various industries and operations, a growing number of companies change their organizations or business models, and the promotion of DX is becoming more and more important to create new market value. In terms of recruitment activities conducted as part of HR duties, approx. more than 50% of Japanese companies, or more than 80% of large enterprises in the country have conducted online interviews*2. Also, according to an opinion survey on data utilization conducted among students looking for a job, 75% support the utilization of profitable data*3. Like this, the promotion of DX is indispensable in recruitment activities too for both companies and students.
*1: Using data and digital technologies in recruitment activities for the purpose of continuous acquisition of outstanding talent.
*2: HR Research Institute "Trend Survey on Recruitment Activity Targeting 2021/2022 Graduates" <https://www.hrpro.co.jp/research_detail.php?r_no=273>
*3 Study Group on the Utilization of Personal Data/Technologies in HR "Awareness Survey on the Use of Data in Job Hunting" <https://exawizards.com/archives/19198>
☑︎What becomes possible — Personality-oriented screening becomes possible
This time, ExaWizards offers its AI and intuitive user experience-enabled forecast and analysis support service, "exaBase Forecast & Analysis" in combination with its own technology-based algorithm for video content analysis.
 Based on the results of the videotaped interviews previously conducted through Humanage's recruitment management system "i-web," "exaBase Forecast & Analysis" supports the recruiter in their decision making by building an AI model in accordance with their company's screening criteria.
The AI analyzes the collective propensity of successful applicants, and makes a forecast using a standardized index in real time to quantify/visualize the screening criteria that tend to incline toward a qualitative or subjective judgment, in other words a "personal image"-based evaluation. The recruiter can improve the accuracy and productivity of their recruitment activities for which they must consume a huge amount of time and energy with close attention. As a result, they can spend more time for having a conversation with, or deepening their understanding of applicants, which eventually enables them to hire more focusing on their personality.
Also, the development of explicit knowledge about recruitment activities and the establishment of an internally-transmittable scheme for such knowledge, which have been so far considered to be difficult to realize will become possible.


[Service Provision Flowchart]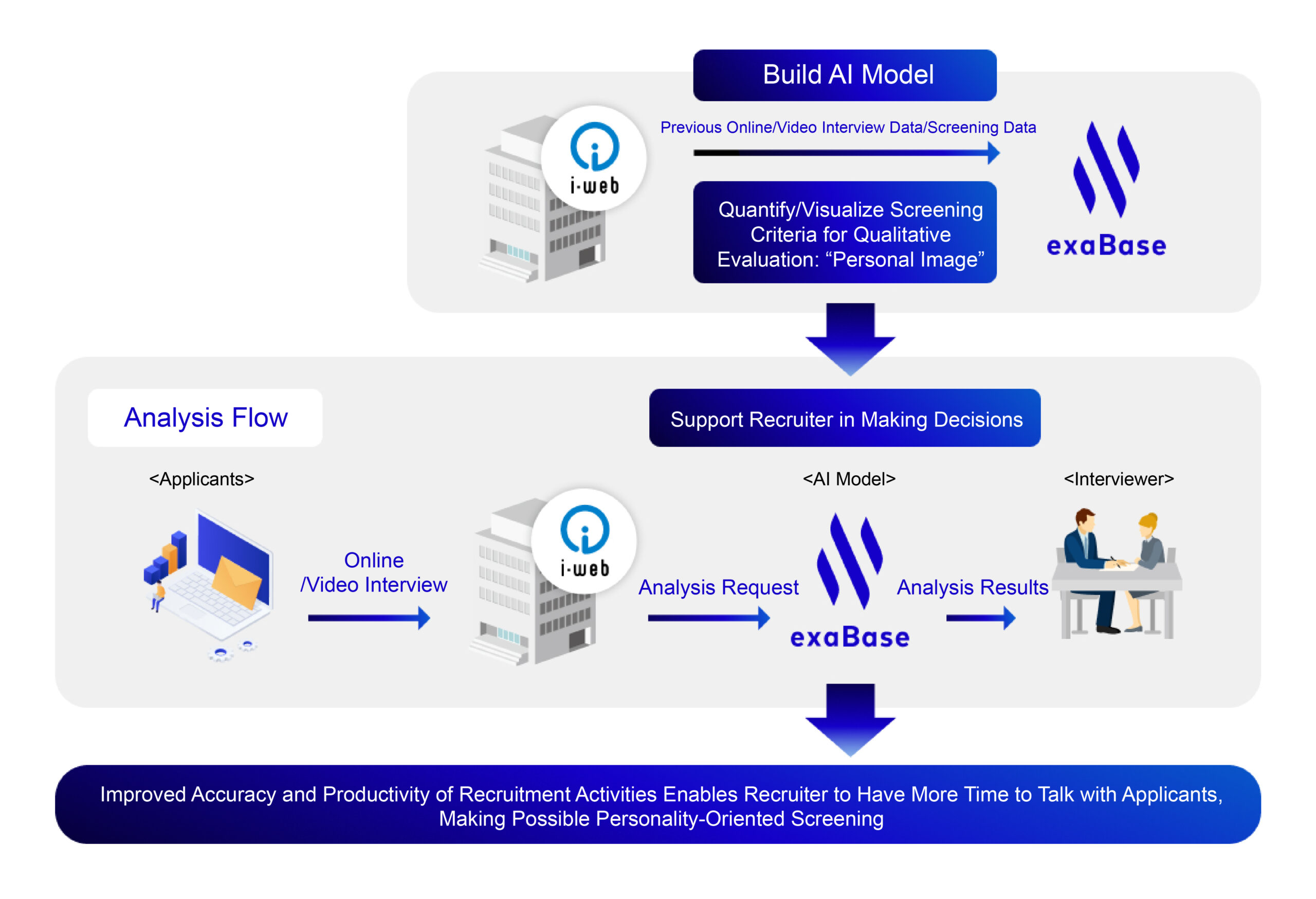 ☑︎Features of AI Model — Build a customized decision model to make it possible to identify factors influencing results
  The features of an AI decision model built by "exaBase Forecast & Analysis" working with "i-web" are as follows:
– Algorithm based on a technology developed by ExaWizards, which offers AI-enabled support services to numerous companies
– Build an AI decision model customized for the user
– All information is shared through a detailed report from the AI decision model
– Detailed explanation through the disclosure of the items influencing results
☑Advantages of "i-web" — No. 1 market share, and external links to major job search websites and aptitude tests
Since its release in 1998, this recruiting management system has been adopted by the largest number of major and well-known companies in the industry. In addition to real-time linkage with the major employment information sites "Riku Navi" and "Caritas Shukatsu" (the only one in the industry), the system is also linked in real-time with "CFN (Career Forum Net)", "ONE CAREER", "Gaishikeishukatsu.com", "Tech Offer" and "OfferBox". It is possible to manage applicant information centrally in a "hassle-free" and "sophisticated" manner. With a variety of models that can be used for online interviews, web seminars, paperless recruitment, group recruitment, recruiting by recruiters, etc., and the overwhelming convenience of linking with Humanage's aptitude test "TG-WEB" and "SPI3," the system has been introduced by over 1,800 companies to date.
*4: Sources from Humanage: Market share in the recruitment management system section of highly ranked companies of "The Most Popular Companies for Job Seekers" (2010–2016 Graduates: Sources from Nikkei Inc. 2017–2023 Graduates: Sources from DISCO Inc. 2016 – 2019 Graduates: Top 100 Companies The Rest: Top 130 Companies)
*exaBase is a registered trademark of ExaWizards.

【Corporate profile of ExaWizards Inc.】
Company name: ExaWizards Inc.
Head Quarter: 21F, Shiodome Sumitomo Bldg., 1-9-2 Higashi-Shimbashi, Minato-ku, Tokyo
Founded in: February, 2016
Representative: Ko Ishiyama, Representative Director & President
Business Description: Industrial innovation and resolution of social issues through development of AI-based services
Corporate site: https://exawizards.com/

[Humanage Corporate Profile]
Company name: Humanage, Inc.
Location: 11F, Hirakawacho Mori Tower, 2-16-1, Hirakawacho, Chiyoda-ku, Tokyo
Established in: December 1, 2004(Founded in:November 10, 1988)
Representative: Ryozo Saito, President
Description of business: Provision of recruitment solutions, competency assessment services, and well-being solutions
Corporate site: https://www.humanage.co.jp/
<Inquiries about news releases>
Public Relations Department, ExaWizards Inc.
E-mail: publicrelations@exwzd.com