Free course for students to learn social implementation of AI and entrepreneurial mindset " ExaWizards Academia" is launched.
〜Providing free e-learning and diagnostic reports on the skills and competencies required for DX human resources to students〜
  ExaWizards (Minato-ku, Tokyo; President: Koh Ishiyama), which is engaged in solving social issues through services utilizing AI, announces that they will offer a free course for students to learn about social implementation of the latest technologies such as AI and Web3 and acquire an entrepreneurial mindset in order to foster future digital innovators.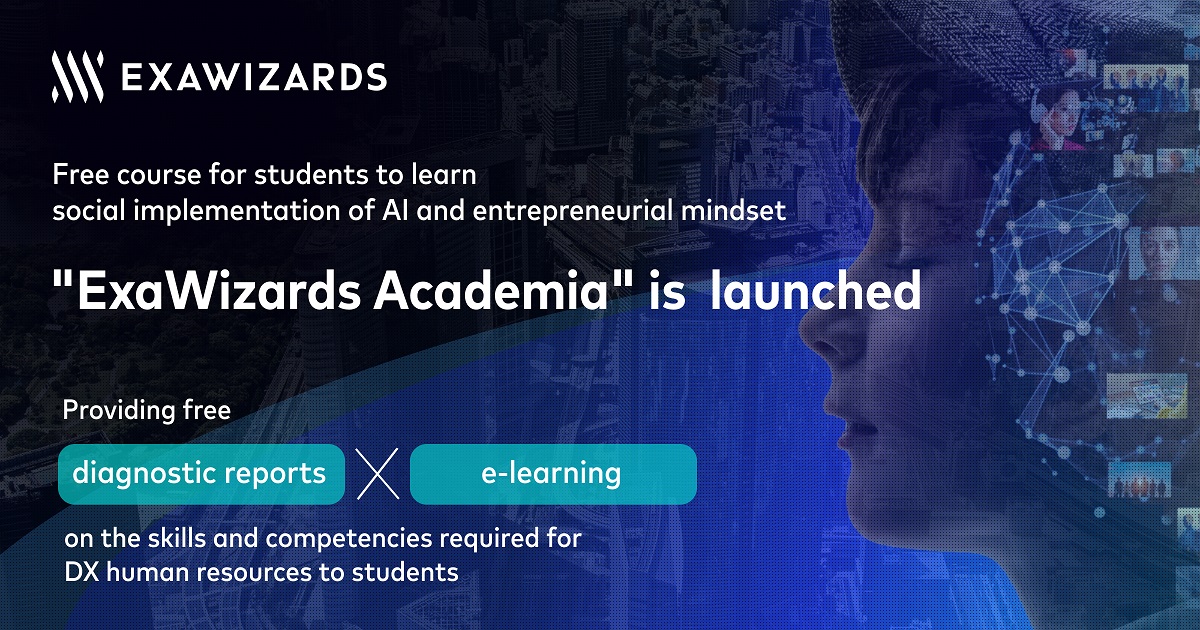 ExaWizards Academia is accepting applications from students today and will run the free curse from October to December 2022. By participating in this program, academy students will be able to acquire not only AI x business knowledge, but also a mindset as an entrepreneur with a high level of vision through lectures, dialogues, and social gatherings with professionals from ExaWizards' management team and employees. Topics will include startup management, strategy development, data science, AI utilization, design thinking, and the latest trends in Web3.  

  The DIA for New Grads, a HR assessment and training service provided by ExaWizards, will be utilized in the selection of academy students. In addition to providing an objective assessment of skills and backgrounds, the service will also offer e-learning to help students capitalize on their strengths and overcome their weaknesses. 
Background of ExaWizards Academia 
~Providing university students with opportunities to interact with members of society ~ 
  Many companies require each employee to utilize digital skills to improve productivity and create innovation. However, the shortage of IT/digital personnel is becoming more serious, and it is predicted that there will be a shortage of 450,000 people by 2030. It is essential to train candidates for the next generation of digital innovators who will be active within companies.  

 On the other hand, university students who are scheduled to graduate in 2024 will begin their university life "with Corona/Covid-19" as soon as they enter the university in 2008, and they will have limited contact with working adults, which is important for their career choices. Therefore, we have established "ExaWizards Academy," a free course for students, to support the careers of university students graduating in 2020, to recruit for ExaWizards, and to foster digital innovators among university students. 
 ExaWizards Academia Overview 
~30 students will be selected from the applicants, face-to-face program mainly. ~ 
Application period: August 10 – September 12, 2022  
Duration: 19:00-20:30, Every Tuesday from October to December 2022, Format: In-person.  
Lecture format: Face to Face mainly  
Cost: Free of charge. All transportation and lodging expenses will be provided for participants from distant locations.  
Number of applicants: 30 people will be selected from applicants 

  For the selection, we will use "DIA for New Grads," a new graduate version of exaWizards' "exaBase DX Assessment & Learning," which has been used by approximately 700 companies and over 35,000 examinees to date in Japan. The program provides a report that visualizes one's current skills and supports them with e-learning and other developmental content to develop the skills necessary for DX promotion. Some parts of the program will be open to non-selected academics as auditing sessions. 

Lecturers and Topics (tentative) 
Interactive lecture including Q&A and a reception to exchange opinions will be scheduled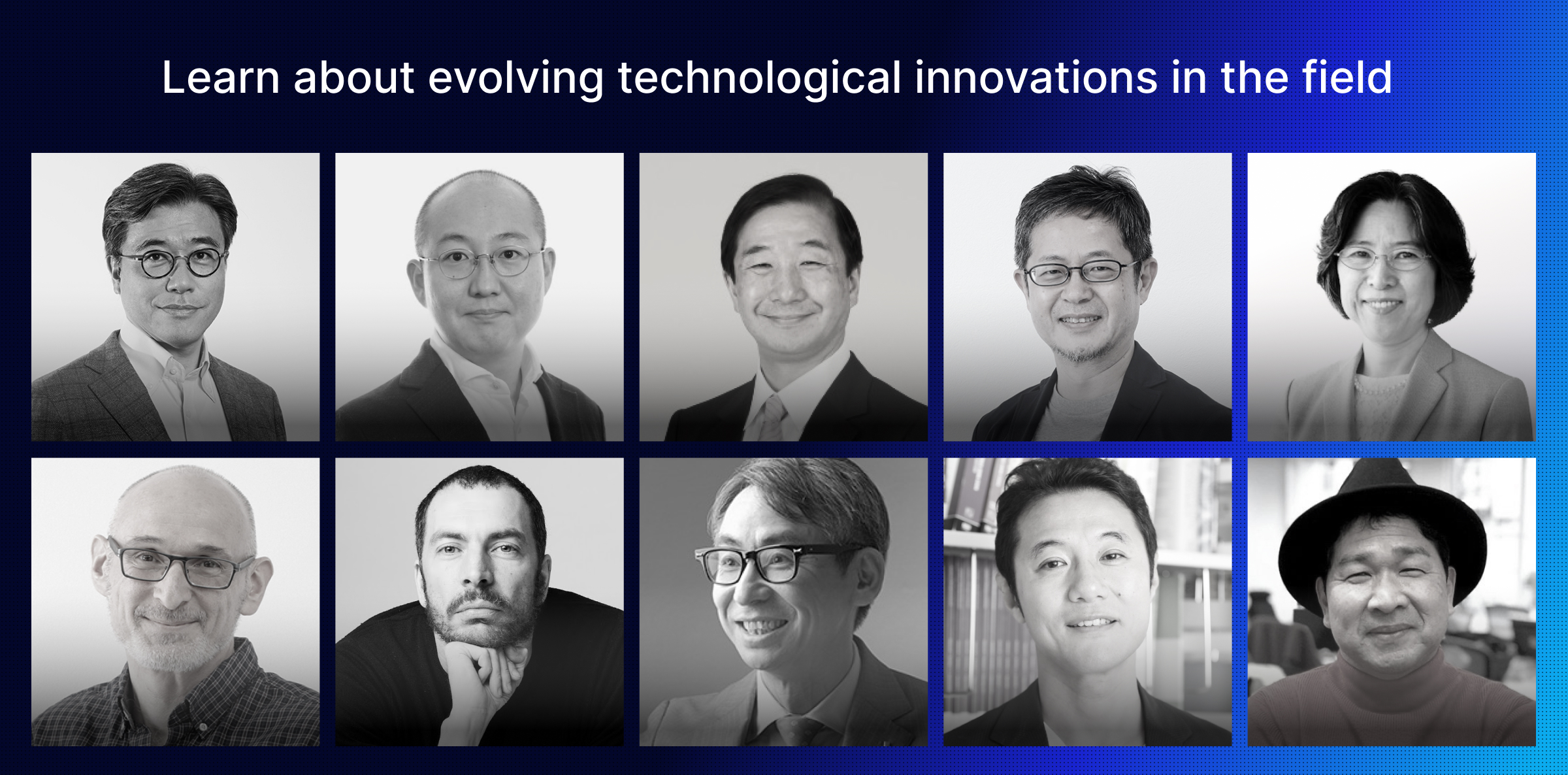 -Makoto Haruta ( Chairman of the Board, ExaWizards. Former Chairman of the Board, DeNA): Understanding the Realities of Startup Management 
-Ko Ishiyama (President, ExaWizards): Knowing and Transcending Yourself 
-Koji Shinkai (Outside Director. Former Executive Vice President of JT): Understanding the future of management that solves social issues 
-Toshihiko Hiura (Outside Director. Former Tokyo Representative, Bain & Company): Understanding New Competitive Strategies in the AI Era 
-Naoko Munakata (Outside Director. Professor at the Graduate School of Public Policy, The University of Tokyo. Former Secretary to the Prime Minister and Commissioner of the Japan Patent Office): Understanding the system of social issues in the world 
-Alon Halevy(Direcotr at Meta Platforms(Meta Reality Labs Research) and former head of data management research at Google's headquarters): Learn about the world's most advanced data science 
-Davide Anielli, Co-President, IDEO Tokyo: Design Thinking and Creative Mindset for Social Problem Solving 
-Satoshi Nagashima (Kiduki Architect representative director, Former Global Co-Chairman, Roland Berger Strategy Consultants): "Understanding Creative Productivity" for Innovation 
-Akie Iriyama (Professor, Waseda Business School, Graduate School of Business Administration, Waseda University) :"World -Standard Management Theory: Sense-Making Theory" 
-Tsuruaki Yukawa: (Supervisor of "AI Strategy in the Web3 Era" (to be published by Nikkei BP at the end of August), IT journalist): Understanding the Future of Web3 
 Other activities will include case study understanding of AI technology, hands-on data science training, and workshops on facing one's own aspirations. Please note that speakers and lecture content are subject to change. 
 What is DIA for New Grads?  
DIA for New Grads, the digital innovator assessment used to select academia students, has the following features  
(1) Visualization of skills and competencies essential for DX promotion in companies  
The DIA for New Grads visualizes the digital skills and innovative skills and abilities required to realize DX in the four categories of "Digital Skills," "Digital Competencies," "Innovative Skills," and "Innovative Competencies. The test can be taken online.  
 (2) Optimized for new graduate recruitment candidates, measuring the examinees' skills with a high degree of accuracy   
The know-how accumulated through "exaBase DX Assessment & Learning," which has been used by approximately 700 companies and more than 35,000 examinees (as of August 2022), has been condensed and optimized for new graduate recruitment candidates, and the questions and scoring methods utilizing statistics/AI realize high score accuracy.  
  (3) Intensive learning of DX mindset and literacy through e-learning  
The e-learning program is designed to foster a "DX mindset" by learning about DX-related topics, the latest technologies and DX case studies, and to acquire the DX literacy necessary for practical use through videos featuring consultants, engineers and designers who are active in the DX field as lecturers. 
 ☑ (Reference) Four categories and evaluation item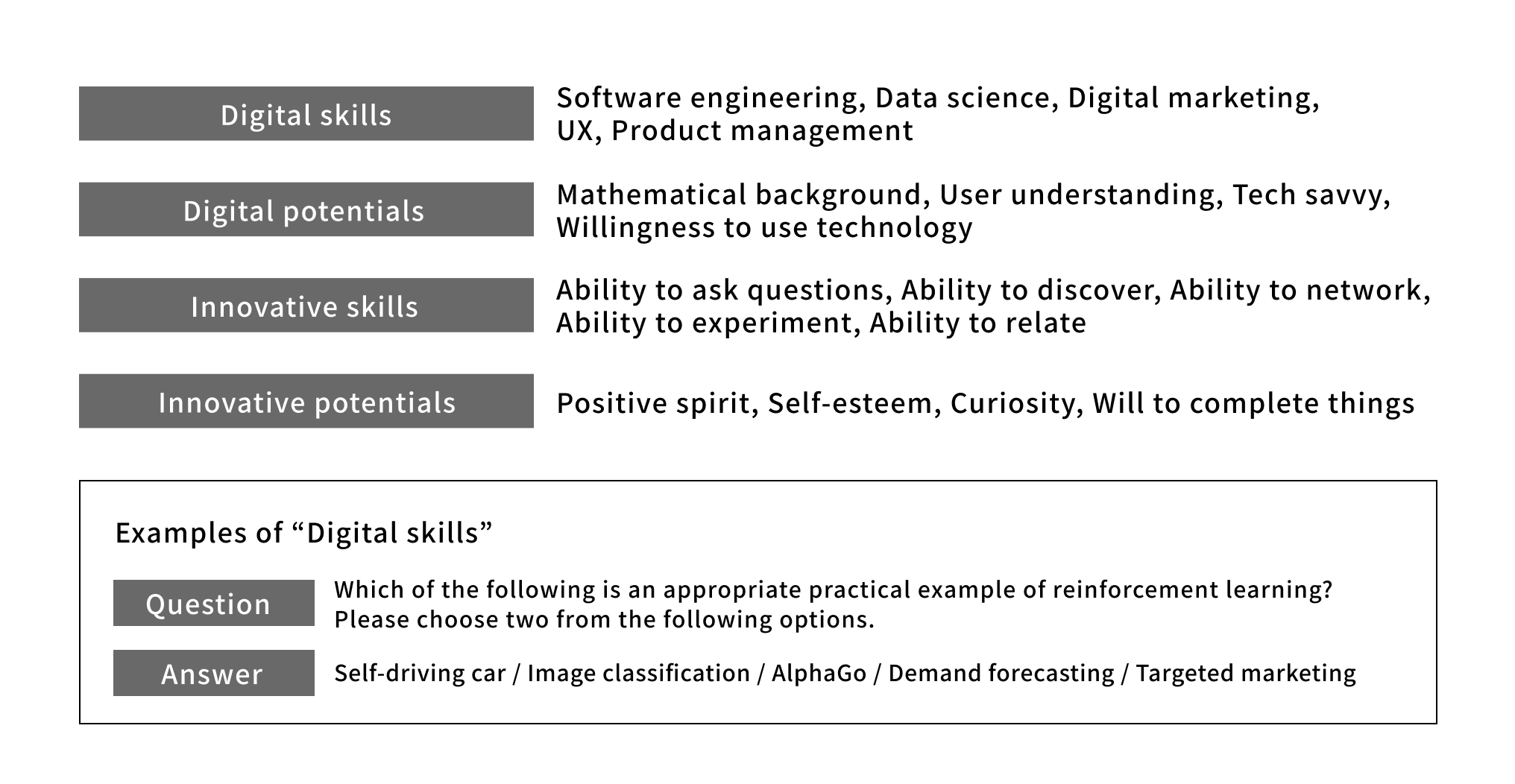 【Corporate profile of ExaWizards Inc.】
Company name: ExaWizards Inc.
Head Quarter: 21F, Shiodome Sumitomo Bldg., 1-9-2 Higashi-Shimbashi, Minato-ku, Tokyo
Founded in: February, 2016
Representative: Ko Ishiyama, Representative Director & President
Business Description: Industrial innovation and resolution of social issues through development of AI-based services
Corporate site: https://exawizards.com/

<Inquiries about news releases>
Public Relations Department, ExaWizards Inc.
E-mail: publicrelations@exwzd.com