NEWS
AI gait analysis tool "CareWiz Toruto" wins category excellence award at the good digital award sponsored by the Digital Agency.
ExaHomeCare Inc., a subsidiary of Exa Wizards Inc. that develops and sells AI-based nursing care and welfare equipment-related services, has received the "good digital award"  sponsored by the Digital Agency. The company's AI gait analysis tool "CareWiz Toruto" won the "good digital award" in the Health/Medical/Nursing Care category sponsored by the Digital Agency and the grand prize winner will be selected from among the winners of the Excellence Award in the Health/Medical/Nursing Care category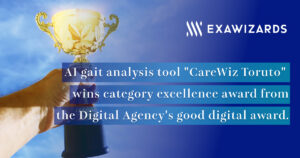 ▼good digital award  
 Based on the discussions in the Working Group on Digital Reform Related Legislation, "Digital Day" was established in 2021 as an opportunity for society to regularly reflect on, experience, and review digital technology in order to realize a "people-friendly digital society where no one is left behind. 
 The "good digital award" is given to individuals, companies, and organizations that have contributed or will contribute to the "people-friendly digitalization so that no one is left behind.  
Website URL: https://digital-days.digital.go.jp/gda/award/ 
▼AI analysis tool "CareWiz Toruto" 
 The award-winning AI gait analysis tool "CareWiz  Toruto" is a service that supports businesses that provide independence support services to the elderly (nursing care service providers, medical institutions, welfare equipment providers, etc.) with gait analysis AI. The system uses a smartphone to capture video of elderly people walking and provides feedback after scoring multiple items, such as the risk of falling. The service contributes to information collaboration by improving the satisfaction of users and their families and facilitating communication among staff members through video. 
 Launched in 2020, the system is currently in use at approximately 400 facilities for the elderly nationwide, and more than 33,000 videos have been submitted. In addition to Sakai City, Osaka Prefecture, Kobe City, and Miyazaki City, Miyazaki Prefecture, the company has recently conducted joint demonstrations with Fujisawa City, Kanagawa Prefecture, on a wide range of themes, from nursing care prevention to cooperation between doctors and caregivers. 
CareWiz Toruto" website URL: https://carewiz.ai/toruto/  
▼Award Comment -Satoru Ishino, President ExaHomeCare Inc. 
The "CareWiz  Toruto" service was developed with the hope of reducing the risk of falls by visualizing the gait of elderly people and providing an environment that allows them to live in their own homes for longer. Falls and falls are the most common cause of emergency medical care for the elderly. In addition, elderly people who have fallen often require nursing care even if they recover completely, making the reduction of fall risk an urgent issue. By utilizing "CareWiz  Toruto," we will propose exercise menus that are tailored to individual conditions and encourage behavioral change, thereby contributing to the extension of healthy life expectancy and reduction of social security costs.   
In addition, we hope to contribute to the revitalization of services in the industry by proving that services that do not rely on the insurance system can still be viable as a business by utilizing digital technology in an industry that is still based on the public insurance system. As a result, we hope to create better services and realize a society in which the best services are delivered to the elderly and those involved in nursing care.