NEWS
ExaWizards Starts to Provide Integrated DX Talent Development Services by Combining DX Talent Acquisition/Development Service "exaBase DX Assessment & Learning" with Online Learning Platform "Udemy Business"
-Develop a strategy based on exaBase assessment, and recommend the learning course selected from more than 8,800 programs and optimized for an individual –
 ExaWizards Inc., a company that develops AI-enabled services to solve social issues (Headquarters:Minato-ku, Tokyo; Representative Director & President: Ko Ishiyama; hereafter, "ExaWizards") announces that it has started to provide integrated DX talent development services in collaboration with "Udemy Business," an online learning service for businesses offered by Benesse Corporation (Okayama, Okayama Prefecture; Representative Director and President, CEO: Hitoshi Kobayashi; hereafter, "Benesse").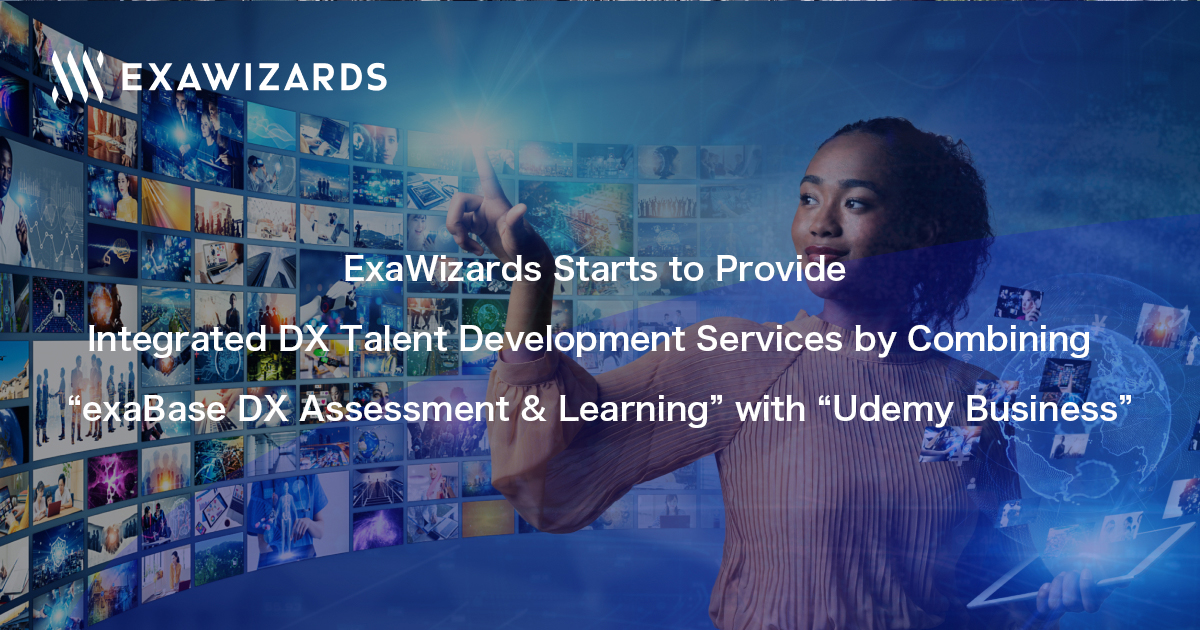 ☑︎ Udemy's learning course optimized based on assessment results is recommended to the learner
 Based on the measurement results by the "Digital Innovator Assessment (DIA)," an assessment function of "exaBase DX Assessment & Learning," the DX talent acquisition/development service provided by ExaWizards, the learner can receive a recommendation on a learning course of "Udemy Business," an online learning service for businesses offered by Umedy, Inc. located in the United States, which enables them to quantitatively know their DX skills, and take the most appropriate learning course.
*Benesse has an exclusive business partnership agreement with Udemy, Inc. in Japan.

 Also, based on the assessment results, ExaWizards' consultants well-experienced in promoting DX projects support you in creating a talent development strategy such as defining the roles and skills required for your DX talent as well as setting goals. You can map the current state of your company, and receive a recommendation on the learning course optimized for your talent if designing a goal based on your clear vision, and registering the designed goal with this service. 

*In order to use this service, you need to sign up with both "exaBase DX Assessment & Learning" and "Udemy Business," and then apply for the combination service.

 Besides, separately from this service, hands-on support programs are available. ExaWizards offers integrated talent development services to support you in designing OJT training programs in which trainees can learn how to solve issues related to their assignments, and plan/promote DX projects closely working with our consultant.

☑︎70% of the participants answered "Would like to continue to use the assessment-based recommendation service for learning courses"
 In the survey conducted for those who participated in the pilot program of this service, 70% of the participants answered that they would like to continue to use the service. ExaWizards will strive to obtain and analyze more data on user satisfaction with, and the accuracy of the recommendation service aiming to help users continue to take the online learning courses, and steadily acquire knowledge going forward. 

*The questionnaire results collected from all 43 participants in the pilot program.

☑︎ Service Outline
(1)Assessment-Based Talent Development Planning
 With this service, you can visualize the skills of the assessment taker to create a talent development plan. With the skill map that ExaWizards has designed through more than 250 projects on an annual basis, you can smoothly set the goals for the digital skills related to the roles necessary for the promotion of DX. On the Admin Screen, you can define each role, and assign the learner to the role you choose, and check the talent development status in each role.

(2)Recommendation of the Learning Course Personalized for the Learner
 The learning course, which is selected from more than 8,800 courses available in "Udemy Business," and which is personalized on the basis of the assessment results is recommended to the learner. The learner can change the priority of the role and skill to which they are assigned in accordance with their actual duties and career.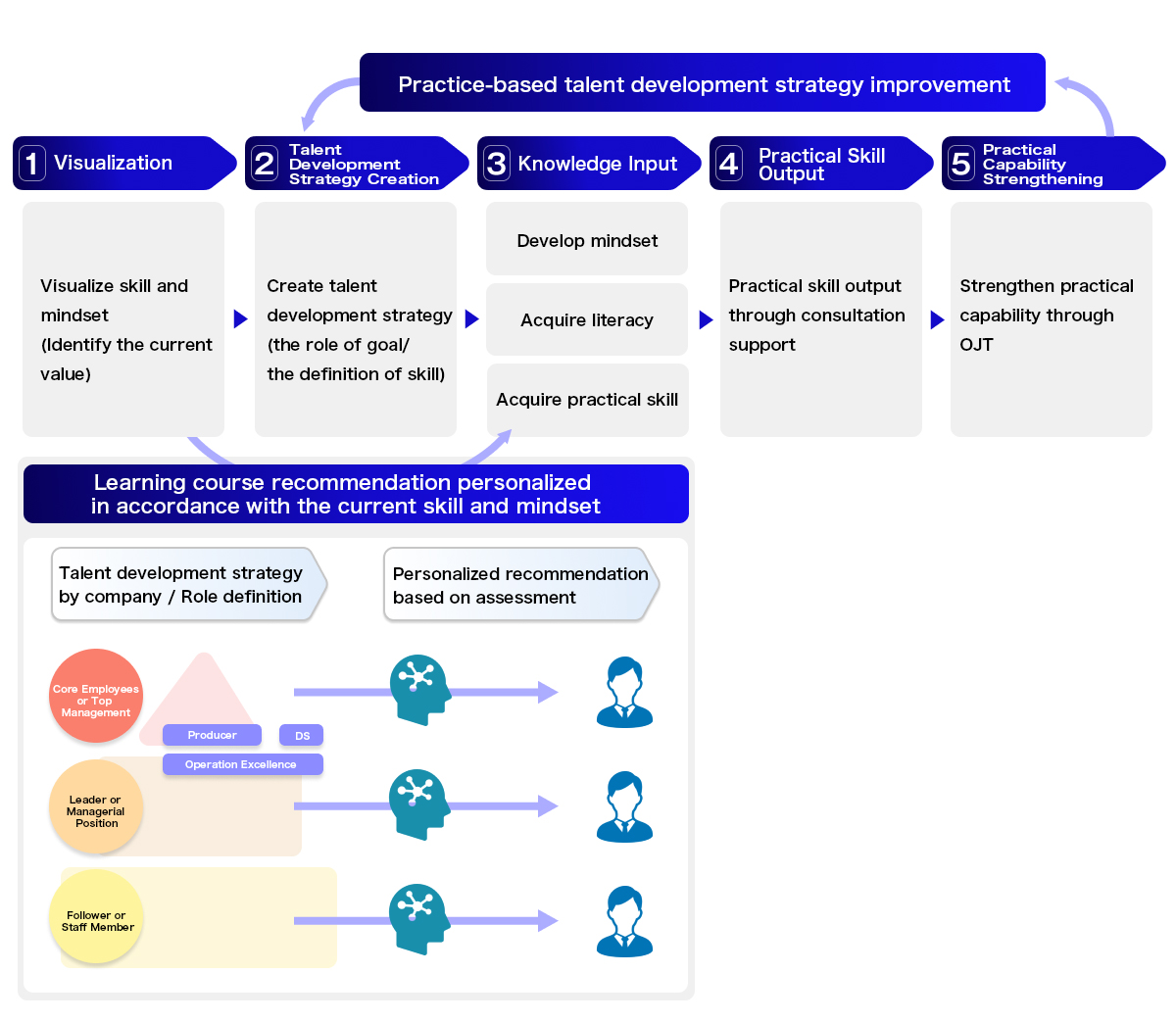 (3)Integrated Talent Development Support Services through Hands-On Support Program (Optional service)
 ExaWizards offers integrated talent development support services by making our consultants closely work with you to help solve assignment-related issues, and plan/promote DX projects. Our various support services including OJT training design services enable you to conduct not only knowledge-centric training but also hands-on training, which makes possible the development of the talent who can actually promote DX.

☑︎ Messages from Both Companies
Taishin Demura: Executive Officer, Alliance Promotion Division, DX HR Development Business Division, ExaWizards Inc.
 In the DX talent development industry, ExaWizards has prioritized "providing a framework for continually developing the talent who promotes and leads DX," and supported more than 700 companies in developing DX talent with its own assessment/learning and consultation services for the realization of successful talent development strategies as well as the AI technologies necessary for providing recommendation services.
 Since we started to collaborate with "Udemy Business," exaBase DX Learning and Assessment has been upgraded to more agilely realize the development of talent with DX skills of higher levels while helping individuals/organizations take the learning courses selected from a variety of programs available in "Udemy Business," and optimized for them based on the assessment results by the service.
 We will deepen the partnership with Benesse Corporation, step onto the next stage as a learning platform in the DX talent development industry, and strive to promote DX in Japanese companies faster than ever for years to come.

Tomonori Iida: General Manager, University and Working Adult Business Company (the Responsible Person for Udemy Business), Benesse Corporation
 More than 900 companies use "Udemy Business" in Japan. We offer solutions to various management issues including digital transformation (DX) through the promotion of reskilling. It's our great pleasure to offer the "one-stop service of assessment and talent development" to many companies on the occasion of the collaboration with "exaBase DX Assessment & Learning." Also, we take this collaboration as part of our attempts to implement in society "the values of learning," a key element of our vision. We would like to continue to foster a learning culture in the entire society while providing support to adults who continue to learn.

☑︎ About "exaBase DX Assessment & Learning" 
 exaBase DX Assessment & Learning" is ExaWizards' DX talent acquisition/development service which has been introduced to more than 700 companies, most of which are major enterprises. It has both assessment and learning functions. With the assessment function, the assessment taker receives scores for their digital/innovation skills and potential ability necessary for the implementation/promotion of DX. Their "skills" and "potential ability" are also measured so that the company can easily spot the talent with sufficient skill and ability to immediately implement/promote DX, and will smoothly design a DX talent development plan. On top of that, with the learning function, the talent development plan optimized for the learner is provided based on the visualized information about their strengths and weaknesses identified by the assessment as well as the goals set by them. Furthermore, in addition to the measurement of individual skills and potential ability, exaBase DX Assessment & Learning allows the company to check the on-line analysis report of the entire organization. By referring to various averages or attribute data by industry, job category, or age, the company can figure out its current business status from an objective standpoint.
Website: https://exawizards.com/exabase/assess-learning/training/

*exaBase is a registered trademark of ExaWizards.
[ExaWizards Corporate Profile]
Company name: ExaWizards Inc.
Location: 21F, Shiodome Sumitomo Bldg., 1-9-2, Higashi Shimbashi, Minato-ku, Tokyo
Representative: Ko Ishiyama, Representative Director & President
Description of business: Industrial innovation and resolution of social issues through the development of AI-enabled services
URL: https://exawizards.com/
<Contact for public relations>
E-mail address of the Public Relations Division of ExaWizards Inc.: publicrelations@exwzd.com