NEWS
ExaWizards and TODA CORPORATION Jointly Developed a Video Digest System with Which Field Managers Can Carry Out Safety Checks in Short Time -AI extracts important scenes, keeps the safety management level, and shortens the video viewing time by about 90%-
ExaWizards Inc., a company that develops AI-enabled services to solve social issues (Headquarters: Minato-ku, Tokyo; Representative Director & President: Ko Ishiyama; hereafter, "ExaWizards") jointly developed "Unsafe Behavior Digest Video Automatic Generation AI System" with TODA CORPORATION (Head office: Chuo-ku, Tokyo; President and Representative Director: Seisuke Otani; hereafter, "TODA CORPORATION").
Various measures are taken in construction sites to prevent labor accidents and improve the safety management level. The introduction of moving cameras are proceeding to grasp dangerous places and movements at inspection sites. On the other hand, as the volume of video data increases, the burden of field managers has been increasing due to the long time required to check videos. To solve these issues, we developed a system which uses AI to evaluate importance and automatically generate digest videos. This video digest system reduces the long time required for viewing videos by 90%, which has been a problem, and extract possibilities of unsafety. It will reduce the burden of field managers for prevention of labor accidents and improvement in the safety management level at construction sites.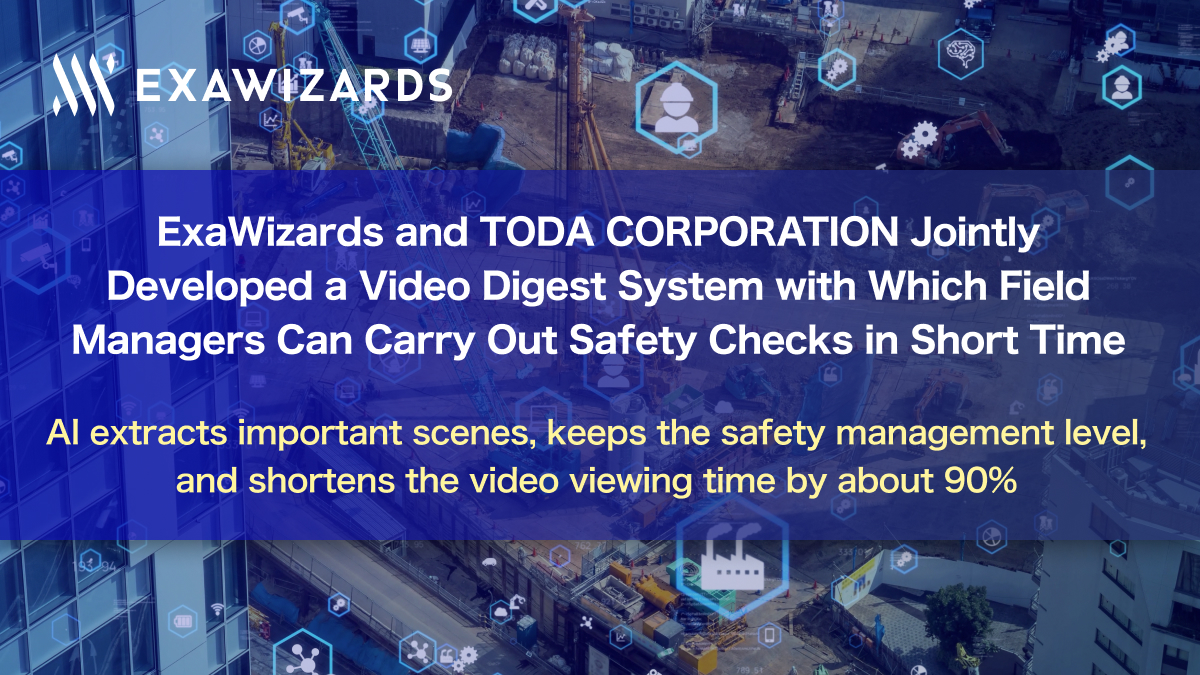 Prevention of labor accidents and improvement in the safety management level at construction sites are important issues for companies. However, "finding ability" in field walk-around checks depends on experiences, so it is required to level the check competencies. In addition, increases in videos and storage costs associated with the introduction of moving cameras at check sites are also burdensome. It is also necessary to save labor further by "regulation of the upper limit of overtime working hours" applied to the construction industry from April 2024.
☑︎ AI evaluates importance, automatically generates digest videos, and reduces the video viewing time of managers by 90%
To solve these issues, ExaWizards developed a platform which uses AI to evaluate importance and automatically generate digest videos of "places which seem to be unsafe" based on distance estimation and exclusion processing, reducing the video viewing time of field managers by 90%. Though the introduction of moving cameras at inspection sites has been proceeding, many video are blurred or unnecessary because only heavy machinery or people are shot, which prolongs the view viewing time of field managers. We shortened the video viewing time of managers by adopting "video summarization method" to exclude videos which seem to be clearly unnecessary and extract only the important scenes in which heavy machinery and people are close to each other. This method realized shortening of the viewing time from 55 minutes at 15 times speed to 7 minutes and 40 seconds. The storage cost of data is also expected to be reduced by the summarization of videos themselves.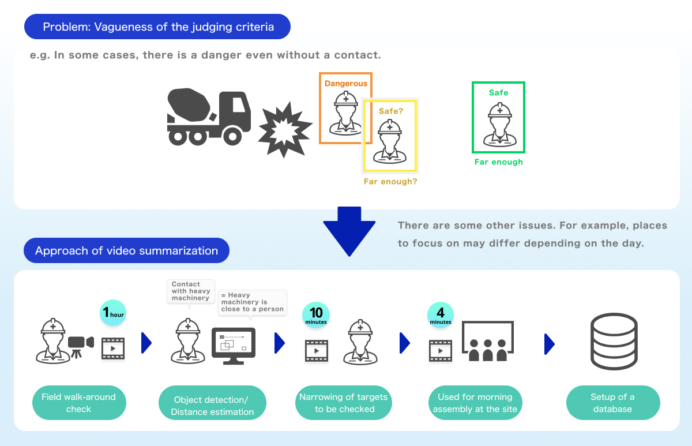 Originally, the machine learning model is good at judging and digitizing a massive amount of positions, types, numbers, distances, etc. of objects, so this system construct a machine learning model which can calculate the position of and distance from each of objects based on a massive amount of video data. With such a model, the system extracts only important scenes such as "scenes in which people and heavy machinery may contact each other" and "scenes in which many workers have tools" and generate summarized videos without "blurred scenes in which only people are shot."
Then, managers can check such summarized videos, explain the found unsafe scenes to workers with videos on the next day, and improve the work at sites.
It is also possible to construct a larger-scale model by making a database which stores the data of scenes which managers judge to be important and using these data from the database.
About ExaWizards
ExaWizards has been developing businesses such as the development and implementation of services leveraging AI as well as strategy planning to consistently address social issues since the establishment in 2016. There are two business segments in the company: AI platform business and AI product business. They accumulate their unique algorithms data through these two segments as a multi-sector multimodal strategy. Their cumulative numbers of patent applications and acquisitions are 191 and 85 (as of the end of December 2022), respectively. The company also owns advanced technologies in the hardware area such as robots and AI cameras. For more information about ExaWizards, please visit https://exawizards.com.
[ExaWizards Corporate Profile]
Company name: ExaWizards Inc.
Location: 21F, Shiodome Sumitomo Bldg., 1-9-2, Higashi Shimbashi, Minato-ku, Tokyo
Representative: Ko Ishiyama, Representative Director & President
Description of business: Industrial innovation and resolution of social issues through the development of AI-enabled services
URL: https://exawizards.com/
<Contact for public relations>
E-mail address of the Public Relations Division of ExaWizards Inc.: publicrelations@exwzd.com