NEWS
'exaBase Robotics' will be showcased at 'FOOMA JAPAN 2023', one of the world's largest comprehensive food manufacturing exhibitions.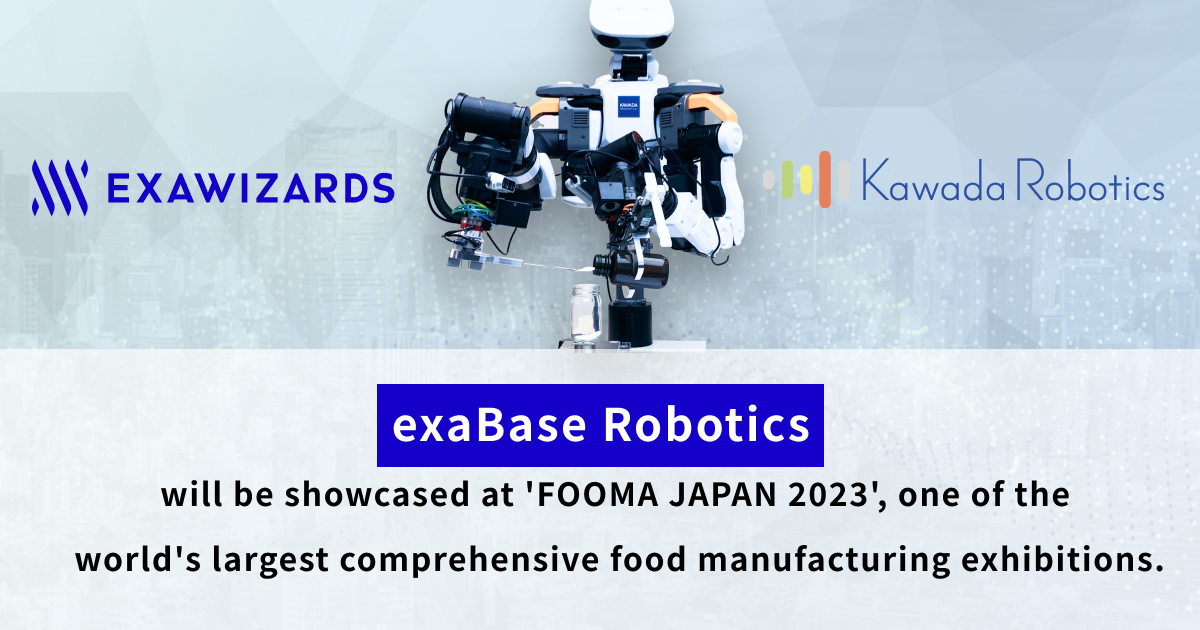 ☑︎ The first public unveiling of a robotic system capable of weighing both powders and liquids will be held at 'FOOMA JAPAN 2023'.
At 'FOOMA JAPAN 2023', the world's largest comprehensive food manufacturing exhibition held at Tokyo Big Sight from June 6th (Tuesday) to 9th (Friday), 2023, the AI robotic system 'exaBase Robotics Weighing for NEXTAGE', which was jointly developed by ExaWizards and Kawada Robotics to realize high-speed automation of the weighing process, will be jointly displayed at the booth of Takebishi Corporation (East 7 Hall 7G-22).
Booth information: https://www.foomajapan.jp/exhibitor_info/search/exhibitor-details/index.php?c=1905008
Additionally, to coincide with this public release, we will resume the demonstration exhibition of this system, which can be visited at ExaWizards Tokyo Head Office, for a limited time until the end of June 2023.
☑︎ About the Demonstration Exhibition
Schedule: From June 19th to 30th (excluding weekends and holidays)
Timeslots: 10:00-12:00 / 13:00-15:00 / 15:30-17:30
Location: 21st Floor, Shiodome Sumitomo Building, 1-9-2 Higashi-Shinbashi, Minato-ku, Tokyo
How to apply: Please write 'exaBase Robotics Weighing Demo Request' in the form at the URL below and apply.
URL: https://exawizards.com/exabase/robotics/contact/
※ The content of the demonstration will be the same for all three slots.
※ When inquiring, please provide about three preferred dates and times.