NEWS
ExaWizards Uses Generative AI to Assist TV Tokyo's New Vtuber Business
– Users can suggest AI Vtuber personalities linked to TV Tokyo's programming –
ExaWizards Inc. (Headquarters: Minato-ku, Tokyo; Representative Director & President: Makoto Haruta; hereafter, "ExaWizards") has joined TV Tokyo Corporation (hereinafter referred to as "TV Tokyo") and Singapore-based Digital Entertainment Asset Pte. (DEA) on a new Vtuber project that uses generative AI. The generative AI will be assisted by NFTs purchased by users, which will allow them to interact with and determine some of the characteristics of the AI-controlled Vtuber.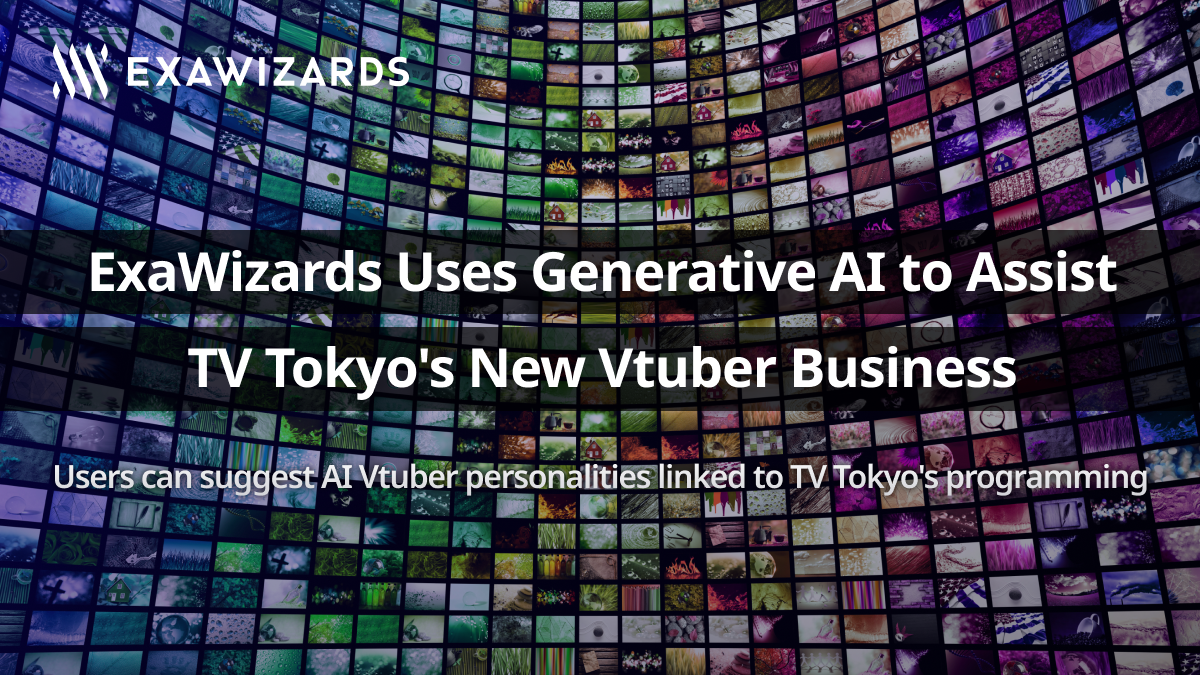 ☑︎Project Overview – Purchase NFTs to support and configure each AI Vtuber.
The service will launch seven AI-controlled Vtuber characters in September 2023 as "Ishi to Hoshi StoneStars Project powered by GPT-4," with an eye toward global expansion. Vtubers are 2D or 3D character avatars used in place of humans in online media.
NFTs* will be issued to support each AI Vtuber. Users participate by purchasing NFTs that allow them to suggest personalities and other settings for their favorite AI Vtubers. This project will develop each character in conjunction with YouTube distribution and TV Tokyo programs.
*NFT stands for Non-Fungible Token, a Web3 technology that allows users to control ownership of their digital data.

Seven AI Vtubers from "Ishi to Hoshi" (images courtesy of TV Tokyo)
☑︎Our Role – Generative AI will build up each Vtuber's personality, characteristics, and history.
ExaWizards is in charge of setting up the personality and history of each AI Vtuber. In this service, users can talk to seven AI Vtubers, each of whom is based on a "mineral" or "star" motif. Users can purchase NFTs to become "producers" to help shape the personalities, characteristics, and speech styles of each AI Vtuber.
Producers can gives directions to AI Vtubers through generative AI prompts to train them and create a story about the AI Vtuber's history. The (screened) prompts will be applied to each AI Vtuber to shape their story and personalities.
ExaWizards excels in building services leverage generative AI. We implemented a mechanism for AI Vtubers to have a memory of past conversation history and other information so that the character can maintain a consistent delivery.

Kento Kajitani (POSTS Corporation), a leading expert on generative AI and XR (cross reality) is also participating in this project. DEA operates an NFT gaming platform based in Singapore and has a capital and business alliance with TV Tokyo.
☑︎Service Overview
Ishi to Hoshi StoneStars Project powered by GPT-4 (Only in Japanese)
https://ishitohoshi.com/
☑︎ About ExaWizards
ExaWizards conducts over 350 AI and DX projects per year. ExaWizards has developed its "AI Platform Business", which supports companies in solving problems in various departments and across the company, and its "AI Product Business", which develops and provides products to solve industry and social issues identified in the course of its business activities, and has accumulated a unique algorithm. The company has applied for 196 patents and has been granted 95 patents (as of March 31, 2023), and also possesses advanced technologies in the hardware domain, such as robots and AI cameras.

[ExaWizards Corporate Profile]
Company name: ExaWizards Inc.
Location : 21F, Shiodome Sumitomo Building, 1-9-2 Higashi-Shinbashi, Minato-ku, Tokyo
Established : February 2016
Representative : Makoto Haruta, Representative Director & President
Business : Industrial innovation and resolution of social issues via AI service development
URL : https://exawizards.com/
<Contact for public relations>
E-mail address of the Public Relations Division of ExaWizards Inc.: publicrelations@exwzd.com