NEWS
Launching the Product Version of 'exaBase IR Assistant Powered by ChatGPT API,' a Service to Enhance IR Operational Efficiency With ChatGPT
-Major updates from the beta version, including project management features and improved answer generation –
ExaWizards Inc. is pleased to announce that its subsidiary, Exa Enterprise AI Inc.(Headquarters: Minato-ku, Tokyo; Representative Director: Takuma Oue, hereafter Exa Enterprise AI), is now offering the product version of 'exaBase IR Assistant Powered by ChatGPT API' (hereafter exaBase IR Assistant), a service that enhances the efficiency of IR operations with ChatGPT.
We have been busy developing this service since May's beta version release. We have applied several updates to this production version to make it more convenient to use during practical business, such as by expanding data source file formats, adding project management features, and increasing the maximum number of questions and answers generated.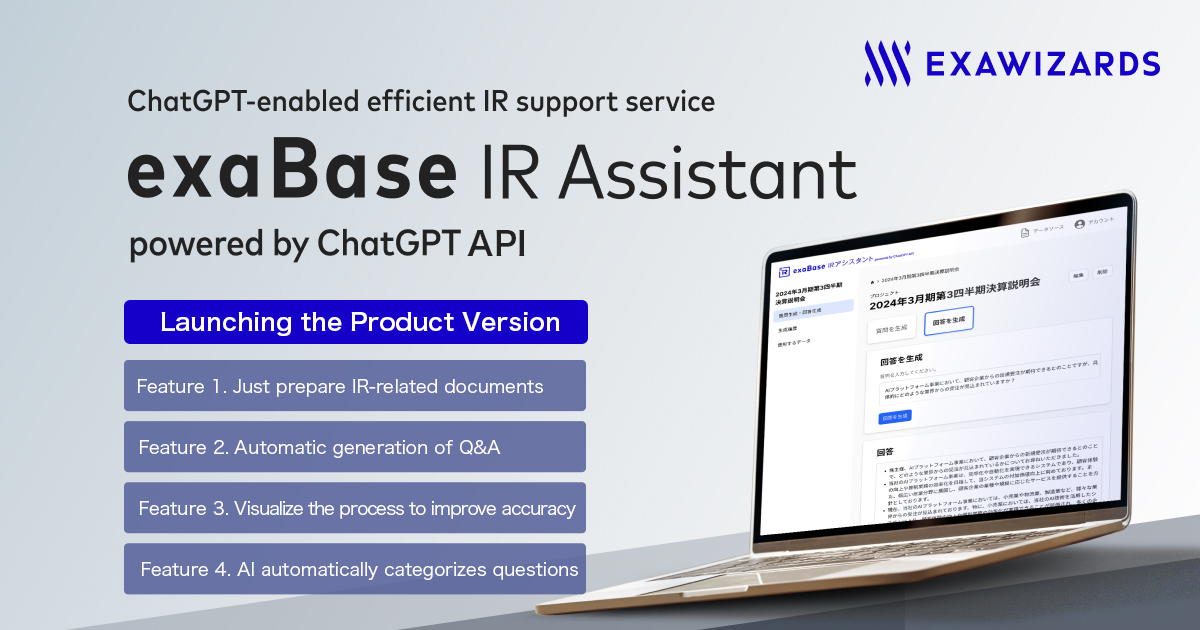 Site URL:https://exawizards.com/exabase/ir-assistant/

ExaWizards provides services and products through AI to improve productivity and solve social issues.
☑︎Service Overview
The exaBase IR Assistant is an IR operation efficiency support service that utilizes ChatGPT. It uses IR documents as data sources to automatically generate potential questions and corresponding suggestions for answers (including company-specific information) for shareholder meetings and earnings presentations. exaBase IR Assistant's robust security can accommodate both disclosed and undisclosed information, revolutionizing how IR personnel briefing materials are created. exaBase IR Assistant streamlines existing operations, creating a system that focuses on providing higher-value, high-quality information disclosures.
☑︎Major Updates in the Production Version
We have applied several updates to this new production version to make it more convenient to use during practical business:
1) Project Management Features
Allows individual management of usage data sources and generated data per business unit, such as "shareholder meetings" and "quarterly earnings disclosures."
2) Increased Question and Answer Generation
We have increased the upper limit of question and answer generations, allowing up to 300 questions per month. Generated questions and answers can now also be downloaded in CSV format (readable in Excel).
3) Automatic Tag and Category Assignment
Automatically assigns tags and categories to questions based on their content.
4) Other Updates
exaBase IR Assistant now supports both PDF and Word files (.docx format). We've expanded the answer generation feature to allow bulk answer generation to specific questions in addition to individual question generation. It's now possible to view the history and files of previous questions and answers.
☑︎Upcoming Features
・Single Sign-On (SSO) Authentication
・Automatic English translation of generated questions and answers
・Dashboard feature
・Integration with AI search engine 'exaBase FAQ'
☑︎Establishing Robust Sales Collaborations through Business Alliances with Industry Leaders
Since May's beta version announcement, ExaWizards has been entering into business alliances with industry leaders to provide and enhance the service.
In August, ExaWizards announced a partnership with TAKARA PRINTING CO., LTD. As of May 2022, TAKARA PRINTING CO., LTD. has transaction records with 2,226 out of 3,900 listed companies in Japan, boasting a robust customer base in disclosure-related systems for listed companies.
In September, ExaWizards announced a partnership with Mizuho Trust & Banking Co., Ltd., a major securities agency. Mizuho Trust & Banking Co., Ltd. manages shareholder registers and focuses on IR/SR support services, facilitating discussions between client companies and shareholders. The Mizuho Group has transactions with 70% of listed companies in Japan.
In the future, ExaWizards will continue to work on solving societal issues (including improving the productivity of Japanese companies) by expanding medium- and long-term cooperation, collaborations, and mutual business and sales with alliance partners.
【exaBase IR Assistant Product Briefing】
We will hold online briefing sessions to introduce exaBase IR Assistant's features, functionality, and useful applications. Please register if you are involved in IR operations. *The content will be the same for each session.
Dates and times are as follows:
10/12 (Thu) 12:30-13:15
10/18 (Wed) 17:00-17:45
10/19 (Thu) 17:00-17:45
10/23 (Mon) 12:30-13:15
10/24 (Tue) 17:00-17:45
Participation fee: Free
Location: Held on ZOOM
Registration: Please register from the following URL.
https://event.exawizards.com/misc/2023098
*exaBase is a registered trademark of ExaWizards.
【Company profile of ExaWizards, Inc.】
Company name :ExaWizards Corporation
Location :21F, Shiodome Sumitomo Building, 1-9-2 Higashi-Shinbashi, Minato-ku, Tokyo
Established :February 2016
Representative :Makoto Haruta, Representative Director & President
Business :Industrial innovation and resolution of social issues via AI service development
URL : https://exawizards.com/
<Contact for public relations>
E-mail address of the Public Relations Division of ExaWizards Inc.: publicrelations@exwzd.com