NEWS
ExaWizards is Utilizing Generative AI to Enter the Back-Office Market with Back-Office Operations Consolidation Services for the Care Facilities Market
-Partners with Good Time Living, a Major Care Facility of Daiwa Securities Group-
ExaWizards Inc. (Headquarters: Minato-ku, Tokyo; Representative Director & President: Makoto Haruta; hereafter, "ExaWizards") is pleased to announce their entry into back-office consolidation services in the nursing care industry, using generative AI to streamline tasks such as accounting and human resources with our specialized nursing care management and operations support service "CareWiz."
ExaWizards has entered into a business partnership with Good Time Living Co. Ltd. (Headquarters: Chuo-ku, Tokyo; Representative Director & President, Atsushi Kawai; hereafter,"Good Time Living"), who operates 32 assisted living homes and senior-oriented apartments nationwide. In collaboration with Good Time Living, we will develop a service to streamline nursing care billing tasks. The service is planned to start in fiscal year 2024 (ending in March 2025).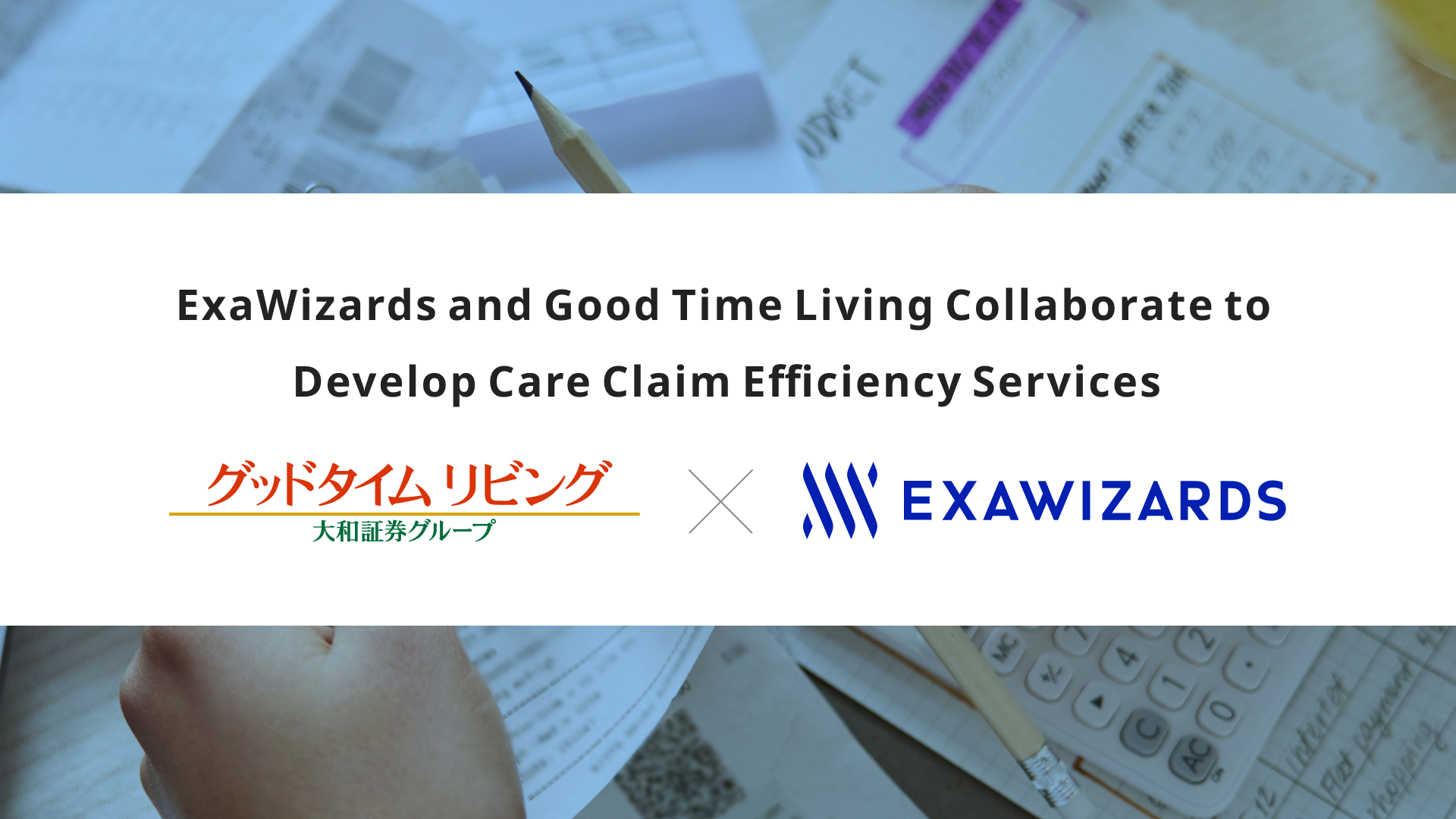 ExaWizards will use AI to support local governments and nursing care facilities in solving social issues, such as labor shortages and Japan's aging society.
☑︎Growing concerns over the possible expansion of back-office operations due to mandatory financial disclosures
There is a serious shortage of nursing care personnel due to the declining working population. Also, publication of financial statements will become mandatory in 2024, and there is concern that back-office operations in the nursing care industry will become bloated—and it is already difficult for small- and medium-sized businesses such as these to assign a dedicated person to each back-office operation. Discussions are underway to encourage small nursing care corporations to grow, and it is expected that back-office operations will become increasingly consolidated in the future.
To address these challenges, ExaWizards will enter the market for consolidated back-office services for nursing care facilities with generative AI.
☑︎Business Alliance Background
In this initiative, we will develop a service to streamline care claim operations by entering into a business partnership with Good Time Living. This organization has been at the forefront of the industry, utilizing ICT technologies to reduce the workload of peripheral and back-office tasks while allowing care staff to utilize their expertise, thereby improving customer satisfaction.
We will be able to leverage Good Time Living's knowledge of multi-facility operations and headquarters functions for running care businesses. By collaborating with their facilities, we will gain on-site feedback regarding the service's features and the UI/UX right from the development stage.
☑︎Liberation from complex care claim tasks creates an environment that focuses on care
Our service will automate the entire billing process with generative AI. Care workers and on-site staff only need to upload receipts, invoices, and service provision charts that show usage records.
Traditional billing requires accurate records that depend on the content and duration of care services. This workload can affect service provision if the system is not sufficiently prepared. ExaWizards' services streamlines the billing process for caregivers with the latest generative AI technologies to eliminate complexity and create an environment in which caregivers and frontline staff can focus on their primary caregiving duties.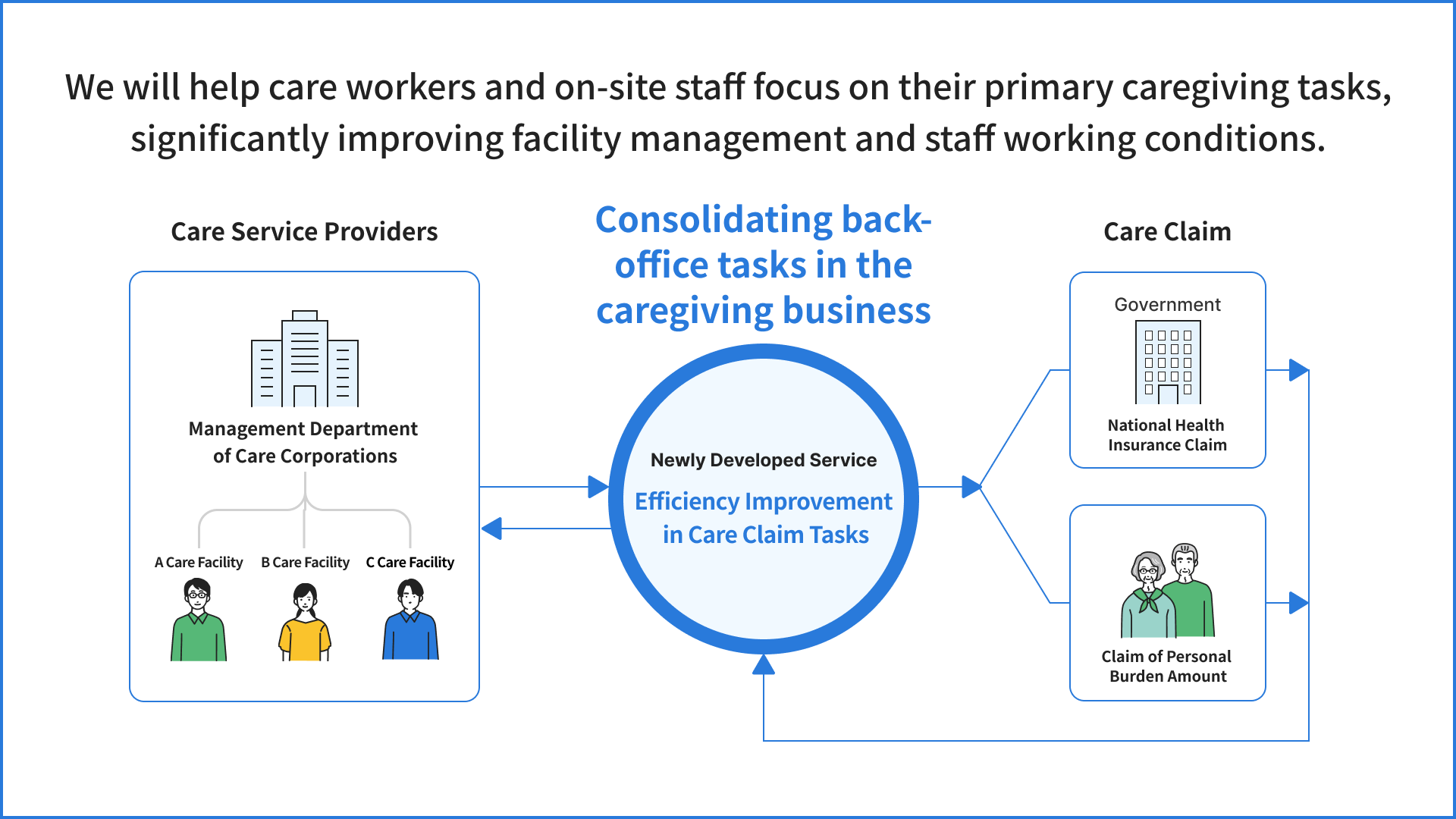 ☑︎Supporting the sustainable management of care facilities by collaborating with operators in the care industry.
According to a survey by the Ministry of Health, Labour, and Welfare, there are 250,000 care service facilities in Japan. Back-office operations are anticipated to grow in the future, and the significance of technologies such as AI is expected to increase tremendously. Our company estimates the market scale in this area to be around 3 trillion yen.
Our collaborations in the care industry will allow us to develop an AI-based service to streamline back-office tasks, such as accounting and human resources.
In the future, our company will continue to support the sustainable management of care facilities, expanding our business through these initiatives, and help solve social challenges such as labor shortages and our aging population. We are committed to creating an environment where care workers and field staff can meet the needs of individual users.
☑︎About "CareWiz"<https://carewiz.ai/>
ExaWizards develops and provides CareWiz (https://carewiz.ai/), an AI-based management and operations support service specializing in nursing care, and "CareWiz Toruto," a physical function analysis AI service, both of which are used in 800 nursing care facilities nationwide. These services track changes in patients through daily videos taken with smartphones and other devices, allowing staff members to communicate and collaborate and improving the service satisfaction of patients and their families.
*CareWiz is a registered trademark of ExaWizards.
*1: From "Overview of the 2021 Care Service Facilities and Businesses Survey" by the Ministry of Health, Labour and Welfare <https://www.mhlw.go.jp/toukei/saikin/hw/kaigo/service21/index.html>
*2: Our company's estimate based on the survey by the Ministry of Health, Labour and Welfare
【Company profile of Good Time Living Co. Ltd. 】
Company name: Good Time Living Co. Ltd.
Location: 7F, RBM Kyobashi Building, 3-4-8 Hatchobori, Chuo-ku, Tokyo
Established: April 2005
Representatives: Representative Director & Chairman, Masanobu Okaguchi
Representative Director & President, Atsushi Kawai
Business:
(1) Operates fee-based elderly homes, senior-oriented apartments, etc.
(2) Provides life support services required at the above facilities
(3) Provides care services
(4) Various services associated with and related to (1) through (3)
URL: https://www.gtl-daiwa.co.jp/
【ExaWizards Coporate profile】
Company name : ExaWizards Inc.
Location : 21F, Shiodome Sumitomo Building, 1-9-2 Higashi-Shinbashi, Minato-ku, Tokyo
Representative : Makoto Haruta, Representative Director & President
Business : Industrial innovation and resolution of social issues through the development of AI-based services
URL : https://exawizards.com/
<Public relations>
Contact the Public Relations Division of ExaWizards Inc. at: publicrelations@exwzd.com