NEWS
Fukui Prefecture Demonstrates "exaBase Generative AI" at Government Offices
– Building an Environment for Generative AI to Improve Government Operations –
ExaWizards Inc.(Minato-ku, Tokyo; President & CEO: Makoto Haruta; hereinafter referred to as "ExaWizards") announced today that Fukui Prefecture is now using the "exaBase Generative AI powered by GPT-4 (exaBase Generative AI)" service at all government offices. Staff members demonstrated the effectiveness of the system in reducing workloads and improving the quality of work. The agency began using the exaBase Generative AI system on October 10 for governmental operations and plans to use it to improve staff productivity.
ExaWizards provides AI services and products to improve productivity and solve social issues. The exaBase Generative AI is provided by Exa Enterprise AI (Minato-ku, Tokyo; Representative Director: Takuma Oue), a subsidiary of Exa Wizards.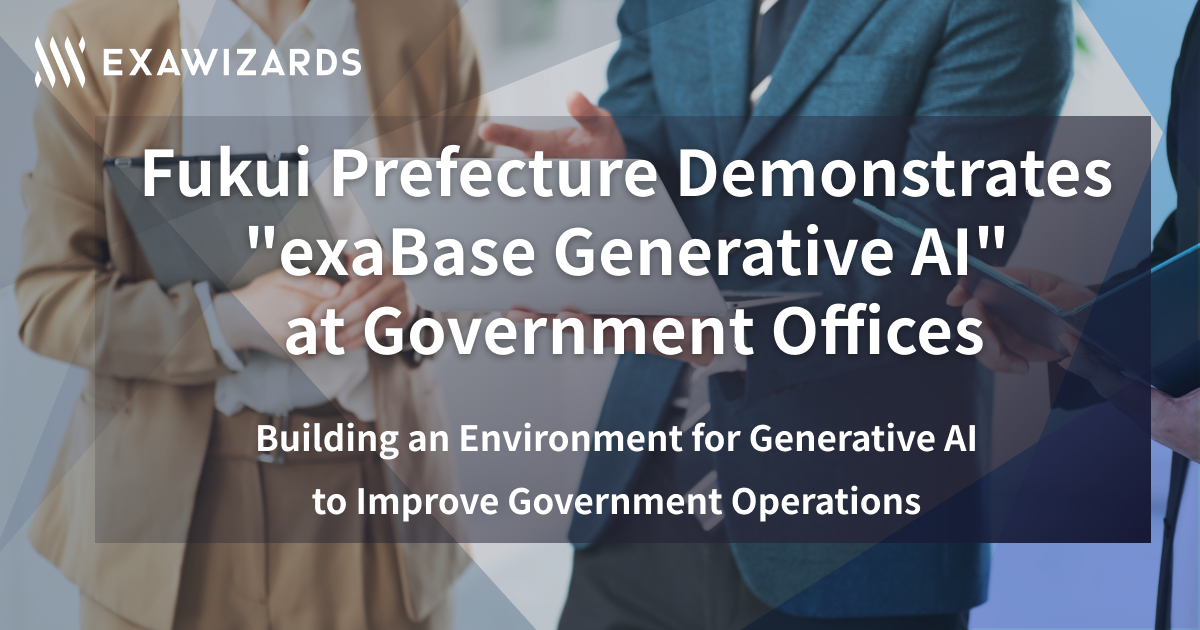 ☑︎ Key Points of the Demonstration
Fukui Prefecture staff conducted a demonstration project from June 14 to July 31, 2023 to understand how to use the generative AI service and the issues involved. A task force was established to examine (1) suitable tasks for the service and their effectiveness, (2) issues when using the service, and (3) creating prompts to obtain appropriate responses.
The task force used the system 1,700 times, and 95% of the members stated that the system improved productivity. Many members confirmed that brainstorming with an AI partner or drafting a document significantly reduced their workload, and that the new and different perspectives gained from AI improved the quality of their work. Brainstorming sessions were used to promote new projects and new measures, and drafting sessions were used to create documents to provide information to residents, draft answers to parliamentary questions, etc.
☑︎ exaBase Generative AI Features
exaBase Generative AI is a corporate-oriented ChatGPT service that implements security, management, and operational functions.
Fukui Prefecture prioritized security and compliance when they deployed the generative AI service. exaBase Generative AI is equipped with the following standard features to meet these needs.
(1) No opt-out setting required: User inputs (prompts) are not used for AI training.
(2) Prohibited word registration: Users can prevent prompts by registering prohibited words.
(3) User log and usage monitoring: User logs and usage can be managed and analyzed.
(4)Cost control: Budget limits can be set. Alerts can be delivered or stopped.
(5) Connection to OpenAI API in Japan: User inputs are processed in Japan.
In its report, Fukui Prefecture stated that it will consider "research on methods and environments for utilizing internal information" in the second half of FY2023.
exaBase Generative AI is equipped with a standard function that allows users to upload their own data in PDF, CSV, TXT, and other formats, and to provide prompts.
For more information on exaBase Generative AI, please visit (Only in Japanese):
https://exawizards.com/exabase/gpt
【Exa Enterprise Company profile】
Company name: Exa Enterprise AI Inc.
Location: 21F, Shiodome Sumitomo Building, 1-9-2 Higashi-Shinbashi, Minato-ku, Tokyo
Establishment :October 2023
Representative :Takuma Oue, President and Representative Director
Business : Planning, development, and sales of products and services that utilize technologies such as generative AI to reform corporate operations and improve productivity

【ExaWizards Company profile】
Company name : ExaWizards Inc.
Location : 21F, Shiodome Sumitomo Building, 1-9-2 Higashi-Shinbashi, Minato-ku, Tokyo
Established : February 2016
Representative : Makoto Haruta, Representative Director & President
Business : Industrial innovation and resolution of social issues via AI service development
URL : https://exawizards.com/
<Contact for public relations>
E-mail address of the Public Relations Division of ExaWizards Inc.: publicrelations@exwzd.com