NEWS
Dai-ichi Life Adopts exaWizards' AI Development Environment "exaBase Studio" AI Development Environment – Dai-ichi Life uses generative AI development environment "exaBase Studio" to produce in-house applications that generate external document templates –
ExaWizards (Minato-ku, Tokyo; President: Makoto Haruta; hereinafter referred to as "exaWizards") announced today that it has begun providing AI software development environment "exaBase Studio" to Dai-ichi Life Insurance Company, Limited (President: Shunsuke Sumino; hereinafter referred to as "Dai-ichi Life"). Dai-ichi Life will use exaBase Studio to build an "AI utilization platform" to safely and efficiently utilize generative AI such as ChatGPT, and expects to improve development efficiency by 50%. exaBase Studio is scheduled for release to the general public in FY2023, and this will be the first customer case study that will be made public.
ExaWizards' goal is to solve social issues by providing AI services and products that improve the productivity of Japanese companies.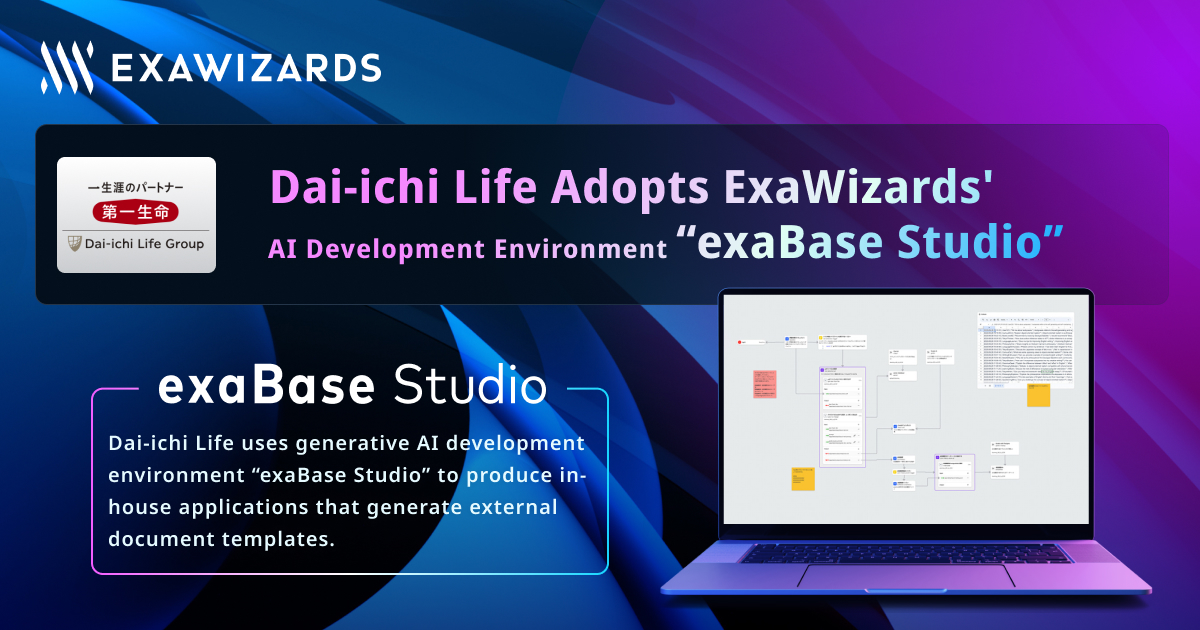 ☑︎ exaBase Studio features – Enables in-house production by utilizing AI models and data from inside and outside the company.
The exaBase Studio development environment allows you to build AI software by combining AI models, services, and data. It facilitates open design and updates by engineers, management, and other personnel familiar with the business. The system can partially automate complicated development procedures that positively impact the development process. The system supports in-house agile development, where "improvements are made on something that already works."
☑︎Background of Dai-ichi Life's Adoption of ChatGPT – Flexibility in generative AI service development and risk management
Generative AI such as ChatGPT is effective in solving problems, and Dai-ichi Life considers the development of a safe and efficient generative AI environment as an important management issue. Though generative AI offers convenience, there are concerns that it may lead to leakage of confidential or personal information or may provide erroneous information.
Dai-ichi Life has decided to establish a system to apply generative AI to a range of business operations by building a mechanism that enhances the agility and speed of AI development while controlling the related risks.
☑︎AI utilization platform specifics – AI models and data linkages from document creation to utilization
Dai-ichi Life is developing the following AI applications with exaBase Studio. We expect to increase development productivity by 50% by leveraging exaBase Studio's low-code development and operations environment.
Reporting: Based on set parameters, the system integrates information from various internal data sources (databases, Excel, etc.) and external information available on the Internet, and the generative AI will then generate reports for the user. For example, it can obtain information before visiting important customers to improve business negotiations.
Document template generation: When a user specifies a document for submission to the government or other external parties, the generative AI will check the document based on various laws and regulations, internal guidelines, and past documents, and will suggest a document that can serve as a template. This system will automate daily operations.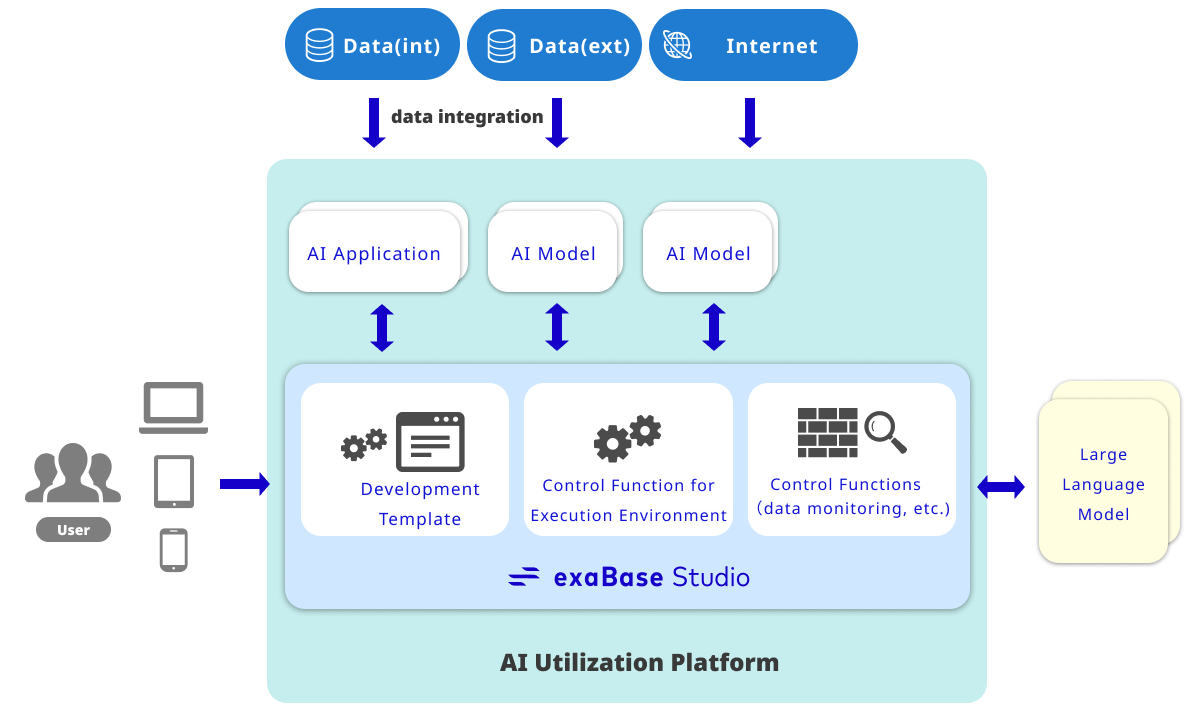 Fig. Linking systems and data through Dai-ichi Life's "AI Application Platform"
The AI Application Platform allows users to select and configure AI models and connections to internal data via an intuitive UI, and also function as a hub for linking appropriate internal and external AI models.
In addition to improving productivity, exaBase Studio is also equipped with functions to audit prompts, generative content, and log management against confidential information leakages. These functions are provided as multiple "templates" in exaBase Studio, eliminating the need to develop new functions such as usage logs, input/output data recording, and checking for erroneous AI responses.
☑︎Support for building and operating the execution environment -Automatic application deployment to the cloud.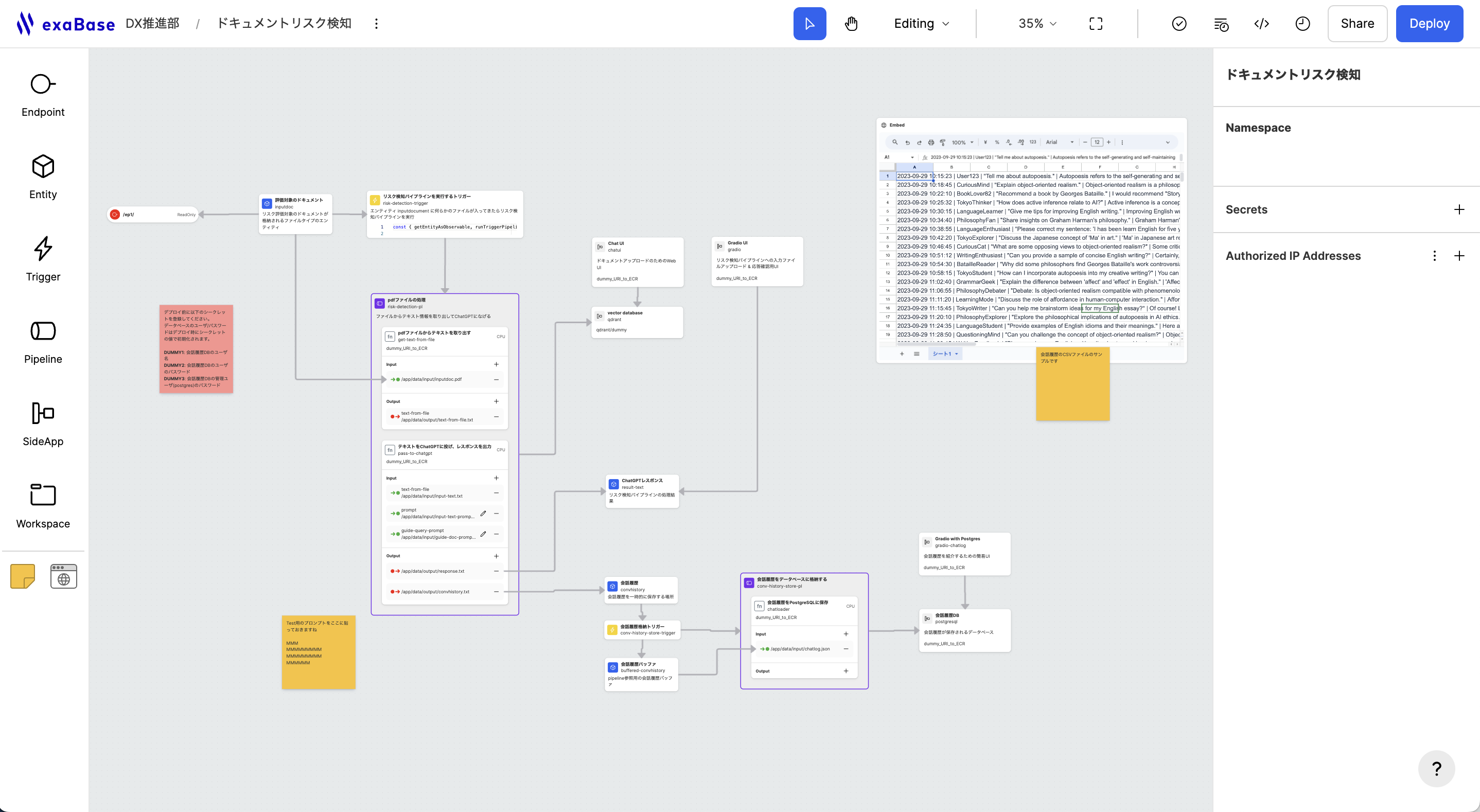 Fig: Canvas of the exaBase Studio development screen (prototype under development)
exaBase Studio is equipped with the following functions, making it easy to operate and to add or modify functions.
(1) A complex execution environment is automatically built on the cloud and can be used immediately.
The AI model, software, UI, etc. can be configured in the execution environment and automatically deployed as an application on various cloud services. The application can be used on infrastructure that considers performance, stability, security, the UI, etc. required for day-to-day operations.
(2) Providing ExaWizards' AI models and template groups
exaBase Studio can utilize the AI models and templates accumulated by ExaWizards. This "Generative AI Service Library" will expand in the future.
This service also supports container technology to absorb differences in specifications, allowing development in various languages and libraries.
For the latest information on exaBase Studio, including the Generative AI Service Library, please visit the following website.
exaBase Studio 生成AIサービスライブラリ
☑︎ exaBase Studio Availability Schedule
exaBase Studio is currently in trials with clients involved in advanced initiatives. Further UI improvements and template enhancements will be made in the future, and a full release is planned for the end of March 2024.
☑︎ About ExaWizards
ExaWizards conducts over 350 AI and DX projects per year. ExaWizards has developed its "AI Platform Business", which supports companies in solving problems in various departments and across the company, and its "AI Product Business", which develops and provides products to solve industry and social issues identified in the course of its business activities, and has accumulated a unique algorithm. The company has applied for 196 patents and has been granted 95 patents (as of March 31, 2023), and also possesses advanced technologies in the hardware domain, such as robots and AI cameras.
【ExaWizards Corporate profile】
Company name : ExaWizards Inc.
Location : 21F, Shiodome Sumitomo Building, 1-9-2 Higashi-Shinbashi, Minato-ku, Tokyo
Established : February 2016
Representative : Makoto Haruta, Representative Director & President
Business : Industrial innovation and resolution of social issues via AI service development
URL : https://exawizards.com/
<Contact for public relations>
E-mail address of the Public Relations Division of ExaWizards Inc.: publicrelations@exwzd.com