NEWS
AI Photo Service "Torinku" to Launch a New Feature for the Equitable Automatic Selection of Children's Photos for Fiscal Year 2023
– Automates the Process from Shooting to Selection for Photo Sales and Graduation Albums, Achieving 800 Hours of Annual Work Efficiency
ExaWizards Inc. is proud to announce that its subsidiary VisionWiz Inc. (Headquarters: Minato-ku, Tokyo; Representative Director: Tomoaki Maekawa; hereafter, "VisionWiz"), a company specializing in content delivery via AI image recognition, will enhance their AI photo service "Torinku" in fiscal year 2023 with a new feature that allows automatic photo selection. This new feature uses AI to select photos from a vast array of shots taken by teachers and photographers, ensuring the fair capture of children's smiles and moments of play.
This feature streamlines the production of graduation albums and automates the process of photo-shooting and selection for daily activity records. This innovation is expected to save around 800 hours of work per year.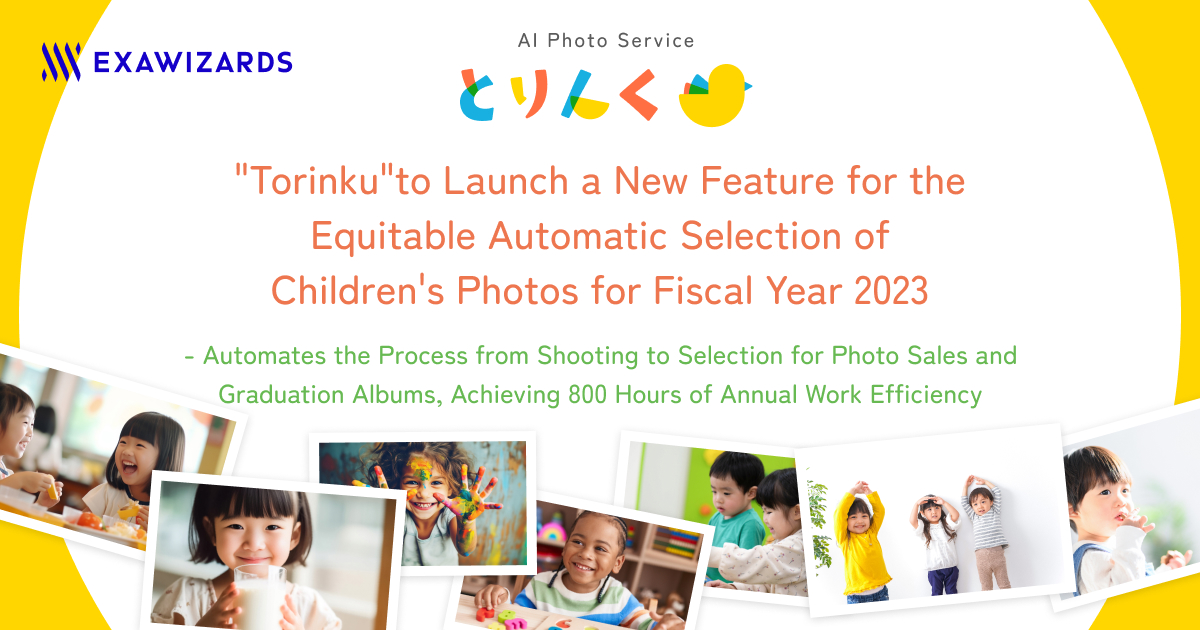 To apply for "Torinku", please click here: : https://enquiry.tlnk.jp/pr
ExaWizards and VisionWiz are committed to solving social issues by improving productivity in education and childcare through the provision of AI services.

☑︎About the New Feature
This new feature automates taking and selecting photos, a task previously done manually by teachers. This ensures fairness and allows every child to have their moments captured by AI. This feature can also be used to upload and auto-select photos taken with different cameras or with photos from previous captures*². The system arranges photos according to AI-based scores, allowing teachers to easily replace photos after viewing.

In the future, we plan to develop a feature that uses facial recognition technology to automatically blur the faces of children for parents who do not want their child's photos to be published on sales sites and other places.

"Torinku" adheres to ExaWizards Group's basic policy on information security and personal information protection, ensuring security and privacy.

Feature 1: Reducing Teachers' Workload, Gaining Parents' Trust, and Elevating Popularity Among Preschools or Classes
The AI handles everything from auto shooting to selection, significantly reducing teachers' workload and augmenting the number of photos that can be provided to parents. Distributing daily photos of children enjoying their preschool or class helps us earn parents' trust and enhances the quality of education and childcare.

Feature 2: Parents Have Comprehensive Records of Their Children's Growth
The AI handles shooting, selection, and editing of photos, providing parents with enhanced records of their child's growth.

Feature 3: New Business Opportunities for Photographers and Cameramen
Photographers and cameramen associated with educational and childcare sites can also upload their photos and use the auto-selection function. This saves them time, allowing them to focus on their craft or on creating new business opportunities.
"New Feature Introduction"
☑Participation at "Child Edu & Care 2023 – Childcare & Education Business & Service Fair"
We are thrilled to announce that our AI photo service "Torinku" will participate at the "Child Edu & Care 2023 – Childcare & Education Business & Service Fair." Our booth will be open from 10:00 to 17:00 on November 21 (Tuesday) – 22 (Wednesday), 2023.

【Exhibition Details】
Name : "Child Edu & Care 2023 – Childcare & Education Business & Service Fair"
Dates : November 21 (Tuesday) – 22 (Wednesday), 2023, from 10:00 to 17:00
Location : Tokyo Metropolitan Industrial Trade Center Hamamatsucho Hall (1-7-1 Kaigan, Minato-ku, Tokyo, Tokyo Port City Takeshiba)
Booth Number  : F004
Organizers : Hoiku Expo Executive Committee
Supported by : Tokyo Metropolitan Government
Official site : https://hoikuhaku.jp.messefrankfurt.com/tokyo/en.html

To apply for "Torinku", please click here: https://enquiry.tlnk.jp/pr

*1: This is an estimate based on interviews with nurseries where "Torinku" was introduced. It assumes that 60 hours per month are required for photo sales services and photo attachments to communication books and class newsletters, and that 60 hours per year are required for photo organizing tasks for graduation albums at a typical nursery or kindergarten.
*2: Additional fees may apply.


*"Torinku" is a registered trademark of ExaWizards.

[VisionWiz Inc. Corporate Profile]
Company name : VisionWiz Inc.
Location : 21F, Shiodome Sumitomo Bldg., Higashi Shimbashi 1-9-2, Minato-ku, Tokyo
Representative : Tomoaki Maekawa , Representative Director
Business : Digital content distribution utilizing AI image recognition technologies
URL :https://tlnk.jp
[ExaWizards Inc. Corporate Profile]
Company name : ExaWizards Inc.
Location : 21F, Shiodome Sumitomo Bldg., Higashi Shimbashi 1-9-2, Minato-ku, Tokyo
Representative : Makoto Haruta, Representative Director & President
Business : Industrial innovation and resolution of social issues through development of AI services
Corporate site  : https://exawizards.com/

<Contact for public relations>
Public Relations Department, ExaWizards Inc.
Email: publicrelations@exwzd.com