NEWS
"CareWiz Toruto for Me," a New Web App Marketing Tool for our Super-Aged Society that Combines AI-Powered Physical Function Analysis and Product Recommendation Features, is Set for Release in February 2024.
-"CareWiz Toruto," with its 300,000 care analysis records, will available for general business. This tool helps develop new business opportunities and utilize marketing tools in the expanding senior market-
ExaWizards Inc. is pleased to announce that its group company, ExaHomeCare Inc. (Minato-ku, Tokyo; Representative Director: Satoshi Ishino; hereafter, "ExaHomeCare"), which develops and sells AI-assisted care and welfare-related services, will release "CareWiz Toruto for me" a new web app marketing tool built for our super-aged society, in February 2024.
In response to the growing needs of the expanding senior market, we extend "CareWiz Toruto" to general businesses with the launch of "CareWiz Toruto for me". This service equips companies with AI-powered physical function analysis and product recommendation capability, paving the way for new business creation and marketing opportunities targeting the senior demographic.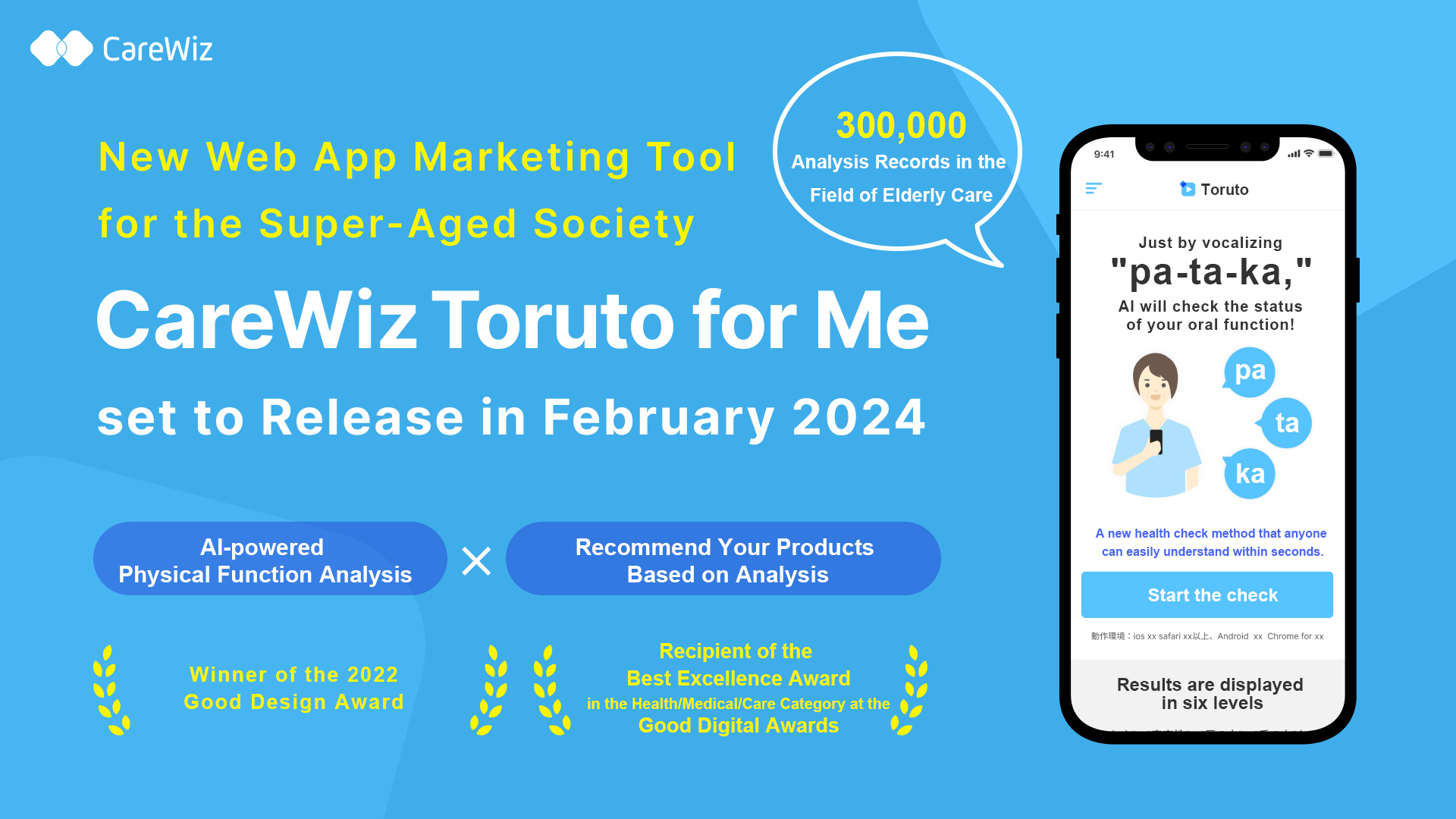 ExaWizards and ExaHomeCare are committed to solving social issues related to our super-aged society by providing AI-assisted services and by supporting care facilities, companies, and local governments.
☑︎About "CareWiz Toruto for me"
This service is a version of "CareWiz Toruto," which visualizes physical functions based on expert knowledge by filming short videos with a smartphone. The new product recommendation function allows companies to offer services and products based on assessments of users' walking and oral functions. This function expands the service into a new web app marketing tool for our super-aged society.
Feature 1: Easy AI physical function analysis, fun and comfortable usage
Gait analysis asses the user's walking level by estimating the position of the skeleton. The oral analysis function can assess the user's speaking and eating ability via sound analysis. It's possible to assess these physical functions with a smartphone, so anyone can use them.
Feature 2: Enhanced product recommendations based on the AI physical function analysis
The service recommends exercises based on the users' physical function analysis results, and businesses can use it to guide users to their own services. This will allow users to easily understand the relevance between their needs and the offered services.
Feature 3: Web application that easily integrates with existing WEB services
This service can be combined with a company's existing web services. It is also possible to integrate user data by matching IDs and set limits on the number of analyses. This allows for high-quality service provision and flexible cost management tailored to user needs.
We have prepared a special package for test marketing and sales for next term's senior marketing measures for companies who complete their application by the end of December 2023.
☑︎Pre-Launch Adoption
【Used at manufacturers/retail industry store events】
Problem: Struggling to attract people to events for seniors and unable to get product information even when they visit.
Result: The event was a great success! People of all ages could experience AI. Understanding the analysis results facilitated acceptance of the need for certain products.
【Introduced as an ancillary service by an insurance company】
Problem: Providing insurance policyholders an opportunity to review their insurance.
Result: Policyholders were able to analyze their physical function and judge the necessity of making changes to their insurance policies.
☑︎Development Background
According to the Japan Policy Finance Corporation Research Institute, the senior market in Japan was worth 100 trillion yen in 2012 and is expected to reach 111 trillion yen by 2030*1. The need for new business development and to find new customers for existing senior services is increasing rapidly. But there are many challenges in this rapidly-expanding market, such as the marketing challenge of "having products but not being able to communicate them effectively," and service matching challenges, such as seniors "not wanting to see advertisements for frailty prevention, elderly-oriented ads, etc. as they still feel healthy."
ExaHomeCare is developing "CareWiz Toruto for me," a new web app marketing tool for our super-aged society. This app allows companies to make appropriate service announcements based on AI physical function analysis results and allows seniors to measure their physical function and find services suited to them.
ExaWizards and ExaHomeCare are addressing the social problems of our super-aged society through this service. We support improving senior citizens' lifestyles and creating new businesses and marketing.
☑︎About 'CareWiz' https://carewiz.ai/
'CareWiz' is a management and operations support service specializing in nursing care. Its mission is to "support our super-aged society through AI and other mechanisms." CareWiz will provide technology services to help caregivers concentrate on care work. The physical function analysis AI service 'CareWiz Toruto' is currently used by 800 nursing care facilities nationwide, improving the satisfaction of users and their families by tracking changes in their condition via regular smartphone videos and conveying the intentions of care providers.
*1: Japan Policy Finance Corporation Research Institute "October 2019 issue: Now and Future of Small and Medium Enterprises"https://www.jfc.go.jp/n/findings/pdf/tyousa_gttupou_1910.pdf
*"CareWiz" is a registered trademark of ExaWizards.

【ExaHomeCare Company Profile】
Company name: ExaHomeCare Inc.
Headquarters: 21F, Shiodome Sumitomo Building, 1-9-2 Higashi Shimbashi, Minato-ku, Tokyo
Foundation: May 2021
Representative: Satoshi Ishino, Representative Director
Business: Development and sales of AI-enabled nursing care and welfare equipment-related services
【ExaWizards Corporate profile】
Company name: ExaWizards Inc.
Location: 21F, Shiodome Sumitomo Building, 1-9-2 Higashi-Shinbashi, Minato-ku, Tokyo
Established: February 2016
Representative: Makoto Haruta, Representative Director & President
Business: Industrial innovation and resolution of social issues via AI service development
URL: https://exawizards.com/
<Public relations>
Public Relations Department, ExaWizards Inc.
Email: publicrelations@exwzd.com