ExaWizards, an AI start-up, launches "exaCommunity," a service for corporate members who use AI.
– Supporting the introduction of AI by corporate members based on ExaWizards' experience with hundreds of AI cases
ExaWizards Inc. (Minato-ku, Tokyo, Representative Director & President: Ko Ishiyama, hereafter "ExaWizards") has launched "exaCommunity," a service for corporate members. Based on its experience obtained from hundreds of AI cases, this service, which is for corporate members who aim to discover and solve various issues in business and society through the use of AI, allows the sharing of cutting-edge information including good case examples and videos to learn more about AI. It also provides the sites and structure for exchanges to ensure organic connections with AI consultants and other corporate members.

This service provides solutions to various issues in corporations including the following: "We are interested in using AI, but don't know where to start," "In the rapidly-advancing field of AI, we want constant access to cutting-edge information and case examples," and "We don't know how best to handle data when utilizing AI." The service thus meets needs for the commercialization of new business and helps to promote open innovation by deepening collaboration among members, thus accelerating our mission: "ExaWizards solves social issues using AI and creates a happy society."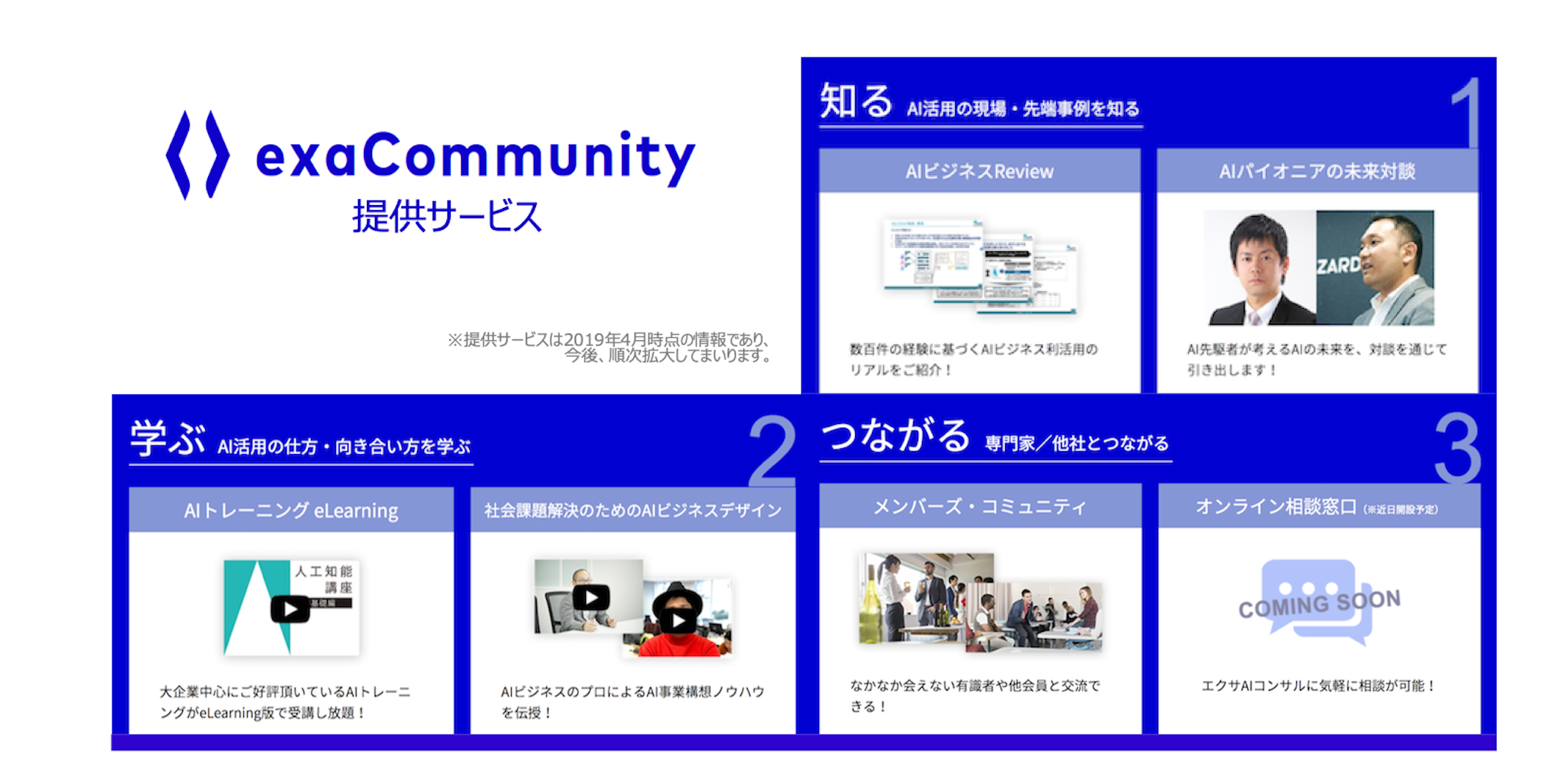 Overview of exaCommunity
Fee-based service for corporate members who use AI
URL: https://community.exawizards.com/
Annual membership fee: 150,000 yen (excl. tax) *5 IDs are issued per registration (= 5 people can access at the same time)
By providing reports on case examples of using AI in business, video learning, articles, online exchange meetings, events, etc., it helps corporations and their staff to solve issues and create new business by using AI. The services will be continuously expanded and updated to meet requests from corporate members.
Three features of exaCommunity: Know, Learn and Connect
Know: Members can access a wealth of content any number of times, including reports on good case examples of business improvement through AI and video talks by leading AI development researchers.
Learn: Members can browse and learn, at any time and anywhere, diverse content spanning from basic knowledge on AI to how to address business and social issues, including the eLearning version of our unique AI training, and video seminars on AI business design based on solving social issues.
Connect: Members can communicate with experts and other members through special events for members and the community and also can easily contact experts and peers online (to be launched soon) through AI consultants or other appropriate contact points.
[Profile of ExaWizards Inc.]
Company name: ExaWizards Inc.
Address: 5F, Sumitomo Hamamatsucho Bldg., Hamamatsu-cho 1-18-16, Minato-ku, Tokyo
Founded: February 2016
Representative: Representative Director & President: Ko Ishiyama
Business: Development of AI-enabled services for industrial innovation and solving social problems
URL: https://exawizards.com/

<Contact>
ExaWizards Inc. Public Relation Division
E-mail:publicrelations@exwzd.com