ExaWizards Released "exaBase", the Platform that Integrates AI/DX Services for Enterprises
—Support to generate outcomes as directly as possible by combining abundant technological assets accumulated through more than 300 AI/DX cases annually
 ExaWizards Inc., a company that develops AI-enabled services to solve social issues (Headquarters: Minato-ku, Tokyo; Representative Director & President: Ko Ishiyama; hereafter, "ExaWizards"), today announced that it has integrated the AI/DX service for enterprise into "exaBase" in order to realize more seamless customer experience and accelerate generation of outcomes of utilization of AI and promotion of DX, and released it on Wednesday, August 25, 2021.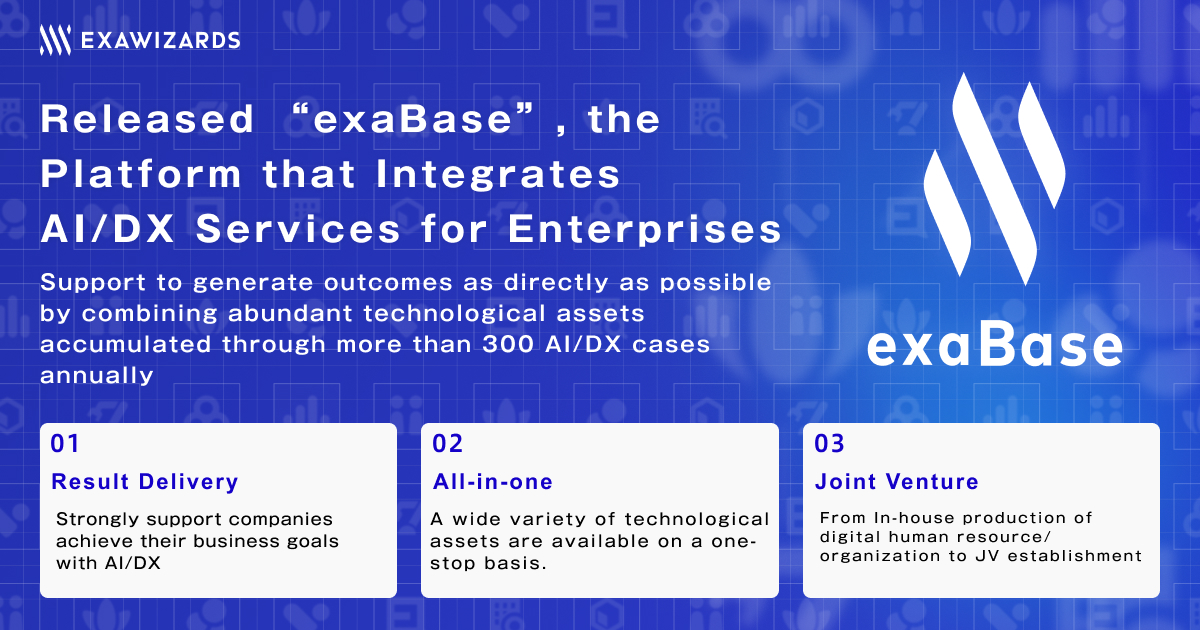 Website:https://exawizards.com/exabase/
☑ Providing a wide range of support, from quick AI introduction to joint development of new services
ExaWizards is engaged in more than 300 AI/DX cases while offering the "AI platform business" to support the companies to solve the section-specific or company-wide issues and the "AI product business" to develop and offer the products for resolution of general issues of the industry or society that are extracted in the "AI platform business" in tandem, with the mission of with the mission of "solving social issues through Artificial Intelligence for future generations".
ExaWizards has accumulated the highly advanced algorithms centered on machine learning, natural language processing and deep learning technologies which were developed based on the structural and non-structural data from businesses a "exaBase", its AI-based, learned model platform while providing it as a searchable and downloadable database.
This service integration will enable a more seamless customer experience by aggregating the AI/DX services for enterprises that ExaWizards has offered as well as the abundant technological assets related to various industries and businesses. By offering a wide variety of AI/DX-related services including a ready-to-use Saas AI applications, Ai algorithms/ API and MLOps as well as the consulting services on AI/DX strategies and the DX human resources/organization development services in such combination that meet the needs, ExaWizards supports customers to generate outcomes as directly as possible.

☑ Three features of "exaBase"

1. Strongly support companies in achieving their business goals with AI/DX
By using the ExaWizards' AI technologies that are designed to be used in the field, customers can enhance operations and develop new services to achieve their mid- to long-term business plans. ExaWizards also provides consulting services AI/DX strategies, including selection of themes to realize higher ROI, helping a number of leading companies produce results.
[Case studies]
・Daiichi Sankyo Company Limited
Description of service: Developed AI application to be used in the drug discovery process and supported training of internal experts
Result: AI/informatics is used in the small-molecule drug discovery project, significantly reducing man-hours required for data analysis
・Persol Tempstaff Co., Ltd.
Description of service: Introduced the "exaBase FAQ", the AI-based chat bot to enhance the response to job seekers using "Job Checki!", the temporary job search website
Result: Time to respond to job seekers accessed via the website is reduced and customer satisfaction is improved.
2. A wide variety of technological assets are available at one stop
A wide variety of services related to AI/ DX are available, including SaaS applications, AI algorithms/ API, and MLOps that can be easily used with No Code and without AI knowledge. There are several ten thousand patterns for combination of these abundant technological assets, generating creative solutions by "new binding" of the technologies according to the problems of the customers.
[Images for utilization]
・"Want to use the AI service quickly to get started" → Use exaBase Application
・"Want to connect the AI algorithms to the internal system and operate" → Use exaBase Algorithms/API/ MLOps
・"Want to develop new services by using AI" →Use exaBase Algorithm/Interface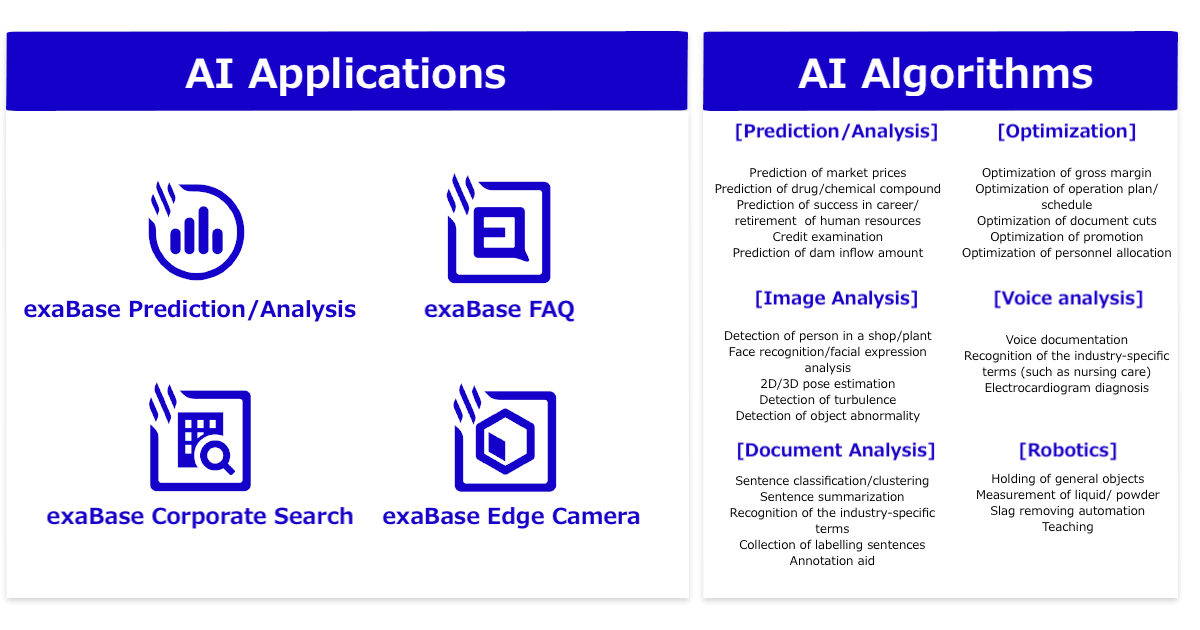 3. Enabling the In-house production of digital human resource/ organization to the establishment of JV
Through provision of DX human resource/organization development service that offers one-stop support in recruitment of DX human resources, scouting/development of in-house human resources and administration of the largest community in Japan in which AI/DX promotion leaders gather, ExaWizards supports the in-house development of AI/DX for mid- to long-term. By organizing a joint venture with ExaWizards, it is possible to deploy the new business using AI and further promote the in-house DX.





・New names for individual services
Along with the integration of the services, the names of the individual services are changed as follows.
Functions, features and fees of the respective services are not changed.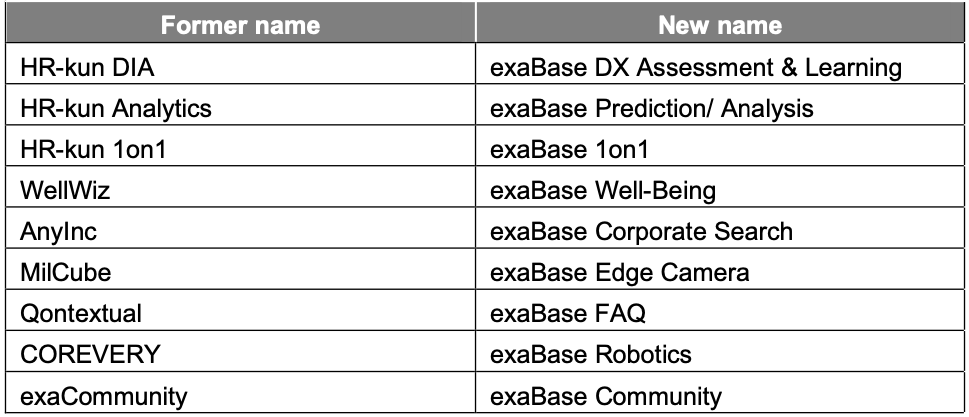 ExaWizards will continuously promote the social implementation of AI that generates outcomes while further accelerating the efforts to solve management issues of the customers and maximize the customer value through provision of "exaBase".
* "exaBase" is the registered trademark of ExaWizards.
[About ExaWizards Inc.]
With the mission of "Solving social issues through Artificial Intelligence for future generations", we are developing and commercializing AI products in various fields such as nursing care, medical care, HR, robotics, finance, and cameras, in order to solve industry and society-wide issues identified from individual company issues, while working on solving issues in each department and company-wide use of AI. Our members include AI engineers, software and hardware engineers, strategy consultants, UI/UX designers, domain experts in nursing care and other fields, researchers, policy experts, and other cross-disciplinary personnel. In Japan's super-aging society, we are developing our business with a thorough understanding of the needs and issues in each field.
Corporate site: https://exawizards.com/

<Inquiries about this release>
Public Relations Department, ExaWizards Inc.
E-mail: publicrelations@exwzd.com