NEWS
ExaWizards Announces "exaBase Studio" to Support Insourcing in AI Software Development
– Automate complicated development/implementation processes to realize the Democratization of AI led by operational departments and managers –
 ExaWizards Inc., a company that develops AI-enabled services to solve social issues (Headquarters:Minato-ku, Tokyo; Representative Director & President: Ko Ishiyama; hereafter, "ExaWizards") announces "exaBase Studio" that provides an environment where customers can internally develop and operate AI/Digital Transformation (DX) software.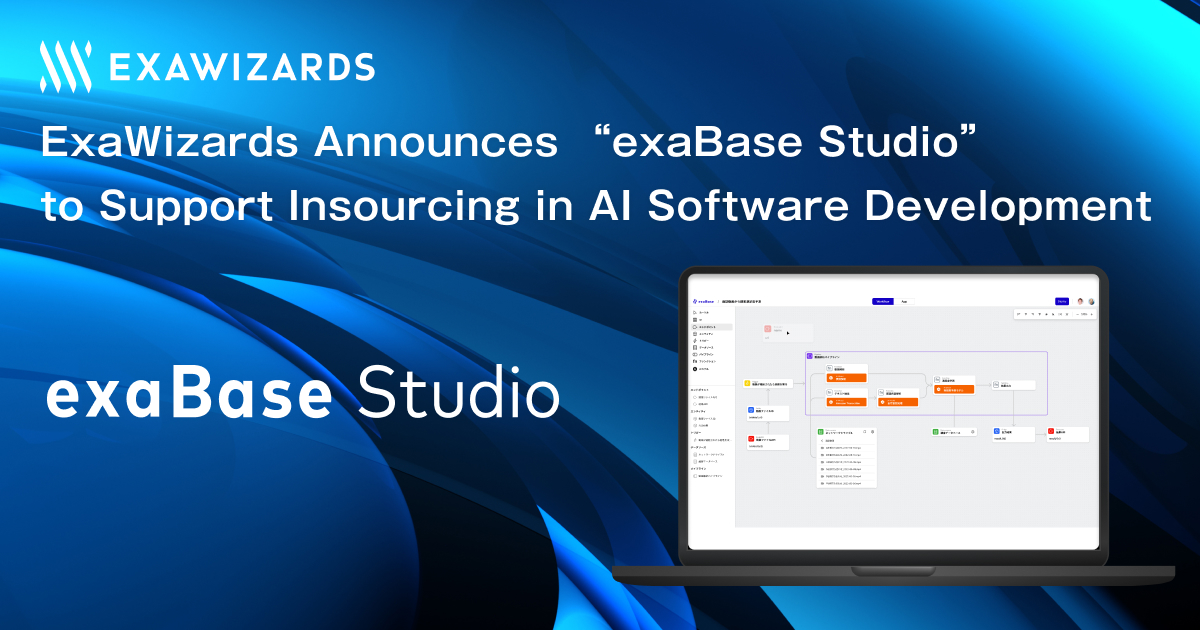 exaBase Studio is designed to materially change software development processes, and realize the democratization of AI by automating complicated development procedures through its easily understandable user interface (UI). It makes possible not only service design and update led by in-house staff members such as managers, and those who know well about the company's business, but also cross-departmental agile service extension. Besides, exaBase Studio is expected to greatly improve the efficiency of AI/DX software development in ExaWizards too.
☑︎The Role of exaBase Studio – Accelerate the utilization of AI-based management support platforms –
 ExaWizards has provided its own technologies to more than 500 customers involved in approx. 250 projects on an annual basis, and accumulated such technologies as its own technical assets: "exaBase" in a reusable form since it was founded.
 exaBase has practical use cases, and know-how for implementation in a wide range of industries. It is an AI-based management support platform that helps top management and frontline workers analyze and sort various data maintained by different departments related to management such as production, R&D, marketing, sales, customer service, and human resources using a variety of AI models to make their decisions.
 exaBase Studio that was announced this time is a software development environment where you can freely integrate not only external or internally-developed models, but also ExaWizards' AI models that are managed on exaBase for the efficient design and development of AI software. Operational departments, managers, experts, and UX designers that are familiar to on-site tasks can equally join the design and development of AI software in which only engineers used to be involved, which makes possible internal data-enabled analysis or transaction design, condition design for executing such analysis or transaction, and UI design for checking results.
 With the emergence of "Studio," exaBase leaves the era when people mainly pursue the functionality and accuracy of a single AI model making it possible for everybody to easily use AI software for productivity improvement and quality enhancement.
☑︎exaBase Studio Distribution Plan  – Customers in major business sectors and pilot project –
 Through exaBase, we offer services to leading companies that represent major industries in Japan such as finance/insurance, healthcare, manufacturing/industrial, energy, telecommunication/infrastructure, consumer products, human resources, and logistics. In terms of exaBase Studio, we will launch a pilot project in the second half of FY 2022 mainly targeting businesses strongly wishing to accelerate the implementation of advanced initiatives so that we can deploy exaBase Studio on a full-scale basis in the following fiscal year. Also, we will develop a charging system and set a price range according to the purpose and range of use for each customer who receives this solution.
☑︎Things Realized by exaBase Studio  – Intuition-powered design and development which leads to collaboration and agility – 
 The following example shows what you can do with exaBase Studio.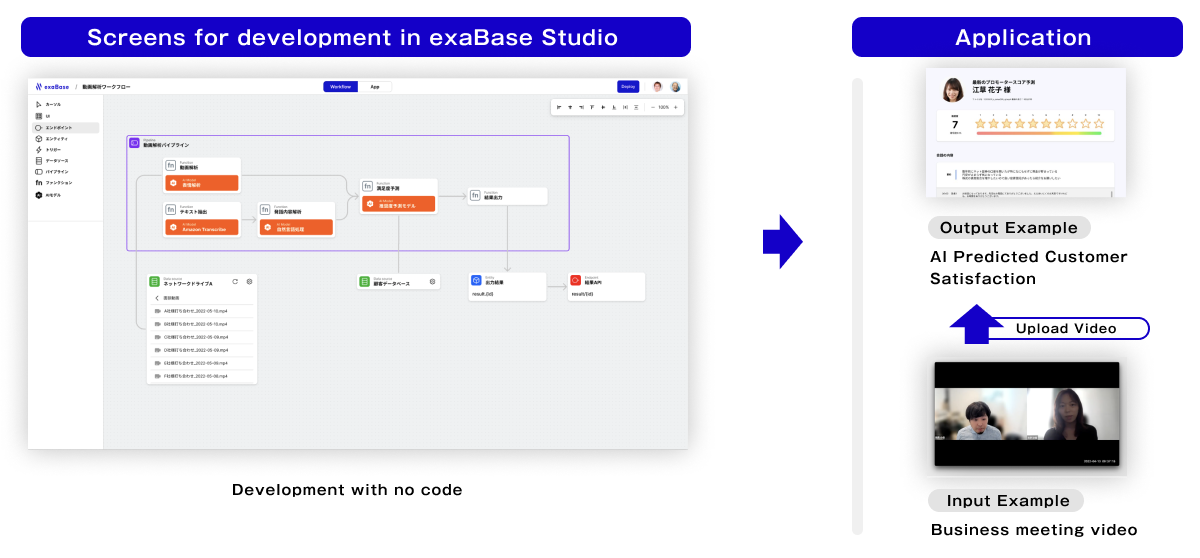 (1)Promote intuition-powered and easy design/development as well as insourcing
 When you use exaBase Studio, you can easily grasp the whole picture of the system without engineering knowledge since UI/User Experience (UX) are available. You can design, update/extend AI/DX software by dragging and dropping each component that shows the function on the screen, or setting up a link. Insourcing is promoted through the promotion of the spontaneous participation of all parties concerned as well as communication between stakeholders. 
(2)Complicated runtime environment is automatically built, and becomes available without waiting time
 You had to set up AI models, software, UI, etc. separately on the runtime environment, and build an infrastructure taking into account performance, stability, security, etc. exaBase Studio can automatically create a blueprint combining these factors necessary for your business. AI models and UI are automatically developed on the cloud you specify, so you can use it right away.
(3)Highly flexible in linkage creation and functional extension
 exaBase Studio can create a functional linkage by freely combining the AI model-related technical assets that ExaWizards has accumulated, other services, external API (Application/Program/Interface), and multimodal AI models (structured data analysis, optimization, image recognition, natural language analysis, etc.).
(4)Step ahead of agility
 exaBase Studio enables you to newly develop, add, and change software just by switching one component with another, so you can agilely make an improvement going through trial and error on site without suspending the task you are currently doing. You also understand the logic of transaction, so you can repeatedly develop and release functions for each component if there are missing functions.
 Due to these advantages of exaBase Studio, you can efficiently and effectively evolve the development of AI models and their logics aiming to improve the Key Performance Indicators (KPIs) directly related to your business performance.
☑️The Framework of exaBase Studio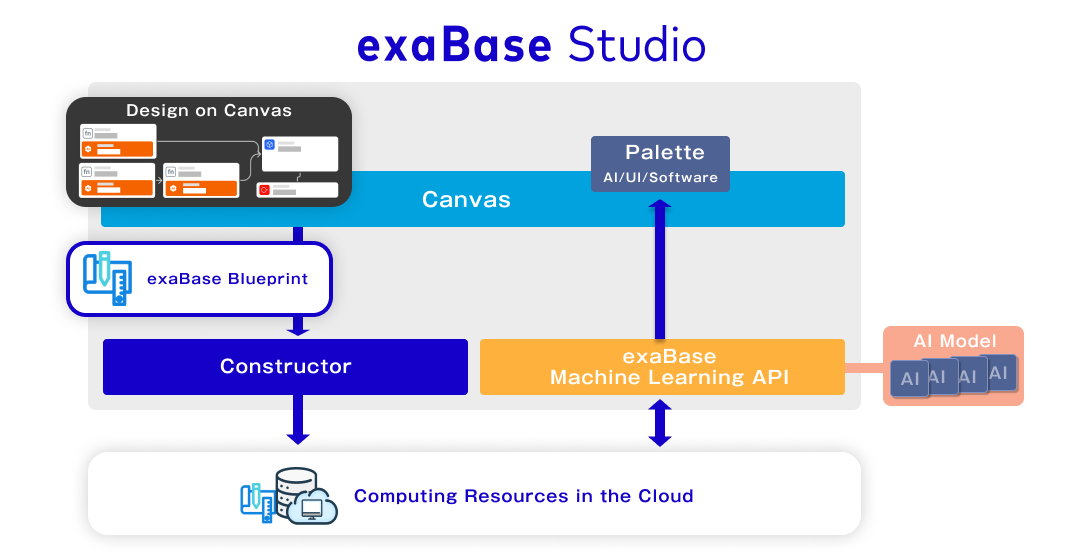 The framework of exaBase Studio is as follows:
*Palette displays a list of available AI, UI, and software components.
*Canvas is where each component is selected and placed. You can design the content of the data processing, the execution conditions of the processing, and how to visualize the results. The contents are output as an exaBase Blueprint.
*exaBase Blueprint is a blueprint that defines the contents of data processing, the AI model to be used, the execution conditions of the processing, and the visualization method of the results.
*Constructor automatically performs (1) construction of cloud infrastructure, (2) linkage with data sources, and (3) construction of data processing functions, which are necessary to realize the software defined in the exaBase Blueprint.
*exaBase Machine Learning API provides Palette with a list of AI models that can be executed, and also provides an API for dynamically integrating AI models with the cloud infrastructure output by Constructor, executing them, and obtaining results.
 Due to this framework of exaBase Studio, you can add, update, and delete functions required for your business for each data transaction. Also, you can play a leading role in the development of AI/DX-enabled business support software on site by flexibly combining AI models supported by exaBase, and even add components containing AI models that are not found in exaBase. exaBase Studio has such a system as enables you to draw a whole design in the first place by adding empty components, and then repeat development or testing. Furthermore, if the performance of an AI model you develop doesn't meet your expectations, then you can easily conduct a comparative test by operating it simultaneously with the one of which development you have outsourced beforehand.
 These advantages you can get from exaBase Studio lead to an efficiency improvement in manpower, time, and cost.
☑︎exaBase Studio Utilization System
 The most critical point is to identify how each component of exaBase Studio should be utilized, and find out which KPIs should be set in accordance with your business. You can launch your AI/DX software receiving support and consultation from ExaWizards' AI consultants and engineers. At the operation phase, basically you take initiative, but can receive support when developing or updating functions if necessary.
 If you have engineers specializing in AI/DX software development, you can shorten such a preparation period, and differentiate yourself from your competitors by developing components on your own.
☑The Utilization of exaBase Technical Assets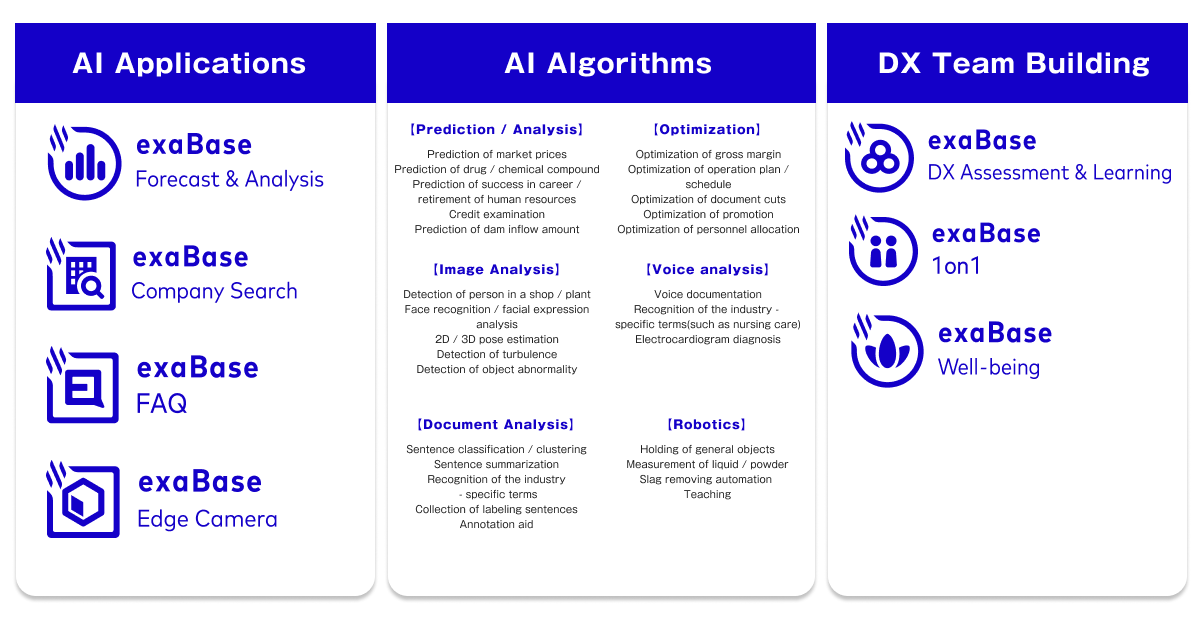 exaBase has a group of AI/DX application services, and has accumulated the AI algorithms which have been so far created for AI/DX-related matters. You can use all of them for the development of your software with exaBase Studio. 
*AI Applications: Forecast/Analysis, Information Search, Edge AI Camera, etc.
*AI Algorithms: Forecast/Analysis, Optimization, Image Analysis, Sound Analysis, Text Analysis, Robotics, etc.
*DX Team Building: exaBase DX Assessment & Learning (The service for assessing your current ability and potential to make clear if you can work as a DX specialist, or developing your potential through e-learning) , etc.
【Corporate profile of ExaWizards Inc.】
Company name: ExaWizards Inc.
Head Quarter: 21F, Shiodome Sumitomo Bldg., 1-9-2 Higashi-Shimbashi, Minato-ku, Tokyo
Founded in: February, 2016
Representative: Ko Ishiyama, Representative Director & President
Business Description: Industrial innovation and resolution of social issues through development of AI-based services
Corporate site: https://exawizards.com/
<Inquiries about news releases>
Public Relations Department, ExaWizards Inc.
E-mail: publicrelations@exwzd.com