NEWS
ExaWizards' Predictive Learning Technology Selected by JAXA for Technical Study on Automating Crew Operations at Manned Space Bases.
— Realization of CTB operations by autonomous robots at manned space stations.
ExaWizards Inc., a company developing AI-enabled services to solve social issues (Headquarters: Minato-ku, Tokyo; Representative Director & President: Ko Ishiyama; hereafter, "ExaWizards") announces that its predictive learning technology has been selected by the National Aerospace Laboratory of Japan for the "FY2022 Trial Project for the Autonomous, Automated and Robot-Enabled Control of Cargo Transfer Bag (CTB) Operations Using Machine Learning," a public competitive bid by the National Institute of Aerospace Exploration(Headquarters: Chofu-shi, Tokyo; President: Hiroshi Yamakawa; hereafter, "JAXA").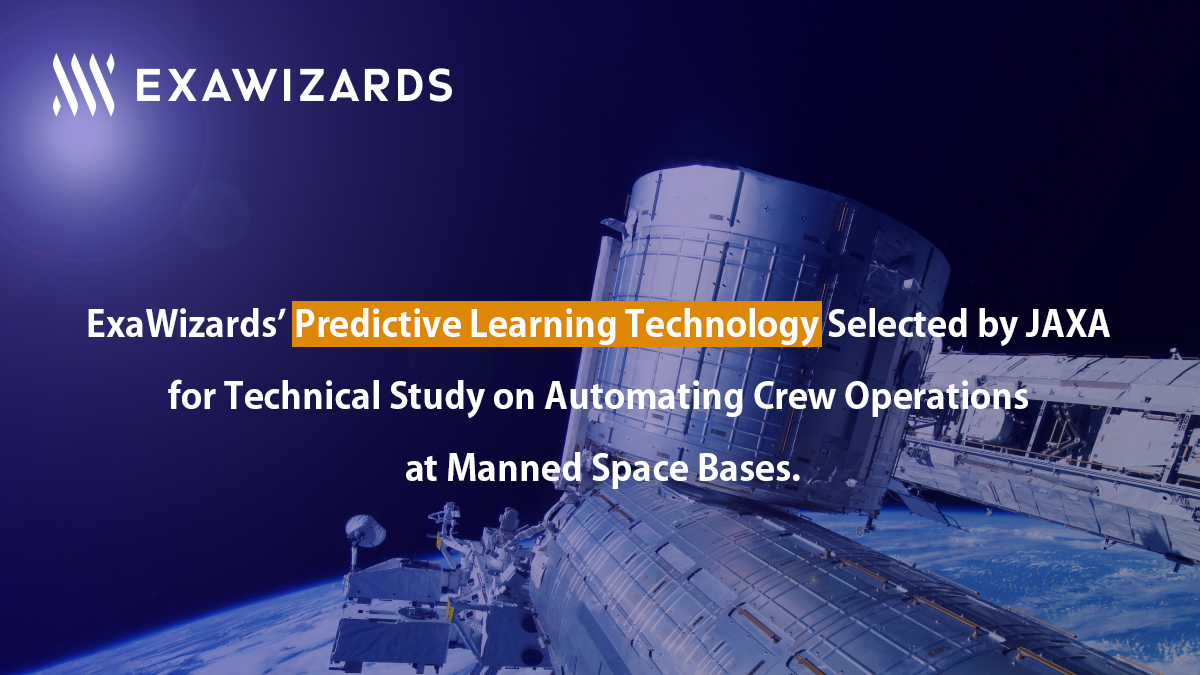 ☑︎︎ExaWizards' multimodal AI robot technologies, applicable to irregularly-shaped cargo, helps realize autonomous and automated control of cargo transfer operations, which has been proven difficult in the past
In order to further advance sustainable and efficient manned space activities, manpower should focus on sophisticated and creative operations by automating hazardous or routine operations. The cargo transport process in manned space activities, while vital for the mission, mainly consists of repetitive, time-consuming operations. The current work of transporting cargo on the International Space Station (ISS) is done by hand. Automating this process would require multimodal AI that can make advanced judgments and perform multiple tasks based on various types of data, such as visual (camera) and tactile (sensor) data. In addition, advanced predictive learning technologies are needed for irregular tasks such as opening and closing the fastener of a soft bag, further complicated by the weightlessness.

ExaWizards has supported businesses in automating/optimizing various work processes including irregular operations through the provision of "exaBase Robotics," their AI robot solution that utilizes multimodal data such as images, on-site equipment/robot control signals, and synthetic data created by simulations.

For the JAXA R&D contract "FY2022 Trial Project for the Autonomous, Automated and Robot-Enabled Control of CTB Operations Using Machine Learning," in which ExaWizards' predictive learning technologies will be employed, ExaWizards will utilize its experience and technologies cultivated through the development of robot AI to develop software prototypes using methods such as imitation learning for CTB operations, as well as demonstrating the software on physical robots. The "Study and Demonstration of Autonomous Robot Operation" will draw on this expertise and enable ExaWizards to study the autonomous CTB operations by robots, which is expected to be applied to manned space bases where communication delays and resource constraints are anticipated.

ExaWizards will continue to strive for the practical use and development of predictive learning technologies and contribute to the development of a sustainable space industry through the utilization of its experience and achievements in the development of multimodal AI robots.

*exaBase is a registered trademark of ExaWizards.

☑︎What is "exaBase Robotics"?
"exaBase Robotics" is an AI solution for robots that automats and optimizes operations utilizing various multimodal data such as image data, on-site equipment/robot control data, and simulator creation data. It can be used in in various contexts, e.g., when you need an alternative for a simple task, or when you want to replicate the skill of an expert.
exaBase Robotics site: https://exawizards.com/exabase/robotics/

[ExaWizards Corporate Profile]
Company name: ExaWizards Inc.
Location: 21F, Shiodome Sumitomo Bldg., 1-9-2, Higashi Shimbashi, Minato-ku, Tokyo
Representative: Ko Ishiyama, Representative Director & President
Description of business: Industrial innovation and resolution of social issues through the development of AI-enabled services
URL: https://exawizards.com/

<Contact for public relations>
E-mail address of the Public Relations Division of ExaWizards Inc.: publicrelations@exwzd.com