NEWS
ExaWizards Joins Daiichi Sankyo's Total Care Ecosystem Framework as a Core Partner Company. Announces the Launch of the Provision of a Data Integration and Utilization Platform and Digital Health Products 〜Toward the realization of "Healthcare as a Service" in the medical healthcare domain〜
ExaWizards Inc., a company that develops AI-enabled services to solve social issues (Headquarters: Minato-ku, Tokyo; Representative Director & President: Ko Ishiyama; hereafter, "ExaWizards") announces that it will join Daiichi Sankyo Company, Limited (Headquarters: Chuo-ku, Tokyo; Representative Director, President & CEO: Sunao Manabe; hereafter "Daiichi Sankyo") as a core partner company for the creation of its "Total Care Ecosystem Platform" and the realization of "Healthcare as a Service."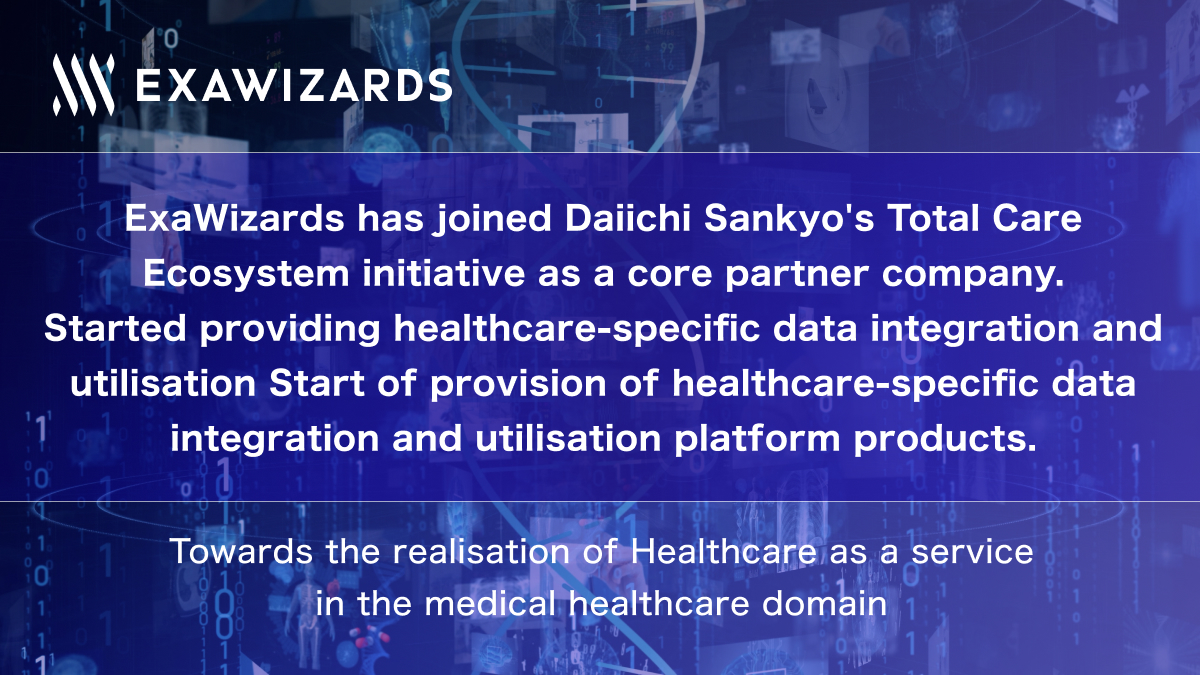 ☑︎ What is a Total Care Ecosystem?
A new ecosystem* being developed by Daiichi Sankyo, in which companies, organizations, data providers, IT companies, and others in the healthcare and medical fields collaborate to create and provide total care that encompasses health promotion, prevention, treatment, and prognosis, with the aim of resolving the concerns of individual patients and consumers and achieving well-being.
☑Expected role of ExaWizards
ExaWizards will provide support for the planning and design of various projects for the realisation of a total care ecosystem, as well as the development of digital health products and the development and verification of a data integration and utilisation platform for the construction of a total care platform. Starting with the oncology (cancer) area, this initiative will develop both apps for healthcare professionals and patients to be utilised in clinical research, and build prediction algorithms based on data acquired from apps, including wearable data, utilising its proprietary AI platform, exaBase. The company will also develop a new AI platform called "exaBase".
In addition, exaWizards' proprietary exaBase Healthcare Data Platform, a data utilisation platform specialising in the medical and healthcare fields, will be used to build an integrated data utilisation platform for these initiatives. In the future, ExaWizards plans to work with various partners in its expanding team to expand new solutions and platform functions not only in the field of oncology, but also for patients and consumers.
☑Comments from Koji Hazama, Executive Officer, Head of Care & Med Tech Business, ExaWizards
The drug discovery AI business, which was launched as a result of joint research*** with Kyoto University and RIKEN, has promoted activities centred on the collaboration with Daiichi Sankyo's Institute for Drug Discovery Chemistry ****, which started three years ago. We have supported not only data analysis, model building and AI product development using AI, but also workflow design and human resource development to create results in the field.
We are very pleased to have decided to collaborate not only in the area of drug discovery research, but also in the creation of a total care platform ecosystem and the realisation of Healthcare as a Service, which are of high management importance for the realisation of the 2030 Vision. Our AI engineers, software engineers, UX/UI designers, BizDev and members across the company will continue to work together to build platforms and external alliances to promote collaboration in order to utilise AI to solve social issues and create results.
* "Daiichi Sankyo Announces the Launch of a Project to Build a Total Care Ecosystem" https://www.daiichisankyo.co.jp/files/news/pressrelease/pdf/202212/20221219_J.pdf
**About the Total Care Platform: IT platform that links data from the personal health and medical domains using a common ID and enables data utilisation in the total care ecosystem.
***'AI venture Exawizards successfully develops AI core technology to significantly improve productivity in drug discovery. Efforts are now in full swing for practical application in industry'. https://exawizards.com/archives/881
****'AI venture ExaWizards launches joint development project with Daiichi Sankyo to realise data-driven drug discovery in the area of small molecules'.https://exawizards.com/archives/6012
☑Data-driven solutions using healthcare data seminar to be held
At the online seminar to be held on 3 February 2023, Daiichi Sankyo will be present to provide an overview of the total care ecosystem, the construction of the platform, and the details and prospects of its initiatives towards the realisation of Healthcare as a service. All those interested in data-driven solutions utilising healthcare data are cordially invited to attend.
Event: 'Daiichi Sankyo's transformation from a drug discovery company to a service company – a complete picture of the total care ecosystem'
Date: 3 February 2023, 17:00-18:00
Click here to register for the event
https://event.exawizards.com/misc/2022225?utm=source_press

For more information on the Care & Med Tech business, click here.
https://exawizards.com/care-med-tech

 ※exaBase is a registered trademark of ExaWizards.
[ExaWizards Corporate Profile]
Company name: ExaWizards Inc.
Location: 21F, Shiodome Sumitomo Bldg., 1-9-2, Higashi Shimbashi, Minato-ku, Tokyo
Representative: Ko Ishiyama, Representative Director & President
Description of business: Industrial innovation and resolution of social issues through the development of AI-enabled services
URL: https://exawizards.com/
[Daiichi Sankyo Co., Ltd. Corporate Profile]
Company Name: Daiichi Sankyo Co., Ltd.
Head Office: 3-5-1, Nihonbashi-honcho, Chuo-ku, Tokyo 103-8426, Japan
Founded: September 28, 2005
Representative: Sunao Manabe, Representative Director, President & CEO
Description of Business: R&D, manufacturing and distribution of pharmaceutical products, etc.
Official Website: https://www.daiichisankyo.com
[Contact for public relations]
E-mail address of the Public Relations Division of ExaWizards Inc.: publicrelations@exwzd.com