NEWS
ExaWizards and Royal Holdings Jointly Launch a Project Aiming to Create New Customer Experience using AI Technologies in the Food Service Industry
—Toward the development of Tempura-cooking AI which enables decision-making regarding the thickness of Tempura batter and the time necessary for appropriate deep-frying
ExaWizards Inc., a company that develops AI-enabled services to solve social issues (Headquarters: Minato-ku, Tokyo; Representative Director & President: Ko Ishiyama; hereafter, "ExaWizards") and Royal Holdings Co., Ltd., a food service giant which operates Royal Host and Tendon Tenya (Headquarters: Fukuoka-shi, Fukuoka Prefecture; President and Representative Director: Masa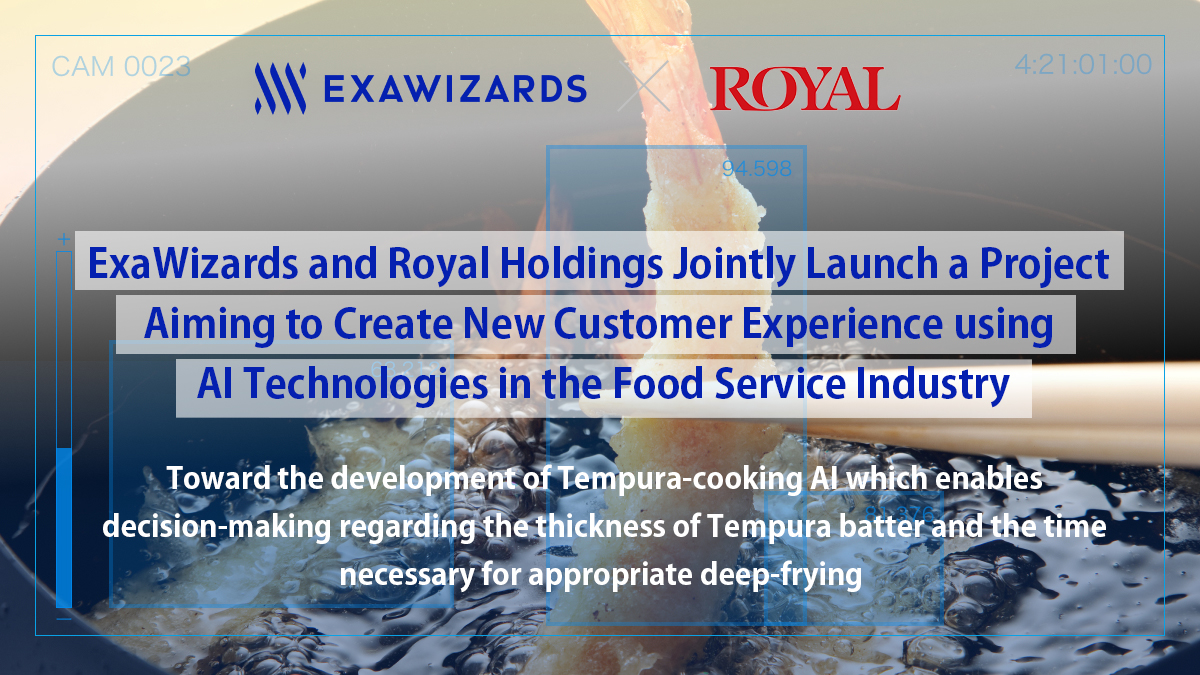 ☑︎Background to Joint Project
In recent years, the improvement of productivity and service quality has become increasingly important to create new customer experience that meets diverse needs. Thus, services using tableside ordering tablets, and robot cleaners/servers are becoming popular in the food service industry. However, the cooking process requires professional and sensitive techniques and the ability to make instant decisions on such factors like sounds generated from cooking processes and oil temperature, which frequently change depending on the size and shape of each ingredient. Therefore, it is difficult to analyze and imitate such professional skills using existing AI technologies and robots.

ExaWizards conducts more than 250 AI/DX projects annually, fully utilizing the AI platform "exaBase" as the pillar of its business. Combined with the experience, knowledge, and technological asset that we have accumulated through these projects, the AI-powered service for the visualization and transfer of professional skills "exaBase Skill Transfer" supports, in a one-stop manner, companies in developing a conceptual design for the data and processes necessary for analyzing and imitating various professional skills, collecting/preprocessing data, and visualizing/automating professional skills.

Royal Holdings operates various food service businesses in pursuit of providing high-quality "food" and "hospitality" services at "Royal Host," the legacy family restaurant that celebrated its 50th anniversary in 2021, and "Tendon Tenya," which was established to popularize Tempura that represents traditional Japanese culinary culture.
We have decided to launch a joint project with Royal Holdings to develop a business model that can helps customers experience new value such as "pleasure" and "excitement" by combining the high-level technology and experience that ExaWizards has accumulated through the provision of AI-enabled business solution and business development services with the strengths of Royal Holdings that has made great achievements in food business development through the provision of high-quality "food" and "hospitality."

☑︎Joint Project Overview
In the first phase of the project blending "food," "hospitality," and "technology," we plan to develop a cooking AI system that helps make decisions regarding the thickness of Tempura batter and the time necessary for its appropriate deep-frying.

Step1. Development of Data Collection Platform
We will design the data and process required for visualizing and automating Tempura cooking skills, and define the sensor needed for conducting an analysis and the format of the data that should be obtained. We plan to develop a data collection platform by picking up inexplicit work units while conducting data preprocessing to handle the multiple time-series data on deep-frying Tempura obtained using a thermometer, directional microphone, and HD camera.
Step2. Data Analysis and Development of Cooking AI
We will develop a cooking AI that helps make decisions regarding the thickness of Tempura batter and the time necessary for its appropriate deep-frying by identifying the critical factors for cooking Tempura that is delicious and aesthetically presentable and programming the AI to learn them through several algorithms created based on multimodal data such as temperature, sound, and moving images.

The exaBase AI solution for robots – "exaBase Robotics" – succeeded in developing the world's first AI robot for plating pancakes, which can imitate the professional skills of a chef with two Michelin stars by making the AI learn non-verbal design sense, i.e., food plating techniques. Through this joint project, we plan to fully utilize our experience, expertise, and technological asset, and strive to create new customer experience in the food service industry with AI technologies in pursuit of the development of an AI cooking robot capable of handling recipes requiring professional and sensitive techniques.

☑︎What Is "exaBase Skill Transfer?"
"exaBase Skill Transfer" is a professional skill visualization and transfer support service based on the experience and expertise that ExaWizards has accumulated through its efforts to change implicit knowledge of experienced professionals into explicit knowledge and visualize data using the AI platform "exaBase." It supports, in a one-stop manner, businesses in developing a conceptual design for necessary data/processes, and collecting/preprocessing/visualizing data with an aim to eventually visualize and automate professional skills. This enables high-level equalization of processes for which evaluation methods and evaluation indicators have not been shared for transfer.
URL:https://event.exawizards.com/misc/2022108

☑︎What is "exaBase Robotics"?
"exaBase Robotics" is an AI solution for robots that automats and optimizes operations utilizing various multimodal data such as image data, on-site equipment/robot control data, and simulator creation data. It can be used in in various contexts, e.g., when you need an alternative for a simple task, or when you want to replicate the skill of an expert.
exaBase Robotics site: https://exawizards.com/exabase/robotics/

[Royal Holdings Co., Ltd. Corporate Profile]
Company Name: Royal Holdings Co., Ltd.
Location: 3-28-5, Naka, Hakata-ku, Fukuoka-shi, Fukuoka
Founded: April 1950
Representative: Masataka Abe, President and Representative Director
Description of Business: A holding company which oversees the management of Royal groups of companies dealing with food services, contract food services, hotel business, and food business
Official Website: https://www.royal-holdings.co.jp/

[ExaWizards Corporate Profile]
Company name: ExaWizards Inc.
Location: 21F, Shiodome Sumitomo Bldg., 1-9-2, Higashi Shimbashi, Minato-ku, Tokyo
Representative: Ko Ishiyama, Representative Director & President
Description of business: Industrial innovation and resolution of social issues through the development of AI-enabled services
URL: https://exawizards.com/
<Contact for public relations>
E-mail address of the Public Relations Division of ExaWizards Inc.: publicrelations@exwzd.com