NEWS
【Event】Automation and Autonomy of Crew Work at Space Station – Explanation of Initiatives Using Imitation Learning and Predictive Learning Technologies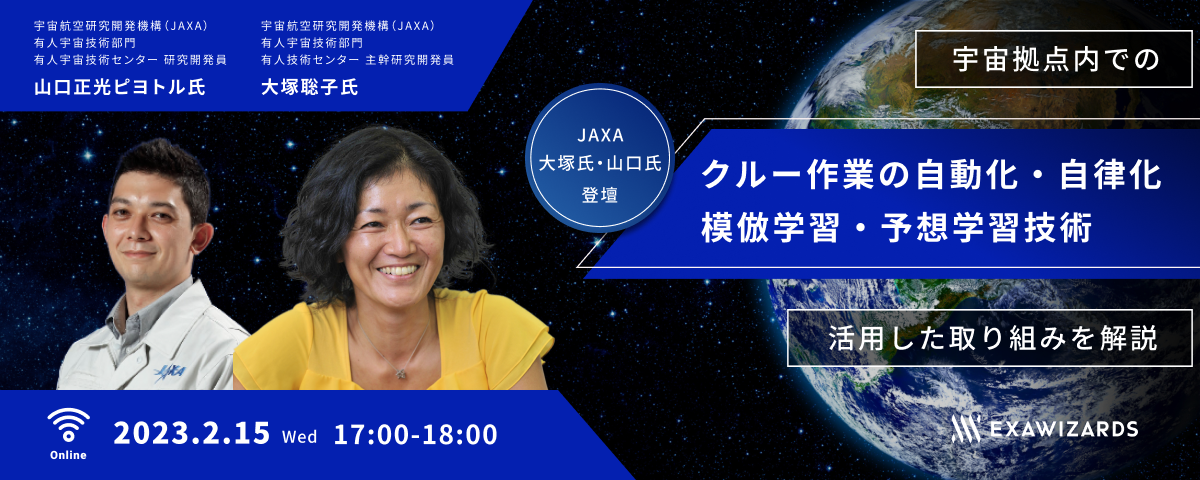 Today, February 15 (Wed.) at 5:00 p.m., we will hold a seminar inviting R&D staff from the Japan Aerospace Exploration Agency (JAXA). In this seminar, Mr. Otsuka and Mr. Yamaguchi from JAXA, who are involved in the above mentioned research and development, will speak on the details of their efforts to automate and autonomously operate robots in space bases. In the second half of the seminar, a panel discussion will be held to answer questions from participants to the extent possible.
〈Event〉
Title : "Automation and Autonomy of Crew Work at Space Station – Explanation of Initiatives Using Imitation Learning and Predictive Learning Technologies
Date : February 15 (Wed.) 17:00-18:00
Location : Online
Fee : Free of charge
Event Registration: https://event.exawizards.com/robo/2022232?utm_source=corp
Hosted by : ExaWizards, Inc.