NEWS
"CareWiz Toruto," an AI-enabled Physical Function Analysis Application for Elderly People, Will Additionally Have an "Oral Function Analysis Feature" in April 2023
– Just shooting a video with a smartphone enables users to evaluate and numerically measure the oral function with AI assistance and helps them visualize the risk of aspiration pneumonia and prevent its development. This new feature has been developed jointly with the DS Healthcare Group, the biggest dental care provider group in Japan –
ExaWizards Inc. announces that "CareWiz Toruto," which is an AI-enabled physical function analysis application for elderly people and is provided by its subsidiary ExaHomeCare Inc. (Headquarters: Minato-ku, Tokyo; Representative Director & President: Satoshi Ishino; hereafter, "ExaHomeCare") that develops and sells AI-enabled nursing care and welfare equipment-related services, will be additionally equipped with an "oral function analysis feature" in April 2023.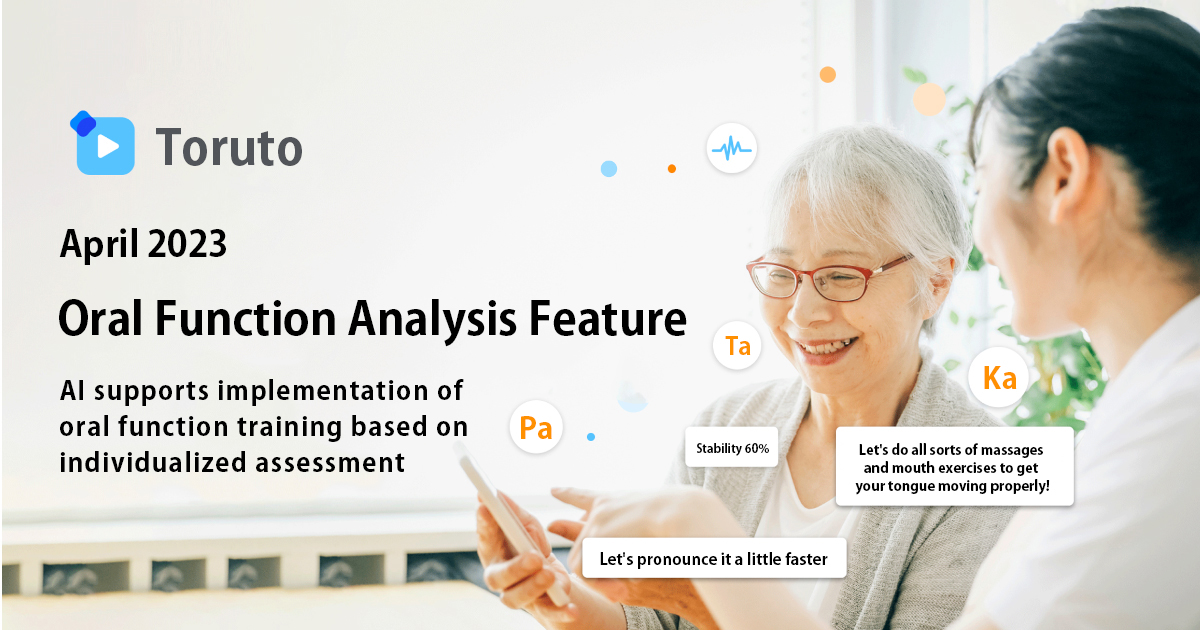 URL:https://carewiz.ai/toruto/pataka

☑︎ Background – Challenges in oral function assessment in nursing care settings
One of the major risks in nursing care settings is "aspiration pneumonia." Aspiration pneumonia is caused by "inhaling" food or drink into the respiratory tract and is the most common cause (approx. 31%) of fatal events in nursing care settings. It is also the 6th common cause of death in the whole population of Japan, and its prevalence increases particularly in elderly people. Therefore, it is important for society to prevent elderly people from developing aspiration pneumonia.

One of the causes of aspiration pneumonia is a "decline in the oral function." Oral function, which is a function to chew or swallow food, is gradually compromised with age. However, there are only a very limited number of professionals who can appropriately assess the oral function in nursing care facilities.
In addition, oral care tends to be less prioritized because the oral function is less visible than other physical functions such as walking ability and oral care professionals are rarely allocated to nursing care facilities.

☑︎ Overview of the new feature – Easily evaluates the oral function and provides the evaluation results in an easy-to-understand way on a communication sheet
CareWiz Toruto has been used to visualize walking ability of elderly people utilizing the AI for gait analysis that has learned the knowledge of physical therapists, aiming at reducing the risk of falling.
The AI-enabled oral function analysis feature, which is to be newly launched in April 2023, has been jointly developed with Dental Support Co., Ltd. (Headquarters: Chiba City; Representative Director & President: Takeshi Kusafuka), which is a company of DS Healthcare Group [https://www.dshg.jp/] operating a home dental care support business, and DS Selrea Co., Ltd. (Headquarters: Chiba City; Representative Director & President: Naoya Kitamura), which operates a nursing care business. This new feature enables users to objectively evaluate and numerically measure the oral function of elderly people only by shooting a video of them pronouncing prespecified syllables repeatedly.

In nursing care facilities, the oral function of elderly people has been evaluated using a conventional method that counts how many times they can pronounce certain syllables within a given time period. This AI-enabled feature evaluates and analyzes recorded sound based on some indexes such as "speed" and "pronunciation," and numerically displays the results of analysis on a communication sheet. These numerical evaluations provide users with more specific information on the oral function of elderly people that cannot be captured only by counting the number of pronounced syllables.

Using this feature, additional services are planned to be provided, for example, proposing a training for improving the oral function and recommending to consult with a healthcare professional for people with declined oral function depending on the results of evaluation.

ExaWizards and ExaHomeCare will further provide nursing care facilities with appropriate support
by providing CareWiz Toruto, aiming at solving social problems through contributing to reducing the risks associated with declined physical functions such as walking and oral functions of elderly people.

☑︎ What is CareWis Toruto [https://carewiz.ai/toruto/]
CareWiz Toruto is an AI-enabled physical function analysis application utilizing AI technologies and physical therapists' knowledge, and enables users to easily visualize physical functions only by shooting a video with a smartphone. Easy-to-understand results of analysis presented on a communication sheet can be used for explanation to nursing-care users, their families, and care managers. In addition, the use of a video facilitates communication and information sharing among care staff members. CareWiz Toruto has been introduced in over 600 nursing facilities and municipal organizations and has facilitated easy and science-based gait analysis and other assessments in nursing care settings.

*"CareWiz" and "Toruto" are trademarks of ExaWizards.

【Corporate profile of ExaHomeCare Inc.】
Company name: ExaHomeCare Inc.
Headquarter: 21F Shiodome Sumitomo Bldg., Higashi Shimbashi 1-9-2, Minato-ku, Tokyo
Foundation: May 2021
Representative: Satoshi Ishino, Representative Director & President
Description of business: Development and sales of AI-enabled nursing care and welfare equipment-related services

【Company profile of ExaWizards, Inc.】
Company name: ExaWizards Corporation
Location: 21F, Shiodome Sumitomo Building, 1-9-2 Higashi-Shinbashi, Minato-ku, Tokyo
Representative: Ko Ishiyama, President and Representative Director
Business: Industrial innovation and resolution of social issues through the development of services utilizing AI
URL: https://exawizards.com/