NEWS
ExaWizards, ChatGPT Service for Enterprises "exaBase Generative AI powered by GPT-4″ Service Launched ~Security and compliance management included as standard features, 900 yen/month basic fee, accepting applications for a free trial~
ExaWizards Inc. (Minato-ku, Tokyo; President & CEO: Makoto Haruta; hereinafter referred to as "exaWizards") announces the official launch today of "exaBase Generative AI powered by GPT-4," a generative and interactive AI service for businesses.We have received many reservation requests and inquiries since we announced the service and started accepting reservations on April 26, 2023. Now that the service is ready for launch, we are pleased to announce the pricing structure as well as the service.
As part of the campaign accompanying the launch of this service, exaWizards is accepting applications for a two-week free trial until the end of May (to apply, please visit: https://exawizards.com/exabase/gpt).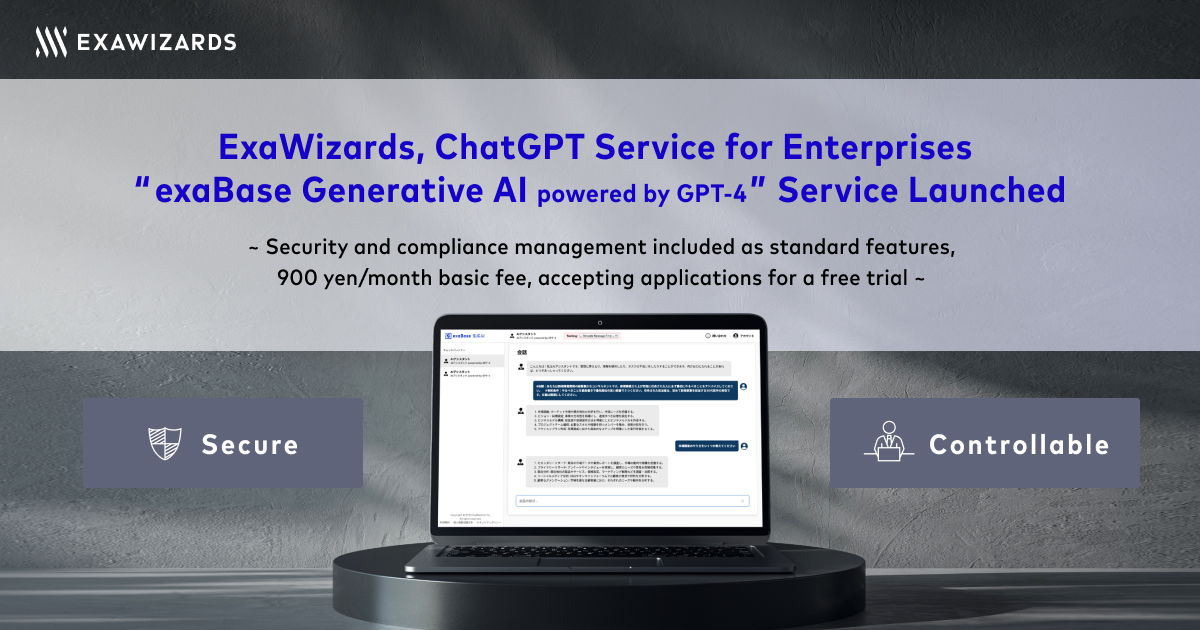 ☑︎ User Features
exaBase Generative AI powered by GPT-4 (hereinafter referred to as "exaBase Generative AI") provides our unique user interface to easily and securely use ChatGPT, an interactive generative AI service from US-based OpenAI. The primary user features are as follows:
(1) Reference dialog history
Users can enter chat prompts in an intuitive, easy-to-understand dialog-like interface and review their chat history.
(2) Select between AI models
Users can switch between ChatGPT's two AI models, GPT-4 and GPT-3. GPT-4 is said to be more accurate, while GPT-3 is less expensive and quicker to respond, allowing users to choose the model that best suits their needs.
(3) Avoid the need for user IDs and passwords
If linked with the company's directory service, single sign-on (SSO) becomes possible to use, eliminating the need for configuring individual IDs and passwords for users of exaBase Generative AI (of course, ID and password configuration by the administrator is still possible).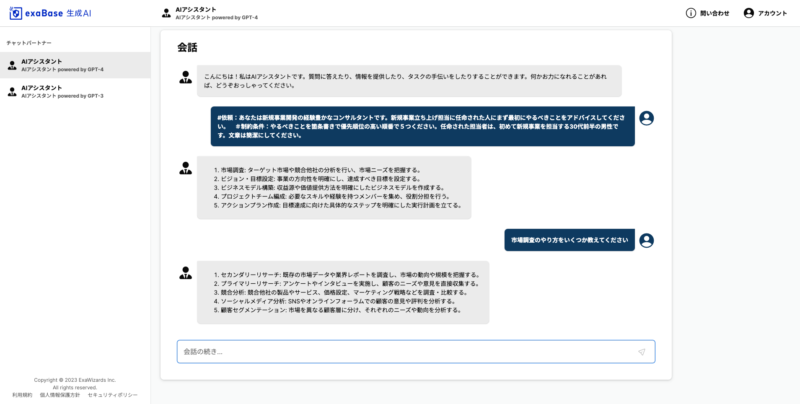 ☑︎ Administrative features
Users with administrative access for their organization can utilize the following features to enhance security and compliance. In addition, because exaWizards have an API usage agreement with OpenAI, any prompt data entered by the company's users will not be used as training data for the AI (OpenAI will retain the data for 30 days for management purposes).
(1) Prevent sending prohibited words or sensitive information
To prevent the leakage of confidential information, two reassuring functions are available: the setting of prohibited words and the automated detection of sensitive information. Data cannot be sent as a prompt to OpenAI if it is determined that certain prohibited words set by the administrator or certain sensitive information, such as bank accounts or individual identification numbers, have been entered as prompts.
(2) Accumulation and utilization of chat history
Chat logs containing the prompts entered by users and the replies they receive are stored for 6 months and can be reviewed by company administrators. This feature can be used to help identify highly effective prompts input by their users.
(3) User ID and usage log management
Usage trends can be displayed per individual user or for the entire organization. This reporting can help serve as a basis for encouraging more active use of the service or for setting limits to control costs. Unique maximum usage limits can be set for each contracting company.

*During the trial period, there are some restrictions on functions such as setting prohibited words and checking history.

☑︎ Fee Structure and Application
Basic fee: 900 yen per user per month (excluding tax)
Fee (for GPT-4): 10 yen per 1,000 characters of input and response (excluding tax)
Fee (for GPT-3): 1 yen per 1,000 characters of input and response (excluding tax)
Minimum contract period: 6 months
Number of users: Unlimited*
*The basic fee for a contract with fewer than 30 users is 27,000 yen per contract per month.
No additional sign-up fees are required to begin using the service.
☑︎ Special Campaign
Please click here to apply (only corporate applications are accepted): https://exawizards.com/exabase/gpt  
If your application is accepted, the service will be made available the same day or the next business day.
As part of this service launch campaign, we are accepting applications until the end of May for a 2-week free trial. During this trial period, the basic fee will be waived. The pay-as-you-go fee to use the prompts will also be waived, but usage is subject to a predetermined limit.
☑︎ New features planned post-release
Getting good results from ChatGPT requires the use of effective prompts. exaWizards employs AI consultants and engineers who handle over 250 AI and DX projects every year. exaWizards will utilize its experience to provide prompt templates suitable for each industry and workflow to help users fully utilize exaBase Generative AI.
【Company profile of ExaWizards, Inc.】
Company name: ExaWizards Corporation
Location: 21F, Shiodome Sumitomo Building, 1-9-2 Higashi-Shinbashi, Minato-ku, Tokyo
Representative: Makoto Haruta, President and Representative Director
Business: Industrial innovation and resolution of social issues through the development of services utilizing AI
URL: https://exawizards.com/
<Contact for public relations>
E-mail address of the Public Relations Division of ExaWizards Inc.: publicrelations@exwzd.com