NEWS
AstraZeneca and ExaWizards develop an app for visualization of dietary and nutritional management for those concerned about their potassium levels including hyperkalemia
Recording the contents of 5 nutrients including potassium only by taking photos of everyday meals Jointly developing business that contributes to people's health
 ExaWizards (Head Office: Minato-ku, Tokyo; President and Representative Director: Ko Ishiyama; hereinafter "ExaWizards") developed AI food scanner "Hakarium" with AstraZeneca K.K. (Head Office: Kita-ku, Osaka; President and Representative Director: Takafumi Horii; hereinafter "AstraZeneca") that develops services leveraging AI. "Hakarium" is an app with which potassium can be easily measured only by taking photos of meals.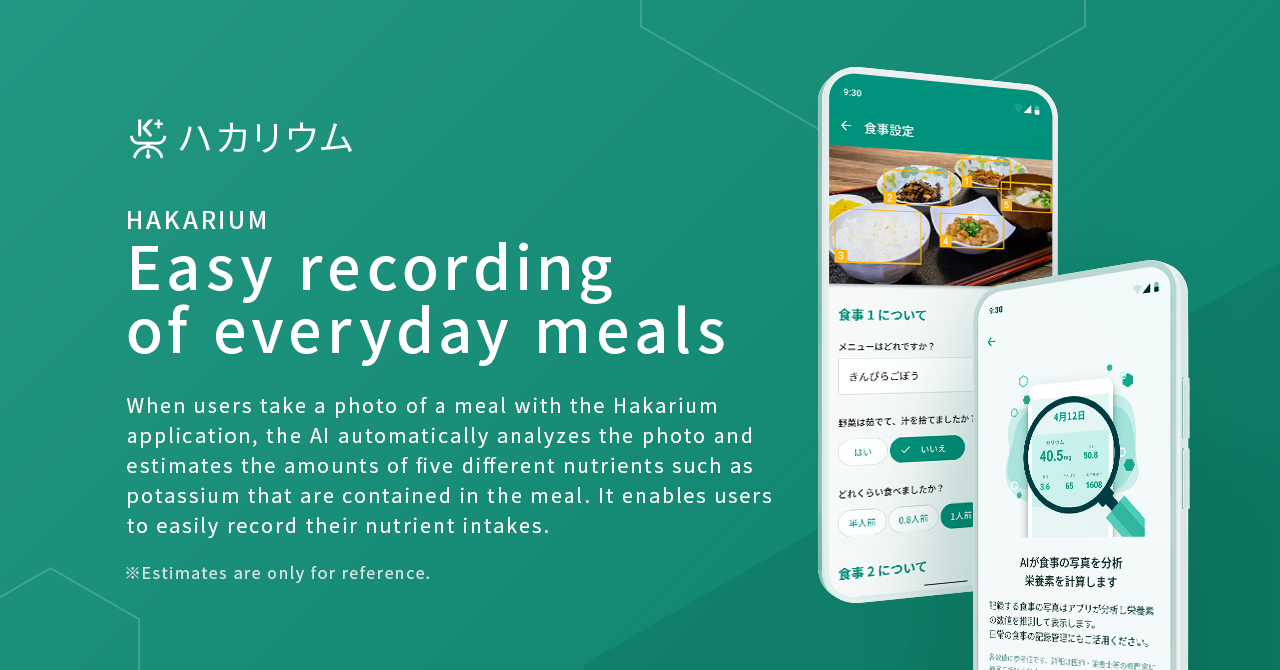 Hyperkalemia is a condition in which the serum potassium level is abnormally elevated. In Japan, more than 300,000 patients *1 have developed hyperkalemia mainly due to the progression of chronic kidney disease or other effects of meals, etc. Abnormally high serum potassium levels can cause fatal arrhythmias or cardiac arrest*2. Also, dietary and nutritional management of patients with hyperkalemia who have underlying diseases such as chronic kidney disease, dialysis, and heart failure are strictly restricted based on various guidelines.
 Hakarium was developed to enable people who are concerned about potassium levels, including patients with hyperkalemia, and their families to visualize and control the intake of diet and nutrition and thus enjoy their daily meals more. We aim to support appropriate communication between patients and healthcare professionals regarding dietary and nutritional management and to help patients independently manage their nutrition.
 
 ExaWizards is working with companies deploying the business in the healthcare area to develop the business that contributes to people's health through taking advantage of AI. With this service release, we aim to provide more value to users.

 AstraZeneca will contribute to the support of dietary and nutritional management of patients with hyperkalemia who have underlying diseases such as chronic kidney disease, dialysis, and heart failure and be engaged in activities for as many people as possible to enjoy healthy and long life.

References
1. JMDC Claims Database(2017)
2. American Heart Association. "Life-Threatening Electrolyte Abnormalities." Circulation. 2005; Volume 112, Issue 24_supplement, 13 December 2005, Pages IV-121-IV-125.(https://www.ahajournals.org/doi/epub/10.1161/CIRCULATIONAHA.105.166563)

ExaWizards
 ExaWizards has been developing businesses such as the development and implementation of services leveraging AI as well as strategy planning to consistently address social issues since the establishment in 2016. There are two business segments in the company: AI platform business and AI product business. They accumulate their unique algorithms data through these two segments as a multi-sector multimodal strategy. Their cumulative numbers of patent applications and acquisitions are 174 and 79 (as of the end of September 2022), respectively. The company also owns advanced technologies in the hardware area such as robots and AI cameras. For more information about ExaWizards, please visit https://exawizards.com.
AstraZeneca in CVRM
 Cardiovascular, Renal and Metabolism (CVRM), part of BioPharmaceuticals, forms one of AstraZeneca's main disease areas and is a key growth driver for the Company. By following the science to understand more clearly the underlying links between the heart, kidneys and pancreas, AstraZeneca is investing in a portfolio of medicines for organ protection and improve outcomes by slowing disease progression, reducing risks and tackling co-morbidities. The Company's ambition is to modify or halt the natural course of CVRM diseases and potentially regenerate organs and restore function, by continuing to deliver transformative science that improves treatment practices and CV health for patients worldwide.
AstraZeneca
 AstraZeneca (LSE/STO/Nasdaq: AZN) is a global, science-led biopharmaceutical company that focuses on the discovery, development, and commercialization of prescription medicines in Oncology, Rare Diseases, and BioPharmaceuticals, including Cardiovascular, Renal & Metabolism, and Respiratory & Immunology. Based in Cambridge, UK, AstraZeneca operates in over 100 countries and its innovative medicines are used by millions of patients worldwide. Please visit astrazeneca.com and follow the Company on Twitter @AstraZeneca.
In Japan, AstraZeneca is actively working to further contribute to the health of patients and medical advancements with primary focus on Oncology, Cardiovascular, Renal & Metabolism, and Respiratory & Immunology fields. For more information, please visit https://www.astrazeneca.co.jp and follow us on Facebook AstraZeneca.Japan .
<Contact for public relations>
E-mail address of the Public Relations Division of ExaWizards Inc.: publicrelations@exwzd.com