NEWS
ExaWizards Starts Accepting Reservations for a Beta Version of "exaBase IR Assistant powered by ChatGPT"
—ChatGPT-enabled efficient IR support, generating assumed questions and answers optimized for each company. Patent pending for the generative process visualization technology that realizes accuracy improvement by the user.
ExaWizards Inc. (Headquarters: Minato-ku, Tokyo; Representative Director & President: Makoto Haruta; hereafter, "ExaWizards"), announces that it will launch a beta version of exaBase IR assistant built with ChatGP, a ChatGPT-enabled efficient IR support service in late May this year. This service uses various IR documents as a data source and utilizes the APIs of ChatGPT, a generative and interactive AI provided by OpenAI in the U.S. to realize the automated generation of assumed questions and answers for general meetings of shareholders and financial results briefings while incorporating each company's specific information.
On May 10, 2023 the service will be accepting reservations for free trials. It is scheduled to be provided in late May.
(Apply here:https://exawizards.com/exabase/ir-assistant)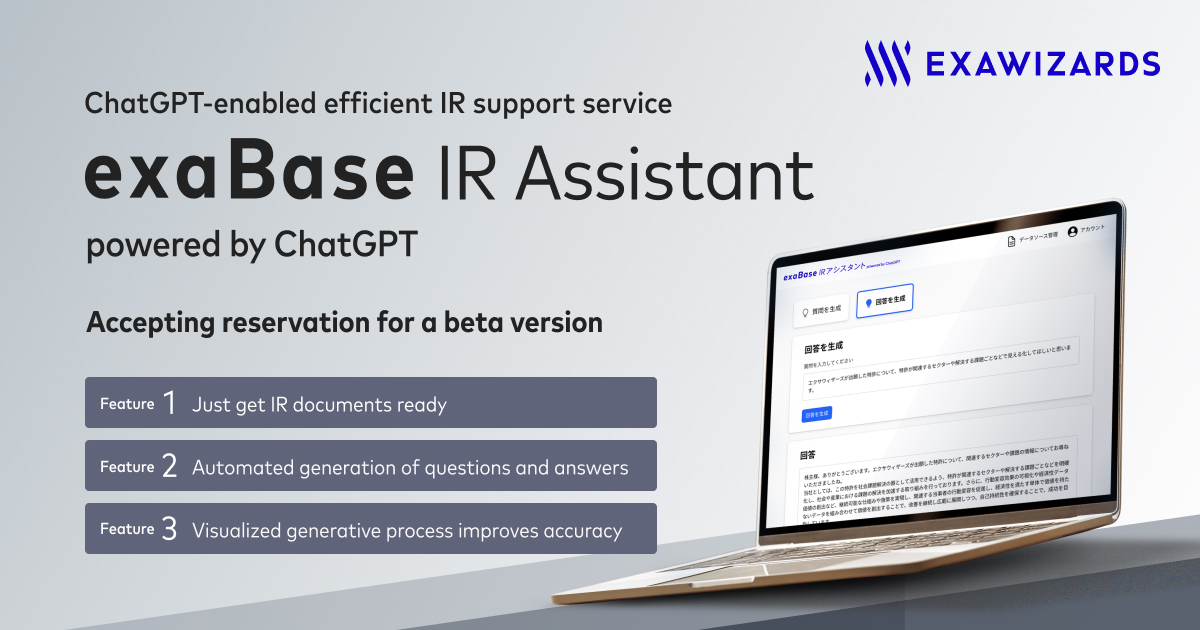 ☑︎57% of the companies have IR specialists who have a problem with generating assumed comprehensive questions and answers at general meetings of shareholders, etc.
Creating documents based on corporate financial situation, financial results and strategies and responding to Q&A at financial results briefings or general meetings of shareholders are important work for listed companies' IR (investor relations) specialists.

According to the survey of all listed companies (3,987 companies) published in June 2022 by the Japan IR Association*, only 57.0% of the 1,013 companies that took part in the survey and engaged in IR activities had IR specialists. In organizations which cannot appoint IR specialists or which are run by non-specialists, it is as a matter of fact difficult to cover each and every assumed question from investors and prepare answers to it.

Even for listed companies that have a system for IR and disclosing financial results in place, continuing with stable quarterly disclosure requires enormous workload, which is a problem.
*Source: The Japan Investor Relations Association, "The 29th Fact-fining Survey on IR Activities": https://www.jira.or.jp/file/news_file1_39.pdf
☑︎ Making existing work more efficient realizes a system that allows you to focus on high- added-value and high-quality information disclosure
exaBase IR assistant powered by ChatGPT, whose beta version will be launched, is an efficient IR support service that we have developed to solve just such a problem. By using the APIs of ChatGPT provided by OpenAI, this service will innovate the process in which IR specialists create handout materials for general meetings of shareholders and financial results briefings and realize a system that enables you to focus on higher-value-added and higher-quality information disclosure by making existing work more efficient.

This service is designed to accommodate both disclosed and undisclosed information, emphasizing strong security and compliance to ensure a protected environment. Each user's uploaded data is securely managed within a dedicated cloud storage area, assigned for each contracted company, in accordance with our Information Security Basic Policy. Our Security Policy restricts access even to our own employees. Furthermore, please note that no data entered while using this service will be utilized for ChatGPT's learning and optimization processes.
☑︎ You can use the service by just getting reference files ready (e.g. quarterly results, materials for briefing or internal data)
This service uses IR documents in PDF or PPT format as a data source from which it automatically extracts trigger information based on different values and descriptions among the documents to automatically generate assumed questions at general meetings of shareholders or financial results briefings, including the user-specific information. And it automatically generates draft answers to various types of questions, based on IR document data, ranging from questions generated by AI through those from investors to those assumed by IR specialists.

Note that the user can use the service just by preparing disclosed information in IR activities and internal financial results information that they use daily. Questions can be bulk imported from csv and other formats and generative conditions can be adjusted.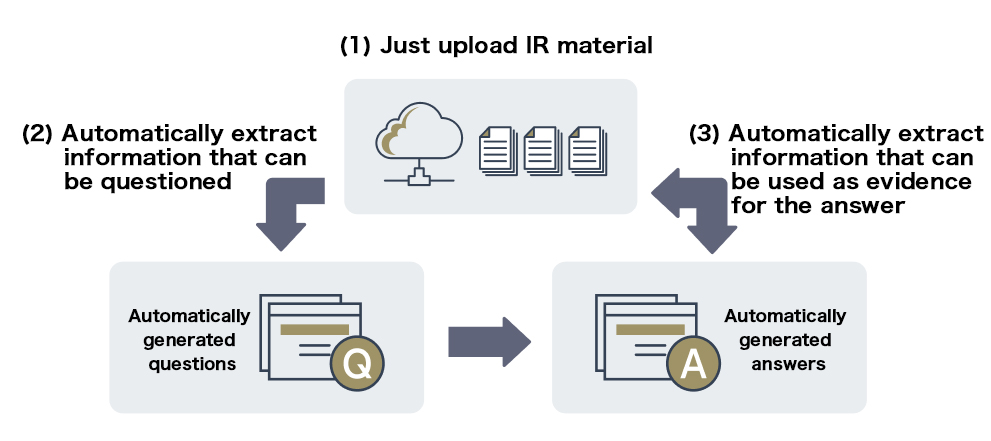 Image: Overview of the service
☑︎ Interface that enables improved generative accuracy through mutual feedback between humans and generative AI (patent pending)
Questions and answers that this service automatically generates are provided with an interface that enables intuitive operation. More specifically, the IR specialist can evaluate its accuracy and adequacy and provide with AI feedback on the generative policy as appropriate (patent pending). The user can react to the inaccurately generated information, which is a problem with generative AI, by making original referenced data explicit.

Thus, IR specialists can further improve generative accuracy through mutual feedback with the system and also enhance the service as their company's efficient IR support.
The service does not fully automate existing work. The system is based on philosophy that it can support employees with expertise in the IR domain so that they can use their professional capabilities in adjusting generative conditions to realize its efficiency and improved accuracy. The process in which humans intervene in and validate AI's judgement and processing is called "human in the loop", which is effective in improving accuracy and solving problems.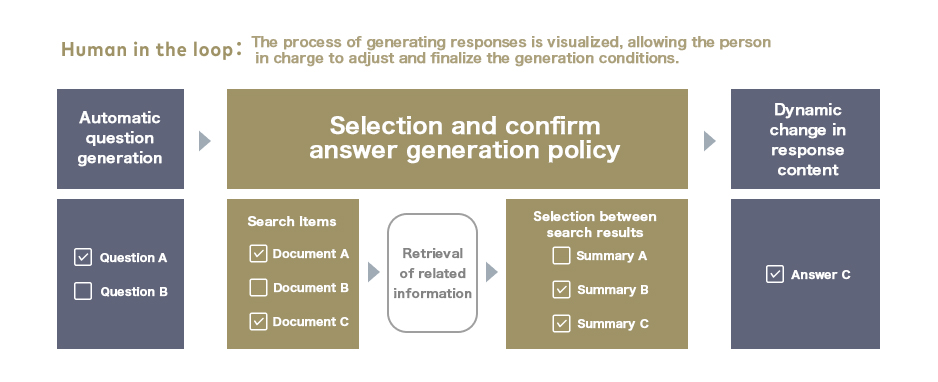 Image: Visualized generative process flow
ExaWizards' finance team seeks to activate investments in companies and contribute to a growth of the Japanese economy by sophisticating AI-assisted information distribution between companies and investors/ financial institutions. In addition to exaBase IR assistant powered by ChatGPT (IR Tech), a service intended for corporate IR departments, which supports efficient work of IR specialists as well as the realization of high-quality information disclosure for investors as required for listed companies, we will expand services for both investors and financial institutions (Research Tech), in order to achieve the vision just mentioned.
☑︎About ExaWizards
ExaWizards has been developing businesses such as the development and implementation of services leveraging AI as well as strategy planning to consistently address social issues since the establishment in 2016. They accumulate their unique algorithms data through their two business segments: "AI Platform Business" that provides solutions to departmental/company-wide issues while handling more than 250 AI/DX-related projects on an annual basis, and "AI Product Business" that develops products to offer solutions to industry-common or social issues identified through the implementation of "AI Platform Business." Their cumulative numbers of patent applications and acquisitions are 196 and 95 (as of the end of March 2023), respectively. The company also owns advanced technologies in the hardware area such as robots and AI cameras.
【Company profile of ExaWizards, Inc.】
Company name: ExaWizards Corporation
Location: 21F, Shiodome Sumitomo Building, 1-9-2 Higashi-Shinbashi, Minato-ku, Tokyo
Representative: Makoto Haruta, President and Representative Director
Business: Industrial innovation and resolution of social issues through the development of services utilizing AI
URL: https://exawizards.com/
<Contact for public relations>
E-mail address of the Public Relations Division of ExaWizards Inc.: publicrelations@exwzd.com