Logistics & Transportation (Mobility)
AI Platform
Industries / Logistics & Transportation (Mobility)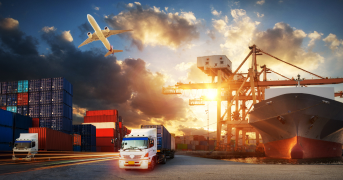 In the field of "logistics = movement of goods," the expansion of e-commerce has led to smaller and more frequent shipments, but there is still a shortage of workers.
At present, the multi-layered subcontracting structure is still maintained, and inefficient on-site operations that mainly use analog methods remain, and both digitization and logistics data accumulation are lagging far behind.
In the area of "human mobility = public transportation," the number of owned cars and licensed drivers has hit a ceiling, and the use of railroads by domestic passengers continues to increase.
In urban areas, there is a need for seamless mobility through a combination of public transportation, while in rural areas, the number of "mobility refugees" is increasing due to the difficulty of maintaining public transportation as the population decreases and the aging of the population.
On the other hand, advanced research is progressing on a global scale, and advanced automated driving, robotics automation, and image recognition and automatic response to drivers and passengers using next-generation deep learning are becoming possible.
Point Of View
ExaWizards of point of view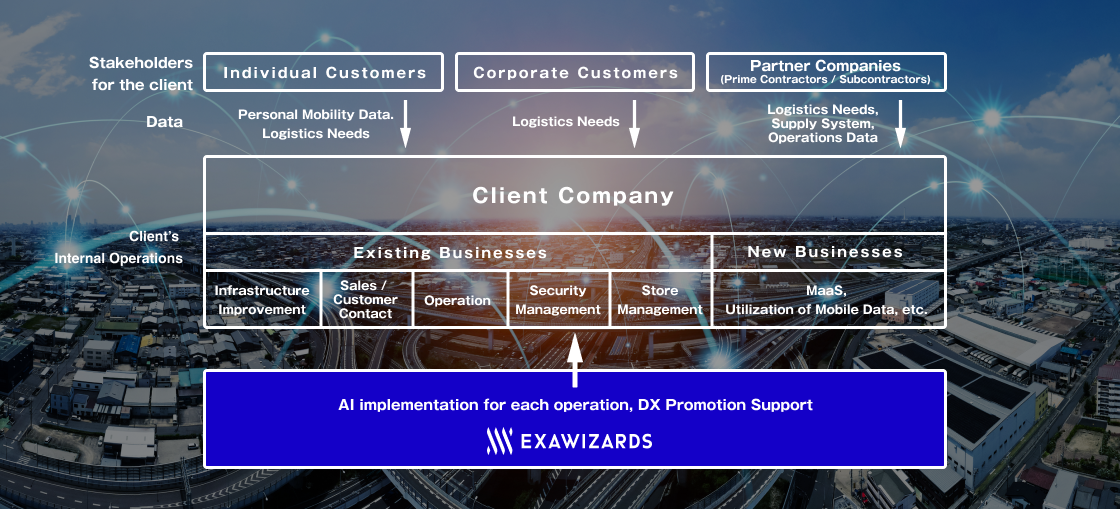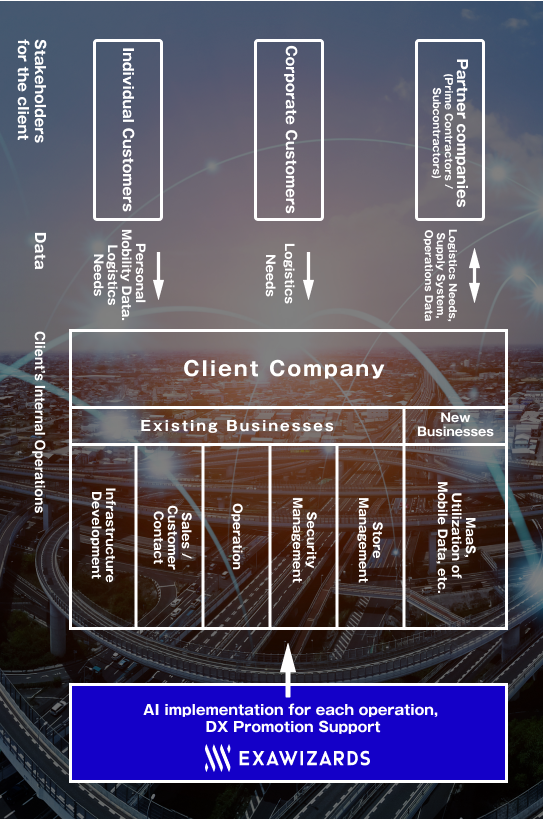 At ExaWizards, we aim to solve social issues through business implementation, even in the logistics industry where the market structure is dispersed, easily influenced by policies, and a large amount of data is accumulated. We are working to solve social issues in the mobility field particularly from the following three perspectives:
(1) Improving the efficiency and productivity of logistics services by optimizing loading plans and delivery routes, introducing and combining multiple modes of transportation, etc.
(2) Improving UX by developing services for consumers that utilize information on the supply and demand of transportation.
(3) Acceleration of R&D through the use of multimodal AI that combines multiple technologies necessary for automated driving.
Use Cases
Case study
Automobile manufacturers

The main issue for automobile manufacturers is to respond to automatic driving in user-developed products (special vehicles). In order to solve this problem, it is necessary to detect and recognize arbitrary objects according to the special characteristics of the vehicle, but there are many different detection methods being considered by users, and each method is being optimized individually. Therefore, it is necessary to add training data in a uniform manner to update the trained model built by outsourcing or to transfer it internally.
ExaWizards has built a system that can generate learning models by adding new learning data to the scheme of target recognition in video images and location information output (using ToF data).

Logistics companies

Logistics companies are unable to assign the necessary number of staff to handle the daily changes in cargo volume at each distribution center, resulting in delays in deliveries and excess staff. In the logistics field, scripts for predicting the workload are manually implemented, resulting in poor operational efficiency. In addition, it is difficult to relearn the model and the model is not being improved. ExaWizards has automated the machine learning pipeline for the distribution center, reducing the load on production operations and allowing us to create models in the development environment without any load.
We also achieved a certain level of accuracy in a client's need to track employees with multiple cameras to visualize productivity in the warehouse, and we set up AI cameras to track each individual, using facial and clothing features to identify the same person.